W
hile the Swatch Group as a whole suffered a major setback in 2020, recording the first loss in its history (click here for the full annual report), the fortunes of the many brands that make up the group were varied. Whatever the price segment, every brand's state of readiness for a new watchmaking era, precipitated by the pandemic, has been put to the test. The new era appears to be characterised by an undiminished interest in vintage and watchmaking heritage icons, coupled with the possibility of acquiring these models online.
Hamilton has been a pioneer of this magic formula within the group. Seven years ago, the brand started rolling out online sales to its main markets, starting with the United States. Today it is only marginally dependent on duty free sales and, under the management of its previous CEO Sylvain Dolla (who has since been promoted to the management of mega-brand Tissot), it cleverly set about winning over local customers with a neo-vintage offer that is highly prized in some of the most mature global markets. The reissue of the Pulsar last year was a perfect example of this strategy in action.
Affordable neo-vintage, sold online – the same recipe used by every horological newcomer on Kickstarter, without the benefit of Hamilton's legitimacy.
An advertisement for the Hamilton Pan Europ model in a 1963 edition of Europa Star, when the US-born brand had just moved to Biel.
Hamilton has kept its foot off the price pedal, and remains accessible to the American, Japanese, Korean and European middle classes, with a good part of its offer below the symbolic 1,000 dollars threshold. Affordable neo-vintage sold online: isn't this the same recipe carefully applied by all the newcomers on Kickstarter, without the benefit of Hamilton's legitimacy? We met Vivian Stauffer, who last year took over the management of the brand of which he was previously sales director for almost 10 years, and who is continuing with this winning strategy.
Now CEO of Hamilton, Vivian Stauffer began his career in 2002 at Swatch, where he spent five years as a member of their sports and sales team. He joined Hamilton in 2007 and became head of sales four years later.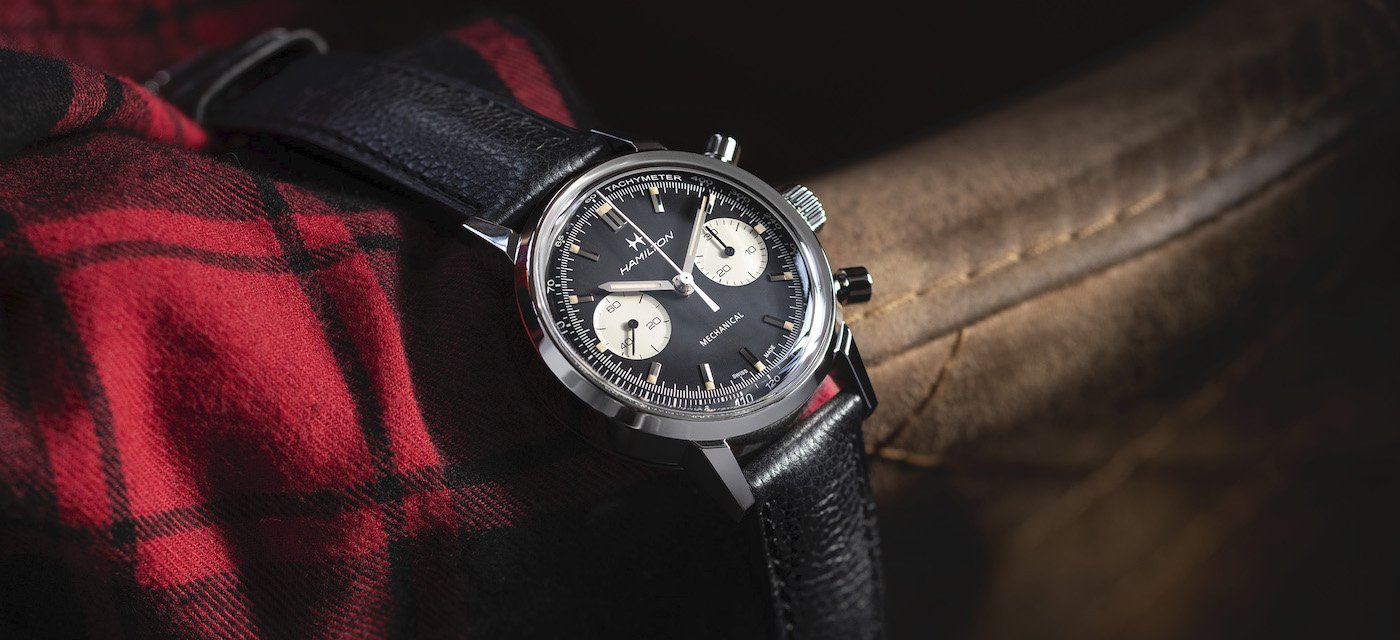 Europa Star: In your presentation of this year's new releases, you used an interesting expression: Hamilton held up well in 2020 thanks to a mix of "luck and strategy". How much of each is relevant to your results?
Vivian Stauffer: It's true that we had much better results than you would have seen for the average Swiss watchmaker last year. We were fortunate that the movie Tenet, Hamilton's most important promotional vehicle in 2020, was one of the only films released last year. The relaunch of the first digital watch, the PSR, was also successful. It was the right product at the right time.
But you have to make your own luck, as they say, and all this is the result of a well-thought-out strategy. We have always relied on a strong local customer base and are therefore far less dependent on international travellers for our sales. In addition, we were pioneers in e-commerce; we launched an online sales platform in the US back in 2014, and we already had strong partnerships with the biggest national e-commerce sites such as Rakuten in Japan, JD in China and Macy's in the US. We have also extended click-and-collect formulas to dozens of markets in cooperation with our retailers. In the end, e-commerce as a whole (including our partners' websites) represented more than 30% of our sales in 2021. All these factors have helped us through this period.
"We have always relied on a strong local customer base and are therefore far less dependent on international travellers for our sales."
The new 45mm Khaki Aviation X-Wind Automatic Chronograph is decorated with camouflage motifs. It offers pilots the ability to calculate their drift angle according to wind direction, an original function and a crucial element for precise navigation at altitude.
You have a dual identity, as a brand with American origins, produced in Switzerland. How have you transformed this ambivalence into an asset?
The strength of straddling two cultures is that we can adapt our message depending on the country. Hamilton's American spirit is inexhaustible. In a country like Japan, for example, it's a very popular element. The US is still the land of innovation, from SpaceX to Tesla! In other countries, such as China, we are highlighting our Swiss know-how more.
Your output includes many reissues and reinterpretations. The brand has a rich heritage. What criteria come into deciding which models to resurrect?
We are constantly researching our own archives internally. There are still many documents to be discovered and explored. We also work closely with the National Watch and Clock Museum in the United States, at the brand's birthplace in Pennsylvania. We learn something new every day! It takes time, and we are a small team of about 50 people.
At the same time, we don't want to produce timepieces that are purely nostalgic; we constantly try to create the new watch of the future. For every three new models we present, we may have developed six prototypes beforehand. It's important to keep trying new things, with something of a start-up mindset. Our new Ventura Elvis80 Skeleton model embodies this spirit.
This time automatic rather than electric, the Ventura Elvis80 Skeleton provides a striking view of the movement mechanics through the skeletonised dial.
In Swiss watchmaking as whole, value is holding up better than volume. The average export price continues to increase year on year. The emphasis is leaning more towards mechanics than to quartz. Does your strategy also include a move upmarket?
No, our strategy is to increase sales volumes while fighting to keep our products affordable. Actually, we have been focusing on mechanical production for a long time. The challenge is that year after year, the price of components is increasing. It's a constant struggle.
Our core range is watches between 500 and 2,000 dollars, with a focus on automatic chronographs: in this segment, you have to do volume. We try to do this with models that have character. Even the Ventura, which we are bringing to life this year in a skeleton version, and which certainly leaves no one indifferent, aims to achieve volume!
"Year after year, the price of components is increasing. It's a constant struggle to stay within our price range."
Hamilton renewed its support for Smartflyer, a start-up that is developing an electric/hybrid aircraft to make air travel more sustainable.
Where are your main markets?
Our biggest markets are the US, Japan, South Korea, China and Italy.
The Khaki line has a particular importance for your brand: you are presenting several versions at once this year.
The Khaki has become a very extensive collection. We have taken inspiration from the three US Army corps – Navy, Air Force, Infantry – to create many dedicated versions, including this year's versions of the X-Wind Auto & Auto Chrono, with many more to come. One of the most popular models remains the Khaki Field Mechanical. Our American Classic series is also very popular.
This year, you have also given the Intra-Matic a manual winding calibre.
After the Auto Chrono version, we had to bring this type of movement back into our price range. The new calibre is the result of a multi-year R&D programme with ETA. We are very happy to have succeeded in bringing it out this year. And this calibre had to be housed in a high-level case: we took inspiration from our vintage Chronographs A and B of 1968.
"The new manual calibre fitted to the Intra-Matic Chronograph H is the result of a multi-year R&D programme with ETA."
The new Intra-Matic Chronograph H, with panda or reverse panda dial, is powered by a hand-wound chronograph movement, calibre H-51.
When do you plan on returning to physical events?
We are already planning the next physical edition of the Behind the Camera Awards, our cinema event, which we do not want to replace with a digital conference. We are also planning an event with Air Zermatt to celebrate our 10 years of partnership. We're working on it!