I
n a recent article, we mentioned the growing number of start-ups building their brand identity around sustainable watchmaking, operating according to the principles of the circular economy, as well as the experiments of entry-level brands such as Swatch and Ice-Watch, at a time when the environmental impact of plastic is become ever harder to ignore. Through the portraits of newcomers Awake, ID Genève and Cédric Bellon, we emphasised the driving role that these start-ups could play in changing the status quo, and encouraging the big names in watchmaking to join their innovative efforts by addressing the issue of sustainability in their manufacturing.
We didn't have to wait long, since Panerai now is planning to promote its use of recycled materials. The brand with Italian origins has deep historical links to a marine environment that is seriously affected today, particularly by the damage caused by plastic. Panerai's sensitivity to the theme of ocean protection is thus perfectly natural, and indeed many watch brands linked to the sea or to the world of diving publicise their ecological initiatives.
98.6% of the total weight of Panerai's experimental Submersible eLAB-ID model is made from recycled materials.
Panerai is introducing what it is calling "perhaps [its] most disruptive offering to date." It is following the concept of the circular economy by introducing both an experimental model, the Submersible eLAB-IDTM, made from 98.6% recycled materials, as well as a more commercial model with 58.4% of its weight made up of recycled materials, the Luminor Marina eSteelTM. The brand has also espoused the principles of open innovation, disclosing the network of partners (see full list below) who have enabled it to achieve these levels of sustainability. In fact, it is rare for a watch brand to name its suppliers at all.
The brand espouses the principles of open innovation, revealing the network of partners that have enabled it to achieve the high levels of recycled materials equipping its new models.
Jean-Marc Pontroué, CEO of Panerai, announces an ecological revolution for the brand he has led since 2018.
There is no doubt that within a few decades, or even a few years, environmentally friendly manufacturing will be a sine qua non condition for any business proposition. Ecological awareness, which has already transformed the way everyday products are presented, perceived and consumed, is now increasingly impacting the world of luxury. This is just the beginning: traditional watchmaking supply chains are likely to evolve further as environmental considerations take hold in the industry. We asked Panerai CEO Jean-Marc Pontroué about this new horizon that is opening up for his brand and the entire Swiss watch industry.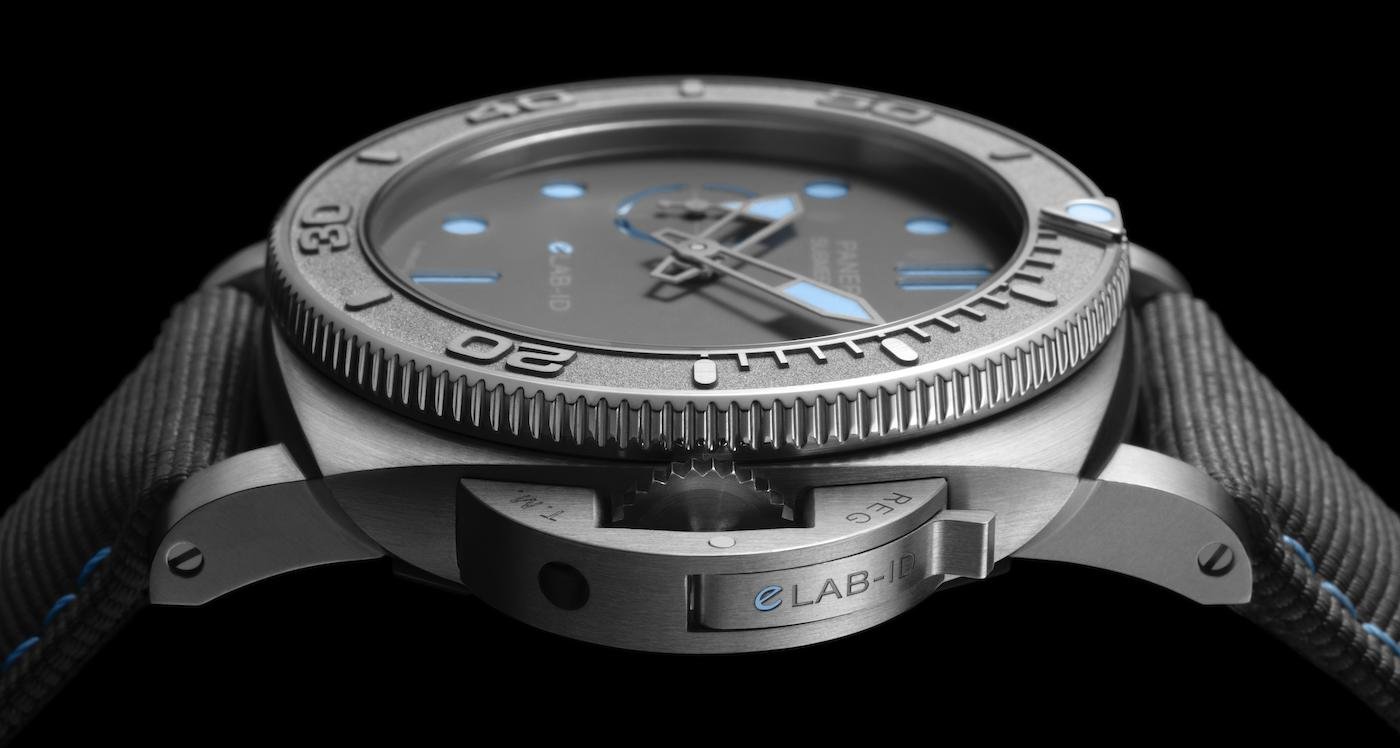 Europa Star: What is the scope of your "Ecologico" concept?
Jean-Marc Pontroué: It's not just new packaging, or a recycled strap designed mainly to ease the conscience, but a profound change and a new development model for Panerai. With the Submersible eLAB-IDTM and the Luminor Marina eSteelTM, we are demonstrating that it is possible to manufacture a luxury watch almost entirely from recycled materials, thereby reducing the environmental impact of watchmaking. It is thanks to the explorer Mike Horn, with whom we have been in dialogue for a long time, and who is one of our ambassadors, that we have taken the initiative to gradually explore this theme. Two years ago, we already launched a Submersible model in EcoTitaniumTM with him. Now we are going much further.
How is this reflected in these two models?
With our conceptual Submersible eLAB-IDTM model, we are approaching a fully recycled watch: 98.6% of its weight comes from materials with a high percentage of recycled elements. The case, sandwich dial and bridges are made of EcoTitaniumTM, a titanium alloy composed of over 80% pure recycled content. It is also the first watch to use 100% recycled Super-LumiNovaTM on its dial and hands, as well as 100% recycled silicon for the movement's escapement, all of which are obtained through dedicated, small-scale recycling processes that reuse waste raw materials. From the sapphire crystal to the gold hands, most of the watch's key components contain recycled materials.
"It's not about easing our conscience, but about implementing a profound change and a new development model for Panerai."
The Luminor, the most recognisable of the Panerai collections, is also equipped with recycled materials (58.4% of the watch's total weight) in the new Marina eSteel version offered in three colours: Blu Profondo, Grigio Roccia and Verde Smeraldo.
Aside from this limited experimental model (30 pieces), you are launching a series of more widely distributed watches that take up the concept of recycled materials. If the change is as profound as you say it is, is the goal to eventually convert all your lines to recycled materials?
Indeed, we will gradually infuse this innovation into more "commercial" models, starting with the Luminor Marina eSteelTM. Each version of this series, available in three dial colours, contains 89g of components made from recycled materials, which corresponds to 58.4% of the watch's total weight (152.4g). Both the case and dial are made from the new recycled steel alloy. Note that eSteelTM has the same chemical behaviour, physical structure and corrosion resistance as a non-recycled alloy.
Why this calculation in relation to the total weight?
We chose this formulation because it shows very clearly the significant proportion of recycled materials in the total composition of the watch. The field is new and there are not really any established standards.
Should we create an eco-Swiss-made label?
Perhaps! Tomorrow, when other brands start to follow our example, common standards for the whole industry will have to be created.
"Tomorrow, when others get on board, common industry-wide standards will have to be created with regard to sustainability of production."
You have revealed the full list of your partners in this research. That's very unusual!
Sourcing recycled materials to build a watch from scratch meant we had to establish a whole new supply chain and select a reliable network of partners. But we don't want to be alone in this process: in fact, the real strength of the project is perhaps even more linked to this ecosystem of suppliers and partners that we are now making available to the Swiss watchmaking community. And internally, we have 30 engineers working on the issue of sustainability. There are not too many of them. The whole supply chain needs to be re-evaluated.
The environment is everyone's business and we will have a better chance of making a real difference if we act collectively. This crisis that we are all going through together at least has the merit of accelerating awareness of common issues, and forcing us to review certain practices. To tell the truth, all the tools to enable us to manufacture in a more sustainable way already existed, but they were not being used. For us, the future index of success is no longer purely sales, but moving the industry towards more sustainable production.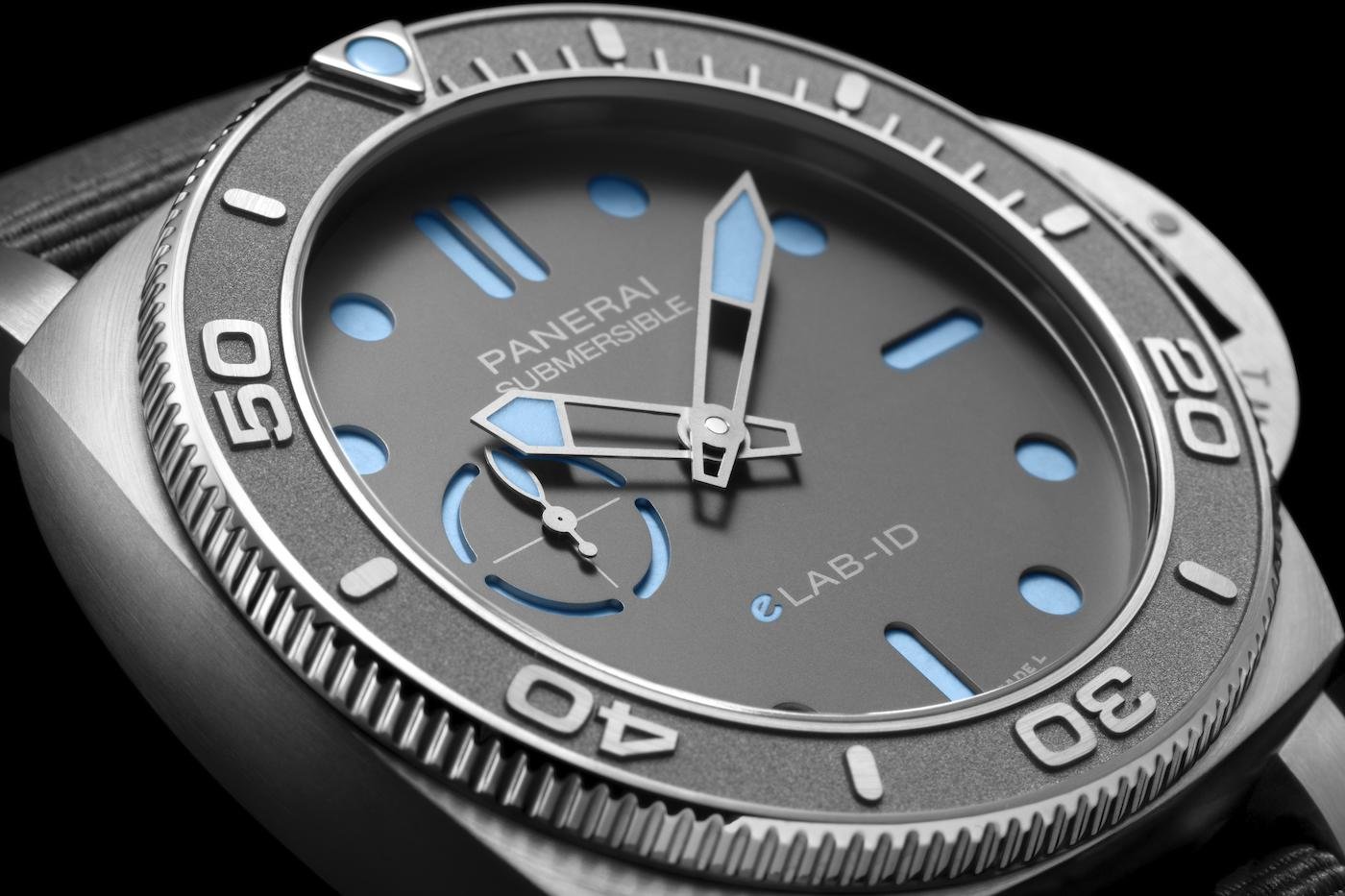 Generally speaking, the Swiss watch industry finds it rather difficult to act collectively...
We remain competitors, of course, but some form of collaboration or sharing is worthwhile if it serves a higher cause. Our industry has the means to change the status quo. There is a higher responsibility to protect the environment, especially on the part of the more developed nations. By the end of March this year, the world had already exceeded the annual energy consumption target set for 2050 under the Paris Climate Agreement. We will all be faced with changes to our lifestyles.
"All the tools to produce in a more sustainable way already existed, but we were not using them."
What is your patent policy?
We have patents on a number of specific elements, but not on the most general and fundamental aspects.
Isn't there a risk of making the environment a marketing ploy, in an industry that relies heavily on its image?
As far as we are concerned, I am not sure that our "Ecologico" concept will help us to sell a single additional watch in the immediate future! But what I am sure of is that sustainability will become an important manufacturing requirement in the long term, and that future generations will ask us about it. This is achieved through innovation: players such as Tesla have succeeded in imposing wholesale change on an entire industry through a differentiated and innovative offer. For our part, we have strong legitimacy in materials R&D, which is something we have always been involved in. This innovation on more sustainable production is a rather exciting avenue for watchmaking!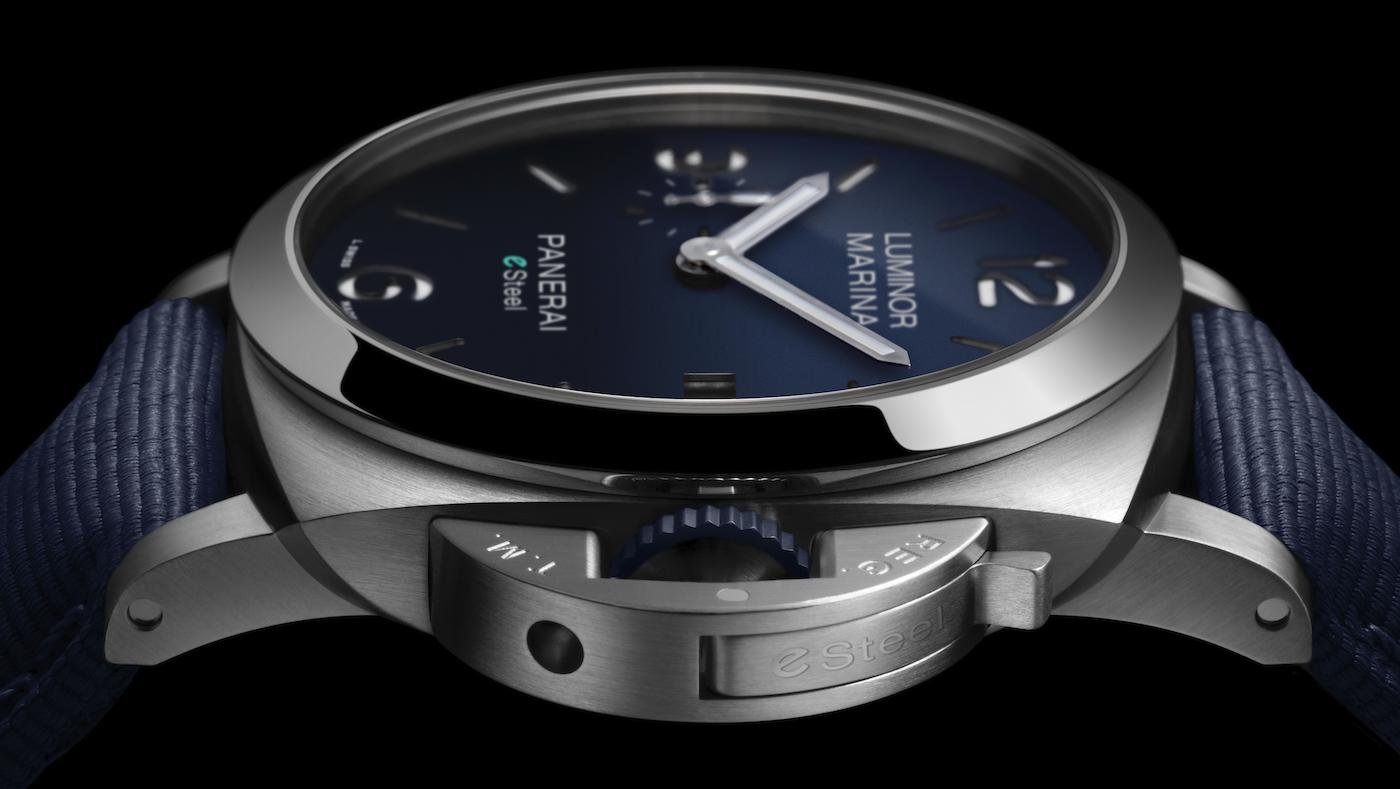 Will this ecological shift also have an impact on the design of your products?
Even with new materials, Panerai's models will retain their unique aesthetic. The new Luminor Marina eSteelTM is proof of this. This evolution is risk-free from the point of view of the design or the quality of the materials. Quite the contrary!
"Companies such as Tesla have succeeded in imposing widespread change on an entire industry through a differentiated and innovative offer. Why not in watchmaking too?"
SUBMERSIBLE eLAB-IDTM
Movement: Mechanical self-winding, P.900e calibre, 12 1⁄2 lines, 4.2 mm thick, 17 recycled jewels, 5 jewels, 28,800 vibrations/hour. IncablocTM anti-shock device. One barrel. 161 components.
Functions: Hours, minutes, small seconds. Unidirectional rotating bezel for calculating the diving time.
Power reserve: Three days.
Case: Brushed EcoTitaniumTM, 44 mm diameter. Safety Lock crown protection device (protected by the brand). Unidirectional rotating bezel in brushed EcoTitaniumTM with polished knurling, micro-sanded engraving. Screwed case back in EcoTitaniumTM.
Dial: Grey EcoTitaniumTM sandwich with luminescent index and dots. Small seconds at 9 o'clock.
Strap: Recycled Grigio Roccia fabric with light blue stitching and trapezoidal EcoTitaniumTM buckle.
Water resistance: 30 bars ( 300 meters).

THE PROJECT PARTNERS
MONYCO SuperLuminovaTM is a very sensitive material. Monyco has extensive expertise in applying the luminescent substance to dials, hands and other watch components. The skills required to apply SuperLuminovaTM combine artistic perspective with technical ease. Monyco also participated in the collection of SuperLuminovaTM for recycling.
RC TRITEC RC Tritec is the leading producer of luminescent materials for the watch industry. Luminescent pigments are high performance materials and very sensitive to a long list of external factors, making their recycling a challenging task. In particular, achieving consistent colour and luminescent intensity from recycled materials has proven to be a particularly challenging task. RC Tritec's commitment to collaborate with Panerai on the Ecologico project has made the collection of SuperLuminovaTM waste and the recycling of the precious pigment a success.
NOVO CRISTAL Novo Cristal is Panerai's partner for recycled sapphire. RSA Le Rubis is the producer of raw sapphire crystal. The full integration of sapphire crystal production within their group allows them to control every stage of production, as the production of the powder used to grow the crystal plays a central role in their ability to produce recycled sapphire components. The sapphire crystal has been developed and shaped into a finished product for high dial legibility and scratch resistance.
UGITECH Ugitech is a steel manufacturer based in France. It was able to respond very quickly to the project requirements, in particular to propose different grades of recycled steel in response to the specific requirements of the Panerai project. Ugitech's advice and expertise on the various steel alloys was essential. Its materials were used for both the case and the movement components.
MORELLATO The bracelet, made of recycled plastic, is entirely manufactured by Morellato. The values of the supplier are reflected in a high quality production inspired by a great Italian tradition.
MANUFACTURE PANERAI The watch case, plates and movement bridges, all made of EcoTitaniumTM, were entirely machined at the Manufacture Panerai in Neuchâtel. All processes related to the movement of the watch, including assembly, product testing and quality control are carried out by Panerai. The complexity of the project, both technically and logistically, required the total commitment of the teams and the support of the "Laboratorio di Idee", from the establishment of technical solutions to the finished product, including the identification of partners and technological support.
UNESCO AND PANERAI PARTNER TO PROTECT THE OCEANS
The new partnership between the Intergovernmental Oceanographic Commission of UNESCO and Panerai will develop a programme of work around ocean literacy to ensure that citizens, stakeholders and institutions understand their interaction with the ocean and apply this knowledge to develop transformative solutions towards building a more sustainable, equitable society. From 2021 to 2030, the Ocean Decade will promote science-based management of the ocean and marine resources to achieve the goals of the 2030 Agenda for Sustainable Development, bringing together expertise from a vast body of disciplines, industries and actors to move from the ocean we have to the ocean we want.