R
uined, oppressed, plundered – Germany's watchmaking stronghold has succeeded in rising from the ashes several times over. Its "quartz crises" were real wars, blockades and wholesale dismantling.
As Swiss watchmaking suffers the throes of a deep-seated crisis, we travelled to Glashütte to investigate what has been accomplished there since the fall of the Wall. Everything had to be rebuilt from scratch and (almost) everything has been.
Nomos: the 'aesthete'}
A very bright, airy building. Contemporary art works on the walls. Toilets lit with blue and red neon lighting! Nomos means 'rule' or 'law' in ancient Greek. And the law that the brand follows is that of design: extremely pared-down, careful design. "Our identity is strongly bound up with the Werkbund movement," explains Uwe Ahrendt, CEO of the brand that was founded in 1990 by Roland Schwertner, again on the basis of a name dating from the early twentieth century.
The brand developed its own in-house movements over ten years ago; seven calibres figure in their ten collections, which are differentiated mainly by their indices. The brand's best-seller is its Tangente model. Nomos also offers square watches (Tetra), as well as talking pieces (Lux and Lambda) and, since 2015, the automatic Neomatik versions based on the new DUW 3001 calibre, and the coloured variants, Champagne and Nachtblau. Prices range from 1,000 to over 10,000 euros. The brand is positioned in the accessible and edgy manufacture-watch niche.
Moreover, its design has earned Nomos several prizes, including the prestigious Red Dot Award. "Historically, people referred to us as the architects' brand," Uwe Ahrendt goes on to explain. "The combination of Glashütte know-how and the beautiful designs of Berlinerblau in Berlin, which is a global cultural capital, is the heart of our production." Clarity, purity, minimalism!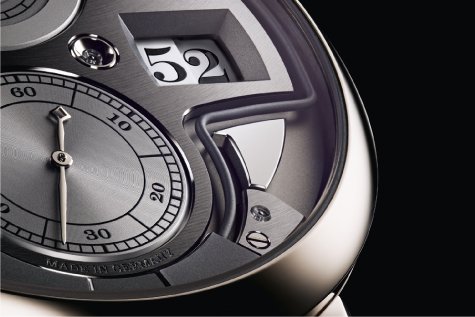 Not content with having initiated a whole watchmaking industry in Glashütte in 1845, the manufacture A. Lange & Söhne launched by Ferdinand Adolph Lange also revived the watchmaking tradition there in the 1990s, under the impetus of his descendent, Walter Lange. Now in his nineties, he still roams the brand-new corridors of his company, which is owned by the Richemont Group. The brand, the signature of which is the dual-assembly procedure applied to the timepieces, has gone upmarket in recent years and produced ever-greater numbers of grand complications. Its output is estimated at around 5,000 items a year, in five collections: Lange 1, 1815, Saxonia, Zeitwerk and Richard Lange.
The new building in Glashütte, comprising 5,400 square metres of production space, was inaugurated in 2015. "Bear in mind that the objective was not to fundamentally expand the brand," cautions CEO Wilhelm Schmid. "To understand the main reason for this investment, you have to look back to 2012, when we found ourselves at a crossroads. We had to decide if we wanted to stay as we were forever, without any scope for alternatives, or if we wanted to be prepared, to head towards a future full of alternatives."
As Wilhelm Schmid knows, fine watchmaking in Germany is not immune to the difficult market conditions affecting its Swiss cousins. As he admits, despite working for nearly thirty years at different management levels in different sectors, he has never experienced a business environment as challenging and complex as today.
The main challenge facing the manufacture is that of maintaining rarity. What are the limits for preserving exclusivity? Do you select your buyers? "No, that would be arrogant. Our sole limit is our production capacity. We offer 70 references and 30 calibres: those are natural limits. I could increase output tenfold tomorrow if I only made one movement, but that would not be a sustainable strategy."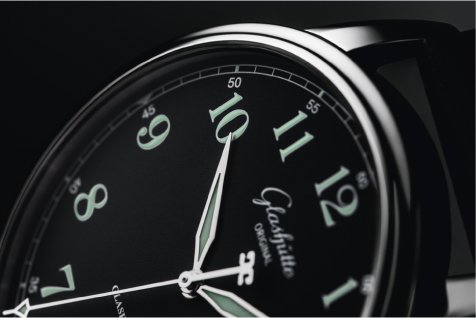 When you enter the corporate headquarters of Glashütte Original, you are surprised by the huge, very bright, contemporary atrium. Nicolas Hayek decided to invest here at the turn of the century. "He was always very attached to the concept of vertical integration, and when he came here he saw more than a brand; he saw a manufacture," CEO Yann Gamard explains. "Like at Breguet, he saw people who lived and breathed watchmaking."
Producing models of great formal elegance and with "fair pricing" as its watchword, the brand is the historical successor of the conglomerate GUB of the communist period; incidentally, it is reproducing timepieces inspired by those of the 1960s and 1970s, in a rare example of Eastern Bloc models being revived. "We never died! We are the sole brand to have survived in Glashütte over the past 170 years. Our cousins all around us bought back or relaunched a name, but the continuity is here," boasts the CEO.
Producing more than 10,000 watches a year, some on machines dating from the East German period, when vertical integration was also widespread, Glashütte Original stands apart from its great rival, A. Lange & Söhne, on several counts, including its use of steel and silicon, and far more automatic movements. The Calibre 36, recently launched in the Senator Excellence model after several years of R&D (in partnership with Switzerland, including Nivarox), is the manufacture's flagship product. Yann Gamard provides some details: "One of the greatest achievements is its power reserve of 100 hours. And we're going to add modules, it won't stay a simple three-hander. For us, it's a movement that is paving the way to the future."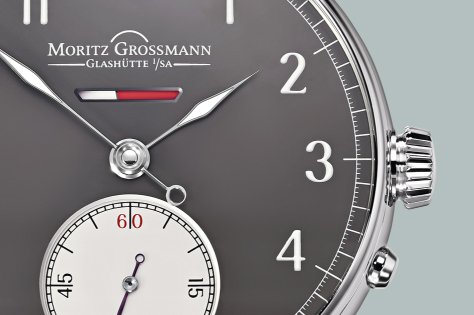 This is the first brand you see on arriving at the station. This young brand with its old name occupies an impressive building overlooking Glashütte. Moritz Grossmann, a colleague of Ferdinand Adolph Lange, wrote a number of watchmaking treatises, including one of major importance, on the construction of a "simple but perfect mechanical watch", which is close to the philosophy of the current brand. Its founder, Christine Hutter, arrived in Glashütte from Bavaria in 1996. A qualified watchmaker, she worked at Lange, Wempe and even Maurice Lacroix before launching the Moritz Grossmann brand, which she started from her kitchen in 2008!
"We take traditional elements and bring them into the twenty-first century," Christine Hutter explains. "My basic idea was to continue the formal purity of Moritz Grossmann pocket watches. I also like integrating pure craftsmanship into the watches, to make them genuine works of art with high-quality finishes. Every gold watch is hand-engraved. Another of our characteristics is that we make our own hands, like Moritz Grossmann did back then."
Ultra-exclusive (an output of fewer than 500 watches a year), vertically integrated to a large extent and intransigent on standards, the brand did not deliver its products to market until 2013, and for the moment has only around twenty retail outlets worldwide. Its two biggest markets are Germany and Japan. It has three collections – Benu, Atum and Tefnut – with prices starting at around 10,000 euros and rising far higher. "We are a quality alternative to the established brands, even in a time of crisis. A Moritz Grossmann can be as worthwhile as a Patek Philippe, a Jaeger-LeCoultre or an A. Lange & Söhne."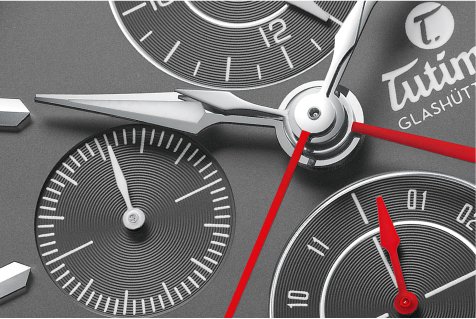 Tutima: the 'high-flier'
Founded in 1927 by Dr. Ernst Kurtz, Tutima is the successor to the UROFA-UFAG brand, which supplied watches to the German air force. The family-owned company resumed manufacturing operations in its founding location in 2011. Proposing technical and sporty timepieces, Tutima celebrated its comeback with the Hommage, the first minute-repeater wristwatch ever developed and produced entirely in Glashütte. Hand-wound Calibre 617, which was completely developed by the manufactory and is fabricated on its premises, serves as the basis for the movement encased inside the Hommage.
"Collectors are particularly interested in our minute repeater limited to 30 items. But we have quite a broad collection, since we start at 1,900 euros. Our mid-range is situated between 2,000 and 5,000 euros," says Alexander Philipp, director of the Glashütte workshops.
The brand is a two-headed entity, as the Delecate family which owns the brand has facilities in Ganderkesee in the west of Germany, where Tutima established itself at the end of the Second World War. Tutima has developed new "made in Glashütte" collections: in 2013 it introduced the Saxon One, the Grand Flieger, the M2 and the Patria, four new watch families.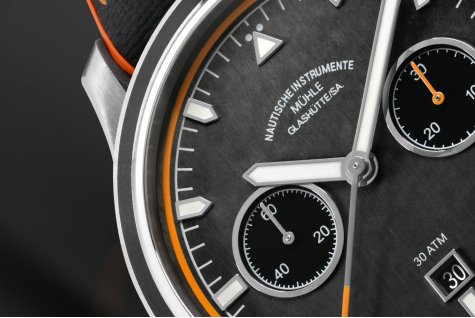 Nautical measuring instruments in the hills of Saxony – that is the niche chosen by Mühle-Glashütte, a company that was founded in 1869, relaunched in 1994 and is today headed by a representative of the fifth generation, Thilo Mühle. Even today, you can still find Mühle-Glashütte quartz clocks on numerous large merchant ships. But this side of the business now represents no more than 10% of turnover, the company having turned to manufacturing wristwatches, of which it produces around 8,000 a year, at prices ranging from 1,500 to 3,500 euros, based on Sellita movements. Its main market is Germany, followed by China.
"Until 1972 we had our own company, but like many others in East Germany we were nationalised and integrated into GUB, where my father was in charge of sales for eastern Europe," Thilo Mühle recalls. "In the evening my father was a capitalist, but by day he was chief executive of an East German state company! It's difficult to imagine for people who didn't grow up here, you have to set it in the context of the time."
What makes a maritime watch? "First and foremost, it's an easy-to-read dial. Legibility is in our DNA, it was already a crucial prerequisite for our measuring instrument business. What sets Mühle-Glashütte apart most of all from the other brands in the village is its sports collections. And its price."