G
rand feu enamelling is synonymous with old-school fine watchmaking. Meaning "great fire", it is the art of fusing glass to metal dials to render intensified hues with everlasting vibrancy and lustre. Such is the complexity of the process, this centuries-old, prized craft was at one point in danger of dying out. Today, it is a decorative tradition that remains the preserve of a few specialist manufacturers.
Also known as vitreous enamelling, grand feu artisans have largely been confined to Switzerland, and Japan. That is until Scottish brand anOrdain launched in 2018, and soon joined the cream of the crop for its homegrown artistry. In the United Kingdom, watch dial enamelling is one of a few dozens of crafts classified as "critically endangered" by the Heritage Craft Association, a UNESCO-accredited nonprofit working to safeguard British traditional craft skills. ¨
According to their listings, out of fewer than ten professionals in the trade, the majority come from anOrdain. And thanks to the renaissance of enamel watches, this young upstart is often mentioned in the same breath as such renowned grand feu watchmakers as A. Lange & Söhne, Vacheron Constantin, and Ulysse Nardin.
Notably, very few brands produce their own fired enamel dials in-house, because it is a highly involved practice. Its fusion process imparts successive layers of sheer vitreous glaze to a metal dial by firing them in a kiln above 800°C. The exact temperature and timings may differ for each layer depending on the elements and many other variables. In fact, there is no precise recipe for a perfect and consistent outcome every time. As such, this unforgiving execution can throw off even the most experienced craftsmen, thus resulting in extremely high discard rates and manufacturing costs.

For anOrdain founder, Lewis Heath, though, this is exactly his business idea "to take those very difficult traditional crafts, like enamelling and engraving, and fuse them with modern-day aesthetics" to appeal to the new generations. A challenge that was made even greater by the fact that Scotland has no watchmaking infrastructure to speak of. Against the odds, anOrdain is now at the forefront of efforts to renew this ancient craft. Its approach, although more laborious, focuses on the depth of colour and deviates from those of its Swiss and Japanese counterparts. "In terms of techniques, we actually invented our own method of making fumé dials. So, there was no such thing as "smoky" enamel dials before 2019," says Heath.
That was the year anOrdain entered its Model 2 Green Fumé into the Grand Prix d'Horlogerie de Genève (GPHG). Featuring a gradient enamel dial in a grainy texture and a flawless, translucent finish, the deceptively simple aesthetic was the result of a chance discovery, followed by dogged persistence through experimentations. A year later in 2020, a grey dial iteration of the Model 1 was pre-selected as a GPHG finalist in the Challenge category.
Since then, anOrdain's exquisite work has become much sought after, leading to an ever-expanding waiting list. However, as an artistic process, it is difficult to patent. And before long, the technique has been emulated by a Swiss dial maker who supplies brands like H. Moser & Cie. Heath is seemingly unperturbed by it: "It's actually quite flattering that what we're pioneering is being adopted in the heartland of watchmaking," adding, "We're really trying to do our own thing more than competing with anything that's going on."

That attitude also informs the product's price positioning, which helps anOrdain set itself apart. The business offers some of the most affordable fired enamel watches on the market for under CHF 3,000. For Heath, accessible pricing is part of the brand's ethos. "Fair and honest pricing is very important," he says. "Everyone in the company has come into watches [from art and craft], it would feel odd if we were charging enormous amounts because it's so alien to them. Now we have 22 people, and they have pride in what they do, to create something special at a reasonable price."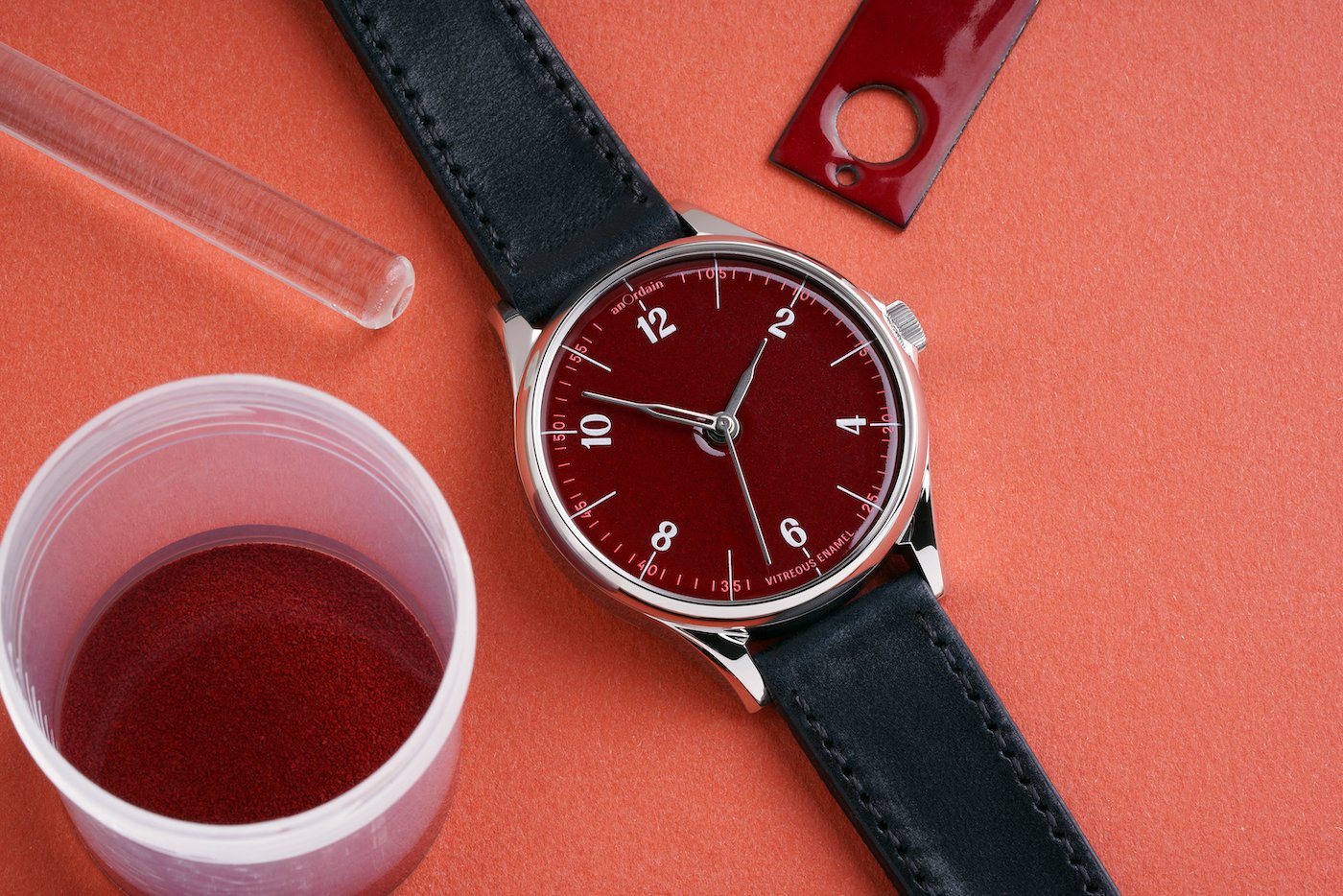 Besides strong values, Heath sees anOrdain's Scottish base as another distinct advantage. "In Glasgow, you have these fantastic art colleges and lots of good creative scenes. Edinburgh has another one of equal quality. And they produce excellent jewellers and craft people," he explains, "I think because people understand the difficulty involved with watches in things like enamelling, it's allowed us to employ some very talented people, and be able to support them financially."
Scotland is also where Englishman Heath finds tranquillity. Recently diagnosed with ADHD (attention deficit hyperactivity disorder), he now understands why he is drawn to the calm of the Scottish Highlands. He has purposely carved out an environment that serves him, away from what he calls "the chaos of the big city" where he struggled early in life. It also explains how he has developed his company: "It's somewhere I can entertain all my ideas and where there's a brilliant team of organised individuals who make up for my shortcomings."

anOrdain is a business built around people. "We hired the first person three years before we launched because it was a very slow process to master enamelling," Heath says. The team now counts three master enamellers, an engraver, and four watchmakers within its cross-discipline creative lab, working together to generate "interesting ideas" through experimentation or alchemy. By nurturing its homegrown talent pool, anOrdain has become a hotbed of innovation. And while it may favour its experimental studio setup over mainstream production, it does not lack ambition or a long-term growth perspective. As Heath shares: "We've just bought our own factory premises. We're going to kit it out and convert it into this centre for enamelling and watchmaking, for what we do here."
Among several on-going projects, anOrdain has been expanding its repertoire on the mechanical side. That includes adapting a movement, redesigning movement parts, and prototyping its own module for manufacturing in-house. There are also new lines of watches with engraving coming soon. "It's an incredibly simple idea, but it's not something that's been done in watches," says Heath. "We've been on to really fascinating things that are coming out the next few years and that's what gets me excited."
All this is good news for new customers that would like to join the queue with a deposit to acquire an anOrdain timepiece. Although the current wait time is five years, the upside is there will be new developments and more choices further down the line. Understandably, the pace and output cannot be rushed, nor does Heath want it to be. Not only because of the inherent complexity of the crafts, but also because he's happy that the setup brings out the best in people. In anOrdain, Heath has built an environment conducive to success on a human scale and on his own terms.