T
he battle for real estate on small wrists is no longer limited to the age-old tussle between analogue and digital timepieces. Smartwatches are rapidly closing the gap in this race. Industry visionaries are now looking to Generation Alpha (those born in 2010 and after), hoping they will outgrow the allure of wearables and develop an appetite for sophisticated horology. Can traditional watchmakers still win mindshare during their formative years?
Take Amandine, for example. Like most six-year-olds in developed countries, she learned to read the time on an analogue clock at school. Around the same time, her father gave her a white Flik Flak with pink skulls. She loved it for its colours and patterns. However, she was also enamoured with a VTech smartwatch she received as a gift from a school friend. "It was so cool to have a watch with a screen, camera, games, etc.," she recalls.
Unlike her peers, Amandine was soon introduced to fine watches and fell for the charm of luxury brand Bulgari, particularly their iconic Serpenti Tubogas design, which has been coiling around wrists like a snake since the 1960s. Amandine is an anomaly. She owes her early affinity for sophisticated timepieces to her father, a veteran of the industry's media for over two decades.
Amandine, a child enthusiast turned influencer, shares that her friends started to like watches after discovering her passion and Instagram account, @watch_it_with_amandine.
Parental perceptions
Beyond Amandine's evolving tastes lies a common thread in how children initially perceive and engage with watches. Much like Amandine, they view watches as fancy accessories and fun toys with games that embrace their favourite colours or characters. Adults, of course, have different ideas. In a global survey, we approached dozens of parents from Tokyo to Los Angeles whose children had already been given their first watch. The resounding majority said the primary purpose was for "reading the time".
Traditional analogue watches have an inherent advantage when it comes to learning to tell the time. Professor Christoph Hoerl from the University of Warwick, whose research on temporal cognition spans over two decades, including co-authored papers concerning children, highlights a universal use of spatial metaphors to express how we experience time despite cultural differences. "The sweep of an analogue clock uses space to represent time, so it is arguably more in tune with humans' intuitive thinking about time than a representation that just uses numbers," he explains.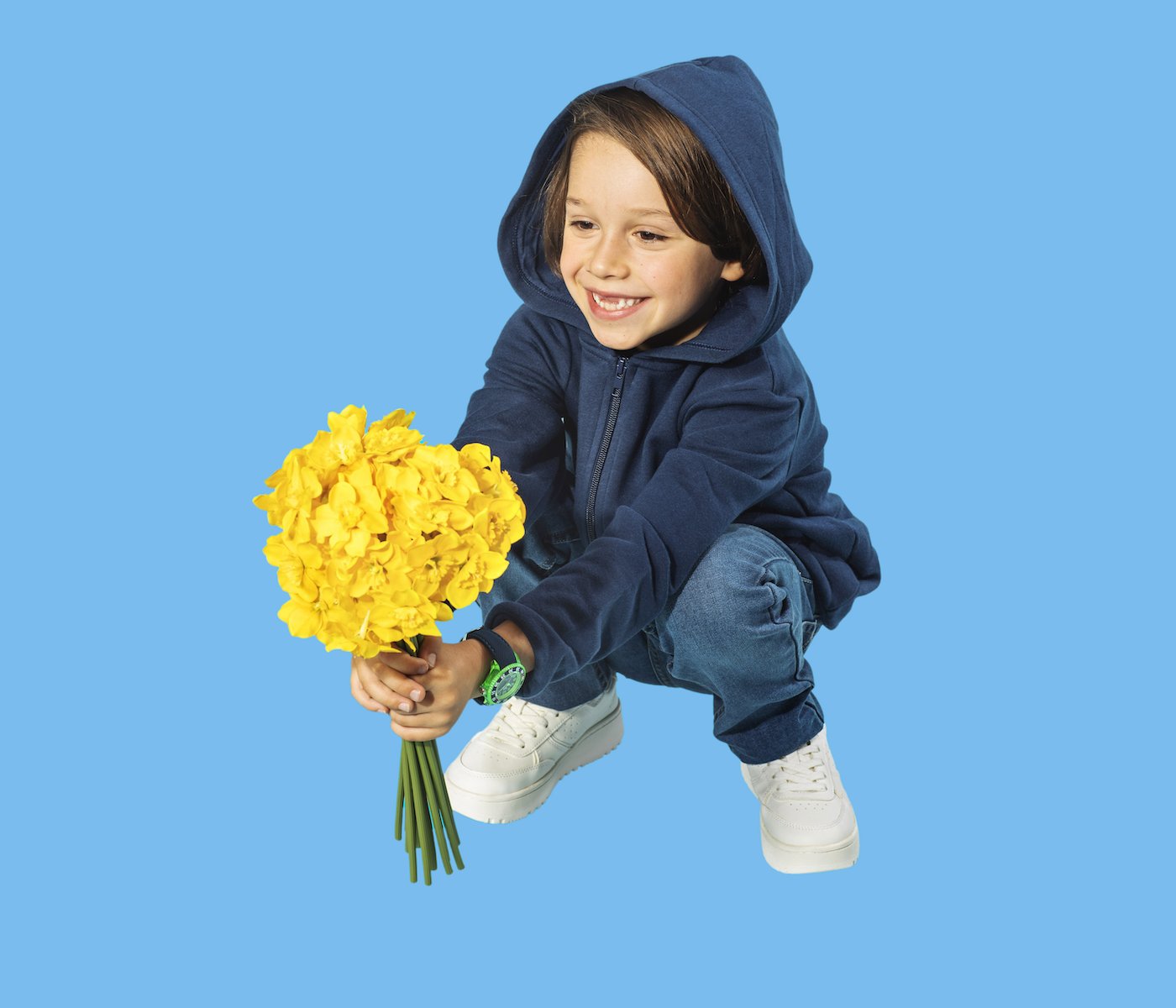 Watchmakers hold their ground
For decades, traditional watchmakers have honed their narrative with products created to inspire young minds. Whether it be Flik Flak from Switzerland's Swatch Group, Calypso from Spain's Festina Group, Timex representing the United States, or Japan's Citizen brand with its Q&Q range, established industry names across the globe have recognised the imperative of catering to the junior market. In more recent years, start-ups such as Blok or UCS's Superkids line from Switzerland and Parchie from the US have also entered this space.
Notably, learning analogue skills has remained a vital part of children's cognitive development. And despite modern society's obsession with digital, the vast majority of our parent group still deem it essential for their children to acquire the ability to interpret analogue time.
The brother and sister duo, Flik and Flak, form the foundation of Flik Flak's time-telling educational concept, personifying an abstract notion with an immediate appeal to young learners.
When it comes to this educational approach, one brand stands as a paragon: Flik Flak. The Swatch Group subsidiary has cultivated an enviable brand equity over the years, building an entire universe around its watches – replete with stories, books, and apps. Over half of the parents in our sample group, whose children own analogue timepieces, identified Swatch or Flik Flak as their offspring's first watch.
Launched in 1987 by the Swatch Group-owned ETA manufacturer, it was the first watch brand to offer designs exclusively tailored to teach children how to tell the time with a sense of playfulness. Targeting ages 3 to 10, the brand occupies a premium position in the market, with prices ranging from 40 to 65 Swiss francs – a testament to its build quality and tried-and-true child development concept.
Manon Colombies, General Director of The Festina Group, says that it has been Calypso's mission to educate children about wearing watches since 1996.
The need to nurture time-reading skills has not gone unnoticed by top executives in the watch industry. Mrs Manon Colombies, General Director of The Festina Group, which owns Calypso, experienced a personal struggle when her son could not tell time at the age of 8. "This made me realise the importance of helping children around the world to learn how to read the time," she reflects.
Since the debut of its children's line in 1996, Calypso has positioned its products as "real watches" rather than toys. Today, Calypso boasts annual sales of 650,000 units, including five Junior collections that cater to age groups between 3 and 12. With prices ranging from 29 to 59 euros, these watches serve as both attractive accessories and educational tools for young minds.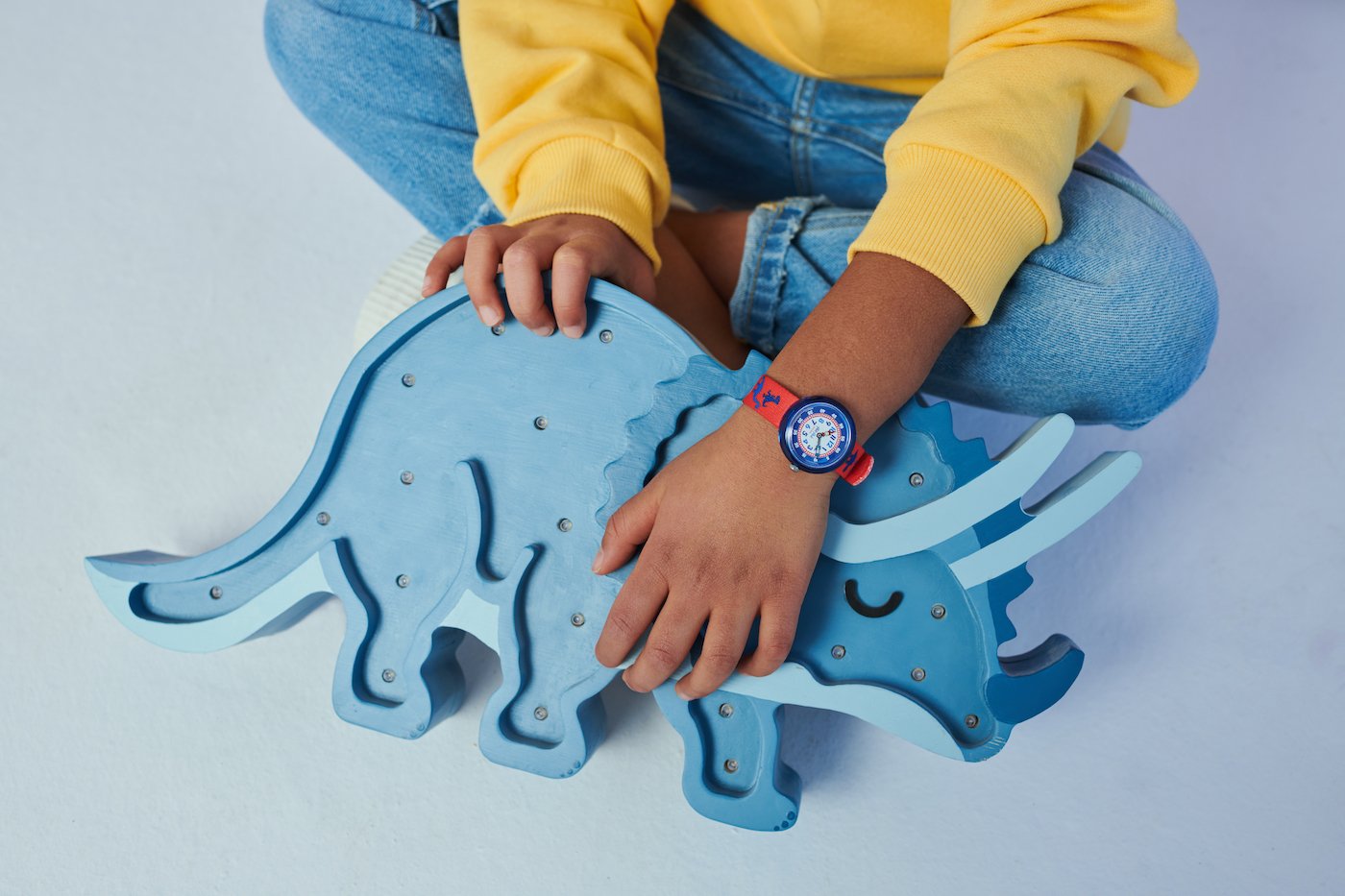 The elusive concept of time
In the junior market, where colour, character, and cognitive play are the golden rules, the landscape is no longer as predictable as it once was. The advent of connected technologies over the past decade has disrupted the dynamics. In our survey, half of the Generation Alpha children aged 12 or below, displayed a lack of interest in wearing a watch. This indifference is particularly pronounced among tweens, those in the upper end of this generation's age bracket. At such a young age, the abstract concept of time can be difficult to grasp. As Professor Hoerl points out, "Even at the age of 12, children's idea of time is still not fully formed," casting doubt on the effectiveness of traditional approaches to piquing children's interest in watches.
Calypso's watches offer attractive, creative, and colourful designs, transforming the experience of learning to tell time from a chore into something fun for children.
Timepieces lose ground
This poses a fundamental challenge to the notion of a 'timepiece' for children. If not primarily for timekeeping, what purpose does a child's first watch typically serve? The responses gathered from our survey range from "accessory" and "gaming" to "step counting" and "track and text/talk." Now more than ever, watchmakers find themselves up against different factions. On one side, traditional toymakers vie for young hearts with enticing playthings. On the other, tech giants such as Apple, Fitbit, Garmin, VTech, and Gizmo, along with a burgeoning array of smartwatch brands like Xplora and Moochies, are extending their influence into the junior market.
Flik Flak's 'Power Time' three-hand watches cater to older kids' needs and style preferences. The colour-coded dials and hands match the hour and minute markers to promote intuitive learning.
This competition mirrors the escalating tension witnessed in the adult market, particularly within the realm of fashion and lifestyle watches. It is no longer a binary contest between analogue and digital; it has become an all-out war between traditional watches and smartwatches. Perhaps unsurprisingly, in our sample group, every third parent reported that their child's first watch was a smartwatch.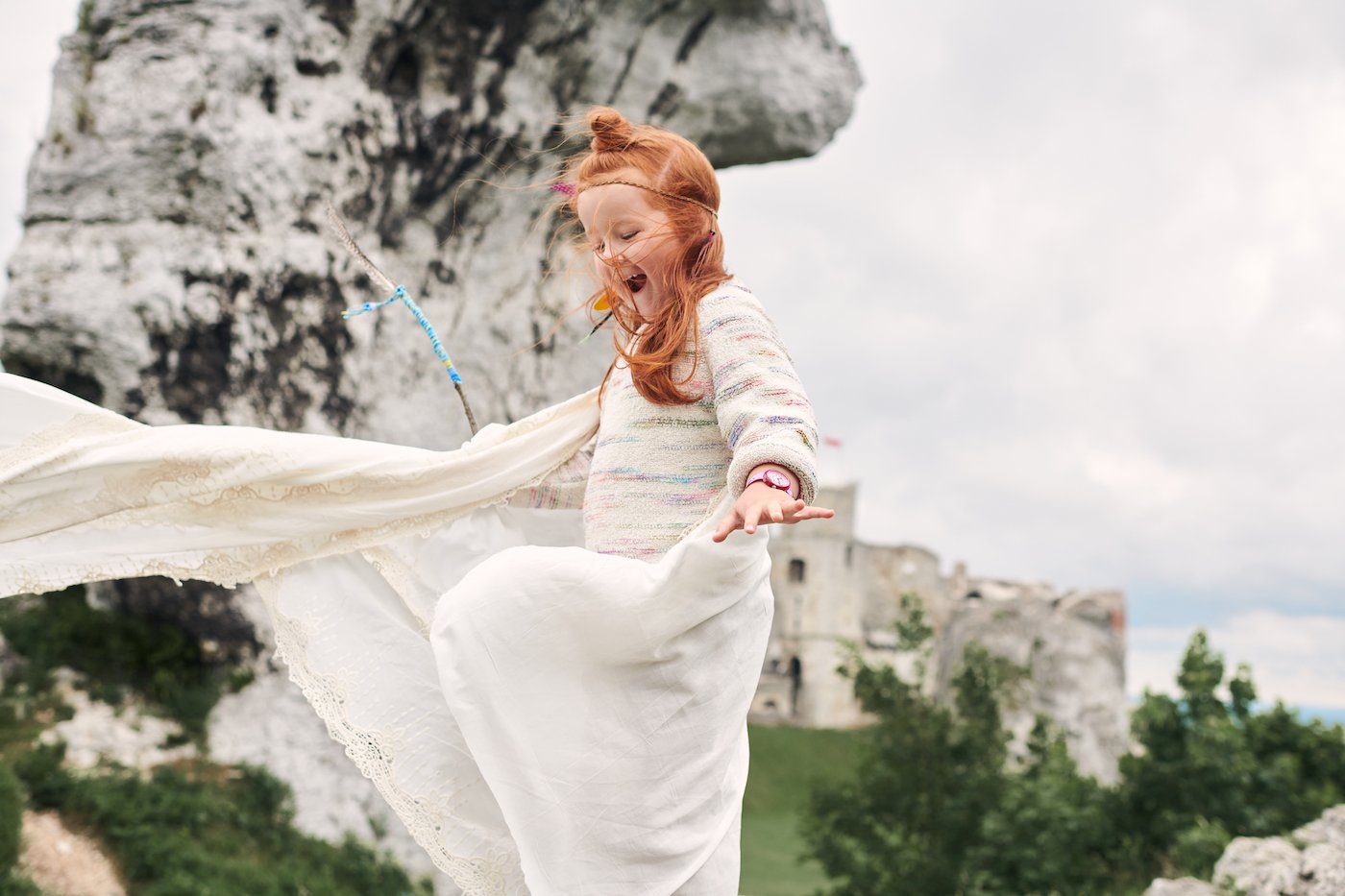 Smartwatches gain ground
The surging demand for children's smartwatches stems largely from parental concerns for safety, wellbeing, and peace of mind, facilitated by features such as GPS tracking, fitness monitoring, and call and messaging capabilities. With numerous manufacturers investing in research and development to meet the evolving needs of tech-savvy children, the junior smartwatch market is poised for further growth. Moreover, some of these wearables are shrewdly marketed as an interim solution to delay the introduction of smartphones to children.
Amidst the growing complexity, navigating the junior market proves to be a distinct challenge, prompting industry players to explicitly define their segmentation strategies. Consider Casio's Baby-G line - a trendsetter for over three decades and synonymous with the G-Shock concept. Interestingly, despite its name, Baby-G's target audience isn't the very young. In an email, the company clarified its stance: "Children's watches are not relevant for us at the moment," emphasising its strategic focus on Generation Z rather than Generation Alpha.

What children want
While adults may present compelling arguments for children's watches, the question remains: What motivates children to wear them? Our survey revealed that even among those children disinterested in watches, the majority would wear one to emulate family members and peers around them. This sociological aspect is a powerful force that cannot be overlooked. And brands are acutely aware of the influence exerted by immediate social circles.
Elisabeth Siegmann, Head of Flik Flak, elaborates, "When they see their parents, relatives, older siblings wearing one, they wish to imitate them as it makes them look cool and fashionable. It can also act as a confidence boost and give them a feeling of independence and being a 'grown-up'." She adds that Flik Flak draws inspiration from adult market trends, offering personalisation options and embracing popular themes, such as the rainbow designs for its 'Color My Life Collection' released in May.
The precarious tween terrain
Social influence is a double-edged sword. As smartwatches gain increasing popularity, their prevalence may gradually steer the younger demographic away from traditional watches. Children aged eight and above are most susceptible to the allure of feature-packed devices. However, this doesn't necessarily mean a losing battle for traditional watches, according to Professor Benjamin Voyer, Cartier Chaired Professor of Behavioural Science at ESCP-HEC Paris and visiting professor at London School of Economics.
He suggests, "The fact that traditional watches only perform one of a few functions is actually what can trigger customer interest and come as a reaction to smart watches and their lack of durability." He adds, "Younger generations are also more likely to be more open to exploring new ideas, such as wearing two watches: a digital one and an analogue one."

Can't beat them, join them
Watchmakers understand they must pull out all the stops to maintain relevance. Timex, for instance, attempted to extend its smartwatch offerings to the junior market several times in recent years but met with little success. Naturally, wearables are not the core competency of traditional watchmakers. However, Ice-Watch perceives a gap in the market and aims to challenge the status quo. Founded in 2007, the Belgian company is presenting an extensive portfolio of watches tailored to children aged 5 to 12. The range encompasses not only analogue and digital watches but also smartwatches, with prices starting from €50 to €100.
Ice-Watch has ventured into the smartwatch realm with 'ICE smart junior', offering children the same connected watches to imitate their parents.
By initiating this comprehensive campaign, Ice-Watch is set to establish itself as the go-to brand for children's watches. Jean-Pierre Lutgen, the founder and CEO, contends, "No other brand in the world today has that kind of segmentation for kids."Whether parents are looking to introduce their children to timekeeping or seeking a high-quality watch, connected or otherwise, Ice-Watch has it covered. Following the launch of its full range in spring, Lutgen proudly proclaims,"We have now achieved tremendous success with our Smartwatch for Kids."
Jean-Pierre Lutgen, founder and CEO of Ice-Watch, is launching an ambitious plan to establish the brand in a new segment as the premium choice within the children's market.

©Valentin Bianchi
The power of emotional influence
Buoyed by the positive reception to its diversified approach, Ice-Watch will work to expand its offerings even further. The independent brand strives to position as the "only premium brand for kids". Although prices may increase, Lutgen assures they will remain accessible. He boldly declares, "As pioneers in our product strategy, we're determined to continue leading the way." While Lutgen is tight-lipped about specific plans, he hints at future collections being available through multibrand retailers frequented by watch enthusiasts.

The strategy could potentially influence children's interest in watches through their parent's passion, transforming timepieces from mere toys or disposable tools into cherished objects with sentimental value. As Professor Voyer notes, "This could induce nostalgia at a later stage and drive consumers to embrace special objects from their childhood. If a watch is given to a child, especially as a rite of passage, it may foster an association between special objects and success."

Cultivating future buyers
In the case of Amandine, now 12-years-old, the seed planted with her early exposure to fine watches bloomed swiftly. Last year, she joined an unprecedented queue of avid fans for the MoonSwatch on its launch day in Geneva. Amandine made her way into the Swatch boutique, and footage of her purchasing the 42mm light blue model turned her into a sensation within the watch community.
"It fits my wrist perfectly. But if you look at advertising, you don't see children at all. It's only adults. Why are only adults and watch enthusiasts in the marketing?" she questions. Amandine, representing the very future of the industry, critiques the lack of outreach from watch brands. "We are the next generation," she asserts, "It's normal that children don't show interest in watches if watch marketing doesn't address them!"