A year or two ago, François Thiébaud said, in a somewhat provocative manner: 'Thank you. Thank you to all those Swiss watchmakers who have chosen the haut de gamme sector. You have opened a wide boulevard for us!'









It is true that the haut de gamme market, with its plus-value potential, has attracted a large group of Swiss watch companies which have abandoned the 'mid-range' and its great pressures to up-market. The pressures come from all over: the emergence of the fashion watch, Japanese manufacturers, Chinese private label subcontractors, as well as distribution channels.
In this uncertain context for the future of a complete Swiss watch industry, in other words, one that covers the entire range of timekeeping, Tissot has succeeded not only in following its historical path (the brand was founded in 1853) but also in becoming considerably stronger.
In speaking with François Thiébaud, we have a better understanding of how the brand has arrived at its current situation and the price it has paid.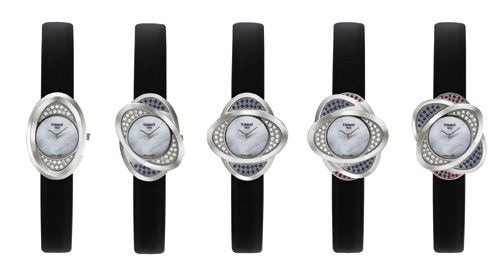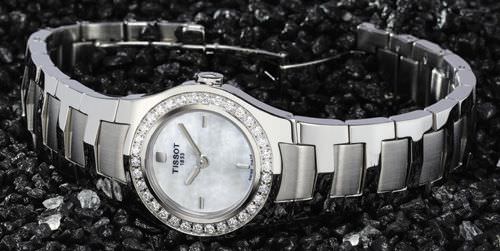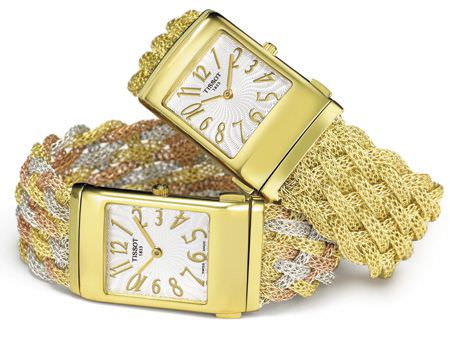 Europa Star: I will begin by asking the inevitable question: what percentage of component parts in a Tissot timepiece are made
in Chinaı

François Thiébaud: I would not be telling the truth if I said there were no Chinese parts in a Tissot watch (in fact, there aren't that many), but this is not the real issue. Take, for instance, the automobile. More specifically, let's take a German-made car, a Mercedes, as just one example. It is made up of component parts that come from all over. Today, a Mercedes costs about 20 percent less that it did ten to fifteen years ago, and it has better performance. A globalized economy also corresponds to a globalization of benefits. We must evolve as a function of a changing environment. We also must do it within the context of a difficult economic climate. China, to take this important example since I could also mention India, will not know the immense weight of funding workers' retirement programs that is looming over Europe, and in fact is already here. Today, Asians already make excellent watches. How can we respond to thisı By improving; by improving now and in the future the quality of our timepieces; by developing our capabilities in the areas of research and development. To meet these challenges, volume and industrialization are the keys.

ES: This is a whole different response than would be given by the 'haut de gamme' watchmakers. They would answer 'art, craft, exclusivity.'

F.T.: We are perfectly complementary with them, but it must be understood that it is the volume that permits us to have an exceptional price/quality ratio. For example, we could sell the products of the T-Touch line for a lot more. But, we would not sell as many, and we need the volume in order to fully take advantage of the industrial processes that let us make a product as sophisticated and innovative as the T-Touch. Because of the industrial procedures, because of the cost-controls upstream and downstream, and because of the quantities produced, we are able to improve the quality. The volume achieved by Tissot is also a major factor in the wonderful industrial research and development conducted by Nivarox (escapements and oscillators), Comadur (glasses), ETA (movements), EM Marin (electronic systems) and Asulab (research and development). This does not even count the fourteen assembly centres that we have in Switzerland. This essential contribution to the good health of the Swiss watch industry as it moves into the future seems, to me, to be fundamental.

ES: But what exactly is Tissotı What does Tissot represent in the mind of the publicı Is it only a broad-based brandı

F.T.: Tissot is not a broad-based brand. Tissot is a multi-specialist brand, which is not the same thing. Above all, Tissot is Tissot. This means that, today, it is an enterprise with more than 150 years of accumulated savoir-faire, more than 150 years of innovation, so much so that we are 'specialists' in many domains, not 'generalists.' I can give you two examples, rather largely ignored. First: who knows that Tissot is one
of the main gold watch producers of Switzer-landı Yet, it is the case. With prices starting at 999 Swiss francs, Tissot beats all the competition. Second: Tissot today sells 40,000 pocket watches per year, mainly in the United States, Germany and Japan, with lesser quantities going to Italy and France. Who else can claim thatı How did we get to this pointı The accumulated savoir-faire allows us to find industrial solutions that, in turn, permit us to plan such levels of production. The multi-specialty aspect lets us benefit one sector of activity with advances made in another.

ES: What do you mean when you affirm that 'Tissot is Tissotı'

F.T.: Tissot's activities have been and will remain industrial in nature. This is what I learned when I arrived in 1996, when I discovered, with the Swatch Group, what industrial power really signifies. Moreover, Tissot is part of a group and has its precise position in the global pyramid of products offered by the group. For Tissot, this means an average price between 200 Swiss francs and 800 Swiss francs. However, beyond this aspect, the real identity of Tissot lies in innovation, and always has. For instance, consider the materials – wood or stone with the famous RockWatch and the Astrolon, with it's mechanical plastic movement, ten years before Swatch – and the functions, such as in the 1953 Navigator and its 24-hour time zones. Tissot has always been innovative but has not been communicating this fact. This is why I launched the campaign 'Innovator by Tradition.' These two terms are complementary. One does not go without the other. I could have forged headfirst into the T-Touch. I did not do so because Tissot must be predominant, and not just be associated with the T-Touch. The brands don't belong to us. As their managers, we must respect them, take them in hand and guide them forward.

ES: Has the wave of the fashion watch forced you to somewhat rethink the positioning of Tissotı

F.T.: Having conquered major market share and transformed the perception of watchmaking, the fashion watch has made us take another look at our activities. It has also strongly contributed to making the customer understand that the watch, beyond its strict utilitarian nature, is a very important accessory. This awareness has resulted in healthy competition. Before, engineers created the trends through the technical constraints of their products. This was a one-way street. Then the fashion people came along and began to look for trends. They developed their products as a function of what the customer wanted. The fashion brands upset the traditional codes, broke with traditional thinking, and transformed the areas of promotion, presentation and packaging. In a certain way, they did force us to react. So, how have we reactedı We have improved our quality, strengthened our own watchmaking tradition, innovated even more, and began listening more to our clients. We let our markets become our instructors.

ES: Would one example of your 'instructors' perhaps be Tissot's presence in the feminine sectorı

F.T.: Yes, exactly. Based on our strong watchmaking tradition of great engineering, Tissot for many years neglected the ladies' market. Our production was 85 per cent masculine and 15 per cent feminine. As a reaction to this, we launched the T- Collection in 1998, a women's line made by a woman. It has enjoyed a lot of success.

ES: What is the precise distribution of Tissot in the worldı

F.T.: It is in keeping with our planetary am-bitions: in other words, 16,000 sales points. I believe that there is hardly any country where Tissot is not present. Contrary to my friends in the haut de gamme sector, who want to restrict their distribution, Tissot seeks to progressively expand its network. There is still much left for us to do. While our presence in China increases day by day, India, a market for which I have global responsibility within the Swatch Group, is still 95 per cent dominated by Titan. Yet, it is waiting to be conquered, or we could say, to be charmed. In terms of workforce, Tissot has about 2,000 employees in Switzerland (administration and production) and more than 500 around the world. Here, in this building in Le Locle, through which everything passes, our logistical network handles more than 30,000 watches a day, in the form of components that leave, finished watches that return, and finished watches that are sent to the four corners of the globe.

ES: On a more personal level, what have you derived from your present experience, after your watch journey beginning in France, continuing at Breitling, then Juvenia and now
at Tissotı

F.T.: As I have already mentioned - the fascinating discovery of industrial power.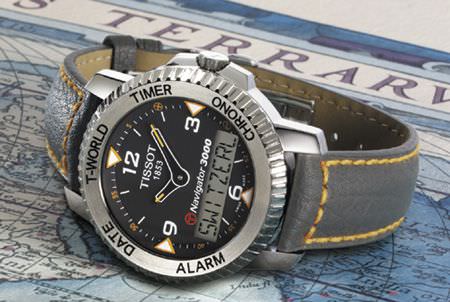 Bringing the World to your Fingertips
With the choice of 150 countries or cities simply through touching the activated crystal, the T-Touch Navigator is the latest example of Tissot's use of tactile technology.
A stylish round dial with large Arabic numbers at the quarters of the hour offers a clear analogue reading of the time with the digital illuminated LCD window indicating the city or country to which this time applies, which adapts automatically to the change in Winter and Summer time up until 2099.
This latest example of a multiple time-zone watch is a continuation of the Tissot history of innovation, from its first two time-zone pocket watch in 1853 through to its celebrated Navigator 24 time-zone watch one hundred years later.
In addition the T-Navigator 3000 offers the functions of a chronograph, countdown timer, two separate alarms programmable over seven days with a choice of five melodies, and three different date reading options shown in 6 languages - all at your fingertips.



Click here to subscribe to Europa Star Magazine.