Watch 'wardrobing'
Watch 'wardrobing' has really been taking off in the USA. Though not everyone owns more than one watch, the trend is certainly towards buying new watches periodically and changing them when the mood suits.
"People are accepting watch 'wardrobing' today," insists Ali Soltani, President, Ritmo Mundo. "If we 'Ritmotize' you once, we'll get you again. My customers aren't buying their first watch when they buy a Ritmo Mundo. They own a Corum, a Panerai, a Patek and a Cartier, and Ritmo Mundo is a fun watch."
The time when a man or a woman would only own one good watch is decidedly long gone.
"Watches are more recognized and accepted, watch 'wardrobing' is acceptable and watches as a category is accepted," says Tourneau's Block. "Men have accepted watches as a piece of jewellery, as an accessory."

Challenges to wristwatches
That doesn't mean that there isn't some resistance to wristwatches, however. Today, people realize that they don't really need a watch. After all, people can get the time from so many different places - cell phones, cars, computer screens and more. That's why the emphasis for watches has to be on more than a practical level. In this vein, Seiko has a new ad campaign out that emphasizes that it's your watch that tells the most about who you are. Watches have to be sold with an emotional connection, a story, a history, or they will become a commodity.

High-tech
Something that is starting to take off is the watch as a high-tech communication device, not just a timepiece. Four companies (Swatch, Tissot, Suunto and Fossil) currently have contracts to produce and distribute Microsoft SPOT watches. These watches tell the time, of course, but they also connect wirelessly to the MSN service for news, stock updates, weather and other constantly updated information.
The watches are selling fairly well, after issues such as content, service area and styling were addressed.
"It has taken a bit of time to get the word out about the solution that combines the watch and the service," admits Frank Romero, Director of Technology Watch Products, Fossil, Inc. "Both Microsoft and Fossil have made tremendous progress in developing the category. It's taken longer than we thought. Initially, we thought this would be a very cool technology, and it is. When my wife first saw the watch, she didn't understand the concept until she wanted to see what the weather was going to be like every morning. Every morning she got up and picked up my watch to look for the weather forecast – she got used to the availability of this information very quickly."

The Internet, counterfeiting and the grey market
Ever since the Internet became popular, there have been watches sold there. Brands have been trying to figure out the right way to handle these sales. Some brands refuse to allow any sales on the Internet, while others, like Fossil, encourage Internet sales at full retail. Chase-Durer, one of the pioneers of selling on the Internet, a brand which really maximized the Internet exposure to build its name recognition, used the Internet as a full-price selling tool and a means of directing traffic to its retailers.
Now, with all the problems associated with the Internet, grey market goods and counterfeit product, even Chase-Durer is backing away from Internet sales, converting its business and its website over to one that solely channels customers to its authorized retailers.
"We are making a major change in our organization – we are not going to sell directly any longer," says David Elan, Senior VP, Director of Sales, Chase-Durer. "We don't want to compete with our retail partners. Even though we sell mail order at full-retail, we think it will elevate the demand for our watches in the stores and it will increase sales in those stores. This will make us more important to the retailers, which should take us to a whole new level.
"We will take orders and forward it to the stores and then it will be in their hands,"Elan continues."The store owner will be very happy and we will be able to focus on customer service. There are a lot of products in the market. What separates the men from the boys is the level of customer service you can provide."
Most brands do not allow sales on the Internet in any form, just to keep distribution clean. The Internet is an area that will have to be dealt with, as more and more people turn to the web as a way to purchase goods, from books and DVDs to cars and other high-ticket items.
"The Internet needs to be addressed," says Tourneau's Block. "The Internet is not going away and someday it will be a viable channel for the things we sell."
Most brands currently take a hard line on Internet sales. "People go to the Internet to research any large purchase, that's the reality," says Stuart Sklar, President, Maurice Lacroix USA. "Retail fulfilment on the Internet can be a real danger to our industry – you have price disconnects all over the world, every brand has them, and unscrupulous people can take advantage of that. We are taking a very strong approach, we do not allow fulfilment on the Internet, and we are going to make sure that the watches we service under warranty are delivered and sold by authorized dealers. We are going to put the retailer's name on every single warranty and we are going to make sure we are servicing only authorized watches. Someone who buys from an unauthorized dealer will not get service. We want to support our authorized dealers in every way possible."
Counterfeiting is a major concern for brands. Not the US$ 10 counterfeit watches you might find on the streets of New York city, but the high quality counterfeits that aim to pass off bogus watches as the genuine article.
"Counterfeiting is a very serious issue, a major disease," says Cartier North America's de Quercize. "The concept behind Cartier is love and friendship, and counterfeiting destroys that. You should see some of the customers who come to our boutique to have their watch serviced and they find out it's a counterfeit, they begin to cry. They have been taken advantage of. They have been given the watch, or they purchased what they thought was a genuine article on the Internet. These counterfeiters are stealing from us and from our dealers."
The grey market, where watches sold to other parts of the world end up in the USA is also a problem. "The biggest problem is that the consumer makes a decision on calculating the variance in price and they really aren't sure if they are buying a real watch or a watch that has been stolen or a watch that isn't new," says Girard-Perregaux's Jackson. "You don't have any warranty on the product. That's not something that someone worries about when they make the buying decision. When something goes wrong, their opinion about the brand comes from the way the situation is handled. A brand that has a big grey market can suffer in image when products are not sold through the established distribution, where it is authorized and serviced.
"The US market is still a very large market for grey market products, products that are not imported into this country in a legitimate way,"Jackson continues."There are estimates that 10% to 15% of the overall volume of watches brought into this country doesn't hit the radar screens at all. The grey market is a relatively big problem. For a company which makes investments servicing their retailers and the consumer, it dilutes the amount of resources."
The best brands expend a great deal of effort trying to get a handle on the grey market.
"LVMH is very much fighting the grey market every day, because we want to provide very clean distribution for our retailers," says Daniel Lalonde, President and CEO, LVMH Watch and Jewelry North America. "The counterfeiting side is a very serious issue for all brands and we do a lot of raids. We have a team of people, legal and enforcers, who do raids very often where we shut down counterfeiters. It's a big issue and it's one we tackle every day."

Involving the customer
Service after the sale is becoming ever more important in the US market. In the past, brands and retailers could get away with not-quite-up-to-snuff customer service, because no one was really good at servicing the customer. Repairs took forever and even swapping a strap was a major project.
Today, so many brands are so good at customer service that those who don't do quite so well really stand out.
"Customer service is extremely important," says Denis Boulle of de Boulle. "We differentiate ourselves through customer service. Every company says the same thing, but there are many brands that do a truly great job. If they don't support the retailers, it can make us look really bad."
The brands that forge a relationship with the consumers are the ones that will succeed in the USA. "The quality of service is key to creating and sustaining confidence in the brand and assuring the retailers that you are there as their back up," says Corum USA's Orloff. "We really excel in customer service, we are particularly easy to deal with. As we continue to grow, we still have roots in the family business and we don't forget that."
Customer service is as big a part of building a brand in the US as having the right mix of product. Maybe even more important. "The difference in the US is managing the brand," says Thomas Morf, CEO, Carl F. Bucherer Worldwide. "A good product is a prerequisite for us. Lack of quality service is a common problem in our industry – we have to do it differently and better. The service is so important at this level. The people behind the brand make the difference. We haven't reinvented the wheel. It's still a watch. We want to offer the best after-sales service there is."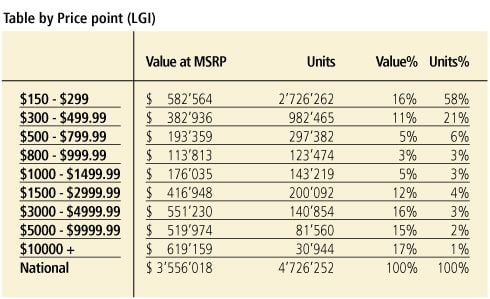 TO BE CONTINUED...
In the forthcoming days, the rest of this lenghty survey will be added to our europastar website.

1. The state of the U.S economy, Distribution

2. American brands, The top brands in the U.S., The watch groups in America

3. Watch wardrobing, High-tech, The Internet, Counterfeiting and the grey market, Involving the customer

4. Case study: TAG Heuer

5. The bridal market

6. Case study: Kobold Watch Company, Watch trends and colour, Unique designs, The Future


Click here to subscribe to Europa Star Magazine.