A SAFE MEDIUM

The big watch phenomenon has been with us for almost a decade now and is still going strong. However, big watches have been more successful in markets such as the United States and the Middle East than in Asian countries. This is problematic when you consider that Asia is the leading market for watch imports (US$ 6.2 billion of Swiss imports in 2008 went to Hong Kong [many of which were subsequently re-exported], followed by US$ 4.3 billion for the United States). The solution for many brands has been to offer collections between 35 mm and 38 mm, much to the joy of the Asian market, but also with women the world over. The brands are not calling them 'unisex' timepieces, but 'medium', a sexless term that is more appealing from a marketing point of view.

Finding the perfect size
A great many of Cartier's timepieces are unisex even if the brand doesn't sell them as such. Take the Santos and Ballon Bleu collections, for example, instead of dividing them into men's and women's models, Cartier has classified their collection into 'small', 'medium' and 'large'. This makes perfect sense from a sales stand point as the client can choose the perfect size for his or her wrist without feeling that she or he is buying a timepiece normally meant for the opposite sex.
Other brands that are using the term 'medium' include deLaCour with its City Medium timepiece, Dior with its Chiffre Rouge and Chaumet with its Class One and Dandy collections.
Another way not to exclude women from the men's pieces and vice versa is to use the case size as a way of organizing collections. Chanel, Bell & Ross, Hublot and Roger Dubuis use this method as a way of differentiating their lines instead of categorizing them by gender.

Jaeger-LeCoultre and the art of polo
Many sports are gender specific. It is rare to find a boy in a figure skating class, as it is to find a girl on the ice hockey team. The same is true in the equestrian world. Girls love show jumping and dressage, while polo teams have always been predominantly male. So Jaeger-LeCoultre never really questioned who was buying their Reverso timepiece as it had been designed especially for polo players with its reversible case that can be flipped over in a match to avoid balls or mallets smashing the crystal. But it wasn't only the gentleman who loved the Reverso as Janek Deleskiewicz, Jaeger-LeCoultre's Creative Director explains, "We have always sold a large number of our Reverso timepieces to women, but we didn't realise it. The split is about 50/50." There are nine Reverso sizes in all, with two sizes being specifically dedicated to women. Janek Deleskiewicz admits not knowing quite how to categorise some of the women's sizes in the middle. The two models specifically for the ladies are the Reverso Squadra Dame, a sporty model, and the Grand Reverso which has two sides, one with diamonds and one without. The Americans fondly explain this as "one side for the subway and one side for Broadway." Technically this is quite the feat of engineering as the movement has to turn both sets of hands which are, as far as the movement is concerned, turning in opposite directions.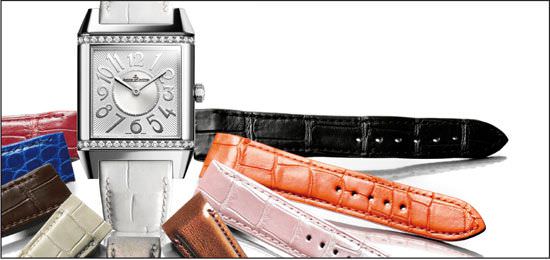 REVERSO SQUADRA DAME by Jaeger-LeCoultre


JUST FOR THE LADIES

Even though unisex and medium-sized watches are booming, there is still a multitude of choices of smaller mechanical watches made exclusively for women and they are regaining popularity. Priscilla Newman from Barcelona's The Watch Gallery has already noticed a change. "I think the ladies are a little bit tired of large watches and are returning to smaller models," she explains. As for unisex models she says "They are definitely fashion items."
After all, big watches aren't to every woman's taste. Here is a small selection of purely women's timepieces to wet your appetite. There will be plenty more in Europa Star's next issue in a Special report on glamour.

Blu dances in the moonlight
Bernard Lederer is one of the few watchmakers who has never left the ladies aside. In his manufacture in Colombier he has been designing and creating ladies watches from A to Z with as much ardour as he has for his men's pieces. One of my favourites is the Lady Moonlight with an aventurine dial set with diamonds and sapphires. But it is not only the design that is so distinctly feminine, Lederer has invented the most elegant of complications with a minutes disc that rotates once around its axis every twelve hours. This off-centred, domed, rotating disc paved with VVSI diamonds has a line of sapph-ires that cleverly points out the minutes. The 18 carat gold case is quite a good bit smaller than the models above at 36 mm and is encrusted with diamonds.





LADY MOONLIGHT by Blu


Van Cleef & Arpels creates some magic
Staying in the moonlight, but this time with Van Cleef & Arpels, who has put all its energy into creating magical timepieces for women. This year sees the release of a Midnight Jardin Italien de la Renaissance, an automatic timepiece with a diamond-set onyx dial that depicts a temple in the midst of a garden. The company's renowned Poetry Collection continues to go from strength to strength, from the first Saisons timepiece in 2006 to this year's Les Jardins featuring gardens from Paris, France, Renaissance Italy, the Far East and England. This poetic complication turns the disc once every 365 days. Although I wonder if the watch's owners don't reset their timepiece just for fun every now and again to see the entirety of the dial.

One of the great things about being a woman is that we can wear a taffeta ball gown or a man's trouser suit and still look delightfully feminine. It is the same with watches. Women can wear a 44 mm man's chronograph or a delicate diamond bracelet watch and still look stunning. Women are buying men's watches, women are buying unisex watches and women are buying feminine timepieces made specifically for them. The good news is that there is a watch for every women and every occasion. How lucky we are!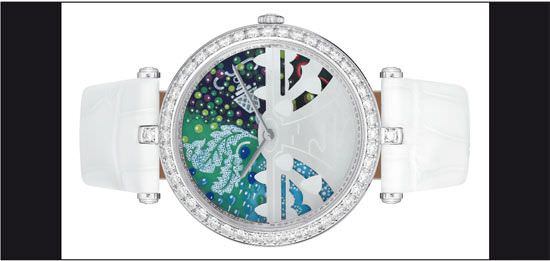 JARDIN A LA FRANçAISE by Van Cleef & Arpels


Unisex watches in the world of women's mechanicals: Part 1
Unisex watches in the world of women's mechanicals: Part 2


Source: Europa Star August-September 2009 Magazine Issue