Let's face facts - things are still pretty bleak in the USA. General Motors has declared bankruptcy, the housing market continues to be depressed and money is not flowing very freely. But, there is a glimmer of hope and it was to this hope that brands and retailers were clinging to during the 2009 Las Vegas shows (Couture, JCK and Swiss Watch by JCK).
Analysts and pundits are saying that the re-cession in the US has pretty much hit bottom and most are predicting the economy will start to get better in 2009's fourth quarter, just in time for retailing's busiest season – the Christmas holidays.
The general feeling at the show, which was slower than normal but not nearly as slow as people expected, was that things were starting to move a little. Most retailers had brought their inventory down to a level they can live with and are actually started to re-order now. Orders aren't like two years ago, of course, but they are at least starting to be placed. The phones have started ringing in the brand offices, which is a very good thing indeed.

The shows – down but not out
Estimates were that the show was down about 40 percent from previous years, which is better than what most people expected. Due to the number of retailers who stayed away from the SIHH and BaselWorld this year, the Vegas shows were much more important than in previous years. However, not every retailer came to Vegas, as many were not yet in a position to place orders. Those that came to the show, however, were buying product – cautiously, sure, but at least they were buying.
Here is a sampling of what people were saying at the Las Vegas shows.







Patrik Hoffmann, President, Ulysse Nardin North America: I think we have hit bottom. We are getting calls from retailers saying they can order now. They are where they want to be with their inventory. We didn't push the retailers like the other brands did. We took a big hit, but we can start to build again. It will take a long time to get back anywhere close to where we were.

Thomas Morf, President and CEO, Carl F. Bucherer: The higher end is still selling and things are a little bit better now. Sales are slowly starting to come, which is better than it has been recently.

Michelle Veyna, President, Parmigiani Fleurier North America: The last few weeks, things have started to sell and the phone is ringing. I don't know how long it will last, but it's nice.
In the collectible pieces, watches over US$100,000, we do so few that the demand is still there. Half of our business is watches over US$100,000.
The retailers we met with in Las Vegas are feeling more comfortable and are writing orders. They are definitely in a better place than at the SIHH. It seems like things are lining up for a decent fall. It's been a cleansing process, too, so some companies will come out of this healthier.

Ron Jackson, President, Girard-Perregaux and JeanRichard North America: The overall market has retracted significantly from the high point of late 2007 and early 2008. As a result, the retail distribution channel is doing their best to rescale their inventories to reflect the new market level, which is estimated to be 40 percent down from the high point. Assuming all of this is true, it's easy to understand that retailers began the 2009 fiscal year with on average 40 percent more inventory than they needed. As a result, much of the first half of this year has been spent selling through this inventory. The good news is that sales are improving and we are optimistic that as we move into the fourth quarter of this year, the rescaling of the inventory will be complete and we will be in a position to replenish this inventory.
The higher-end pieces continue to have demand but the market has now been focused more on collectors versus in the past where high-end complications might have been purchased by someone with a lot of money. Today, the people who are still buying those pieces are people who have a significant understanding of the segment and an appreciation of the long term value.
A lot of the retailers have told me that, as difficult as this time is, it does have some long term benefits. The key to realizing those benefits is really dependent upon matching the future products with a more conservative approach to consumption, as well as production levels that match the demand. Without these working in harmony with each other, you will have products that become a commodity more than a luxury.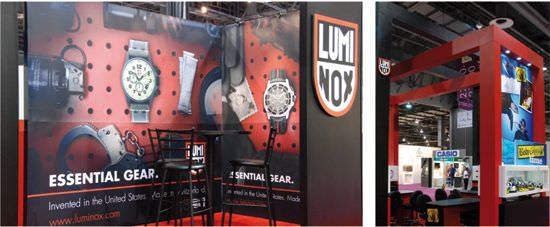 Guillaume Tetu, COO, Hautlence: I was pleasantly surprised to find that the few people who came were really there to do business and find solutions to promote products and good business. In parallel, my store checks were a big surprise regarding the huge stocks of Rolex, Hublot and middle-range products everywhere. When you multiply the number of windows and doors in Las Vegas (each hotel and shopping centre) by the quantity of references, you can feel why so many brands have cut production and why unemployment in the industry is rampant now.
We reacted quickly in the middle of October, so right now, our small company is ready to follow the small sales, and we will take the opportunity to improve the management of our customer relationships, retail animation, product training and brand building.

Les Perry, Executive Vice President, Seiko North America: There's no question that the traffic was less than last year. We planned for that, we brought less managers, so we were busy. For us, the export people come to buy, and then there are the locals from the Las Vegas region, who buy. The rest for us is follow ups from Basel.

Gustavo A. Calzadilla, President & CEO, Tutima USA, Inc.: I would describe the general mood as cautious optimism. There has definitely been a shift in buying habits to the understated luxury and value driven products.
As a result, our titanium divers' models and Grand Classic Collection have begun to experience a stronger sell through since January.
Many of our authorized Tutima dealers have recognized this shift and have chosen to put more emphasis in the US$1,000 – US$5,000 models within our collection to better address current demands.
We expect to see a gradual improvement in the luxury timepiece business for the balance of 2009. The connoisseur formerly purchasing ultra expensive watches continues to seek quality, value, brand recognition and craftsmanship and Tutima is well situated to offer all this and more without sacrificing the kid's college fund.

Marie Bodman, President, Breitling North America: Our results in Vegas were better than last year and we had double the number of appointments. We also found that people are willing to replenish their inventories after six months of famine.

Rudy Chavez, President, Baume & Mercier North America: Things are turning around. We are having a better show than we expected. People are ordering, which is great. We hit our budget in both April and May. I hope we can get some consistency. I am encouraged by the price value ratio we have. One of our retailers said, "Thank God for Baume & Mercier".
Retailers have let inventory levels come down to where they are more comfortable. Now, they are starting to buy again. Retailers can't afford to have too many brands, today. We are benefiting from this.







Jimmy Olmes, President, Reactor: As difficult as the marketplace is, we've opened 32 new accounts in the past 60 days and 75 percent are jewellery stores. Over 50 percent has re-ordered within the first 30 days. Things are slower than normal, but everyone is paying. The most difficult thing for us is to make up the loss of business from our biggest retailers. Dillard's didn't order a single watch for the first four months of the year. They are ordering now, however. It feels like the worst of it is behind us.

Carlos A. Rosillo, President, Bell & Ross: The question is stock and demand. The dealers are trying not to go bankrupt. Now, they are cleaning their stock, closing some brands and they are in a better situation. Retailers are starting to buy again. They are recovering, they see the potential to grow. One of our great advantages is that we didn't put too much stock in the retail stores. A lot of the people in this market have a short term view. If you look at things this way, you can be out of business very quickly.

Barry Cohen, President, Luminox: We heard that registrations were significantly down from the prior year so we were very concerned that the show might not turn out to be a success. We had just invested a lot of money in a new booth and this gave us additional concern to have spent so much on the new setup and have it potentially be for naught. Well, our fears were unfounded as it turned out to be our busiest JCK show ever. I think this was the result of our much larger and nicely designed new booth coupled with its better location, and the large number of new models we showed for all three brands we showed there. We consider ourselves to be very fortunate to have had such a good show given the lower turnout of buyers than in the past and the poor economy we're enduring this year. We have seen our business jump up and down rather erratically since the downturn last fall and cannot yet tell if we really see consumer confidence returning, but my gut tells me we are not out of the woods yet.

Ralph Simons, CEO, FrÉdérique Constant North America: On a global basis, the first three months were good. By May, we were over last year's May. The products and pricing are fantastic. People really like our value proposition.

Mike Margolis, President, Hublot North America: March was within 5 percent of last year. Things are very good for us. The new factory is open and all the machines and the people are in. We have five CNC machines and we are building our own movements. We have two new movements in development – a three hand automatic and a column wheel chronograph.

Matthias Breschan, President, Hamilton: We are at a very democratic price point, US$500 - US$3000. It's still a lot of money, but the substance of the product is there. Everybody wanted to enter the luxury segment and you can do it with new things, innovations, but there were a lot of companies who increased their price points but didn't change the value of the product. We didn't try to move up, but worked on the quality of the offering and introduced true innovation.
Retailers hear that Hamilton is performing well. They get the LGI reports that show that Hamilton is out performing other brands. We are now getting approached by retailers who wouldn't talk to us in the past and they want to add the brand. There are not so many brands that are approached by retailers to add them.

If the United States rebounds as expected by the fourth quarter of 2009, here's to hoping that it spurs a general global recovery.


Source: Europa Star August-September 2009 Magazine Issue