After having to write about decreasing turnovers and complaining retailers when looking back at the watch and jewellery branch at the end of every year, little by little, chroniclers get tired of hearing the same message year in, year out.
To be honest, the year 2004 did not bring much change to Germany's economy. However, last year could have brought something that Germans call 'a silver lining at the horizon' or 'a light at the end of a tunnel'.
The atmosphere is as divided in Germany as the economical outlook: exports, like in the previous years, literally exploded, while nationally, consumer demand remained weak and didn't help the retail business. Some branches such as stores selling digital cameras or mobile phones had no reason to complain.
On the one hand already in September a headline proclaimed: "Consumer climate lightly warmed up." On the other hand, an opinion poll from early December showed that "52 per cent of the consumers intend to spend less money for Christmas gifts than the year before." Despite that, the weeks prior to Christmas, in which German jewellery stores traditionally generate some 30 per cent of their annual turnover, gave rise to what politicians like to call 'careful optimism' at the end of 2004. Shopkeepers selling rings, necklaces and timepieces – at least in some regions of the country – were satisfied.
Because the turnover in Germany's jewellery branch had decreased again during the period between November 2003 and 2004, many retailers were surprised by good sales results in December. So were some importers of watches and the heads of several subsidiaries of Swiss watch brands.
"We had good sales in December, though November ended up with a minus result," says a saleswoman in Cologne. "We have to keep optimistic!"
Also Manfed Tokarski, representative for Vacheron Constantin in Germany, started this year with optimism. "We made a plus in sales of 19 per cent in 2004," he proclaims proudly. Also Markus Wojna, Managing Director of Maurice Lacroix in Germany is satisfied. Wojna's most important customer, the jewellery chain Christ with some 180 shops throughout the country, provided a big increase for Maurice Lacroix. "During the period October to December Christ bought 10.5 per cent more of our products than in the same period of 2003," Wojna reports.

A market with many different aspects.
In general, the market, as before is still non-uniform. The watch branch had to sustain another average loss of 3 per cent compared to 2003. Significant and worrying is that small stores, with an annual turnover under e 500.000 per annum, had decreases of 5 per cent, whilst shops generating turnovers over half a million only lost 2 per cent.
The gap between retailers with good sales results and those who had to face decreases as before, became wider again in 2004: some stores, despite the weak economy, came out with an increase of 32 per cent, whereas the ones hardly affected by high unemployment with consumers saving their money instead of buying jewellery and watches, had to get along with a minus down around 30 per cent.
'The peaks between the minus and plus pole on the turnover scale became higher,' stated the monthly branch magazine Uhren, Juwelen, Schmuck in an article. 'Many stores had the right methods to achieve good turnovers in bad times. Others have moved far into the minus field, …the retailers at the lower end are hard-pressed.'
Germany's top jeweller Wempe is in a way a seismograph for Germany's high level watch retail business. Running 19 shops in Germany (plus some abroad) which have all major watch brands in stock, the management gets an overview of nearly every region. "We have to work more in order to maintain the same results today," says Kim-Eva Wempe, who leads the family business and admits to some strange anomalies: "It is more difficult today to sell a man's gold watch for 7,000 euros than an Audemars Piguet Royal Oak Offshore with steel case at a price of some 12,000 euros." For 2005, Mrs. Wempe expects an increase in sales around 4 per cent for the Hamburg based company. With a lot of effort.

Various problems in a divided market
Although the reunification of Germany took place more than 15 years ago, in terms of economy the country remains divided. 'In the western part of the country the tendency to purchase took off. In the east, the consumer atmosphere became worse,' the GfK (Gesel-lschaft für Konsumforschung), Germany's most important consumer research company discovered.
Problems in the retail business are not only a result of falling demand. Some watch companies cut the margins for their products during the previous years and some of them dramatically increased their factory prices, which naturally makes selling more difficult. Consumers try to take advantage of the current retail situation and ask for big discounts. As retail prices are totally flexible in Germany now, some shops sell watches with discounts up to 35 per cent.
Internet sales are also very threatening to the classical specialist shops, which have, unlike Internet sales, high rents, insurance and salaries.
The 'grey market' also brings difficulties and not every watch company is fighting against this problem like Patek Philippe. "2004 was a very good year and we are optimistic for 2005," says Yannick Michot, head of the German subsidiary in Munich. "But we had many problems with grey market activities. That is why we consciously reduced our turnover. We found watches on sale in the Far East, which we had delivered to our German retail partners. We bought those pieces back and confronted the retailers with this matter. In case there was no logical explanation, which most of them didn't have, we stopped supplying that particular store for at least six months. If it happens again, we will stop using those partners."
The strong euro is also a trade handicap in Germany. Though the exchange rate of the currency has no impact on the consumer's behaviour, shopkeepers in touristic towns complain that foreigners from outside the euro zone buy less watches and jewellery than before. "In Berlin for example, Russians customers used to spend a lot of money," states Helmut Teriet of Tradema Germany (Girard-Perregaux, Daniel JeanRichard), who is also the local agent for Harry Winston. "With the strong euro, they now buy less."
The business of German watch companies and the subsidiaries of the Swiss brands do not vary as much as in the retail business, but nevertheless there are differences. Brands like Uhr-Kraft on one hand are doing very well with increasing turnover. On the other hand, the Munich based watch brand Chronoswiss registered a small decrease. "The German sales were not satisfying in 2003. But there was compensation through our international sales. This compensation was missing in 2004," explains PR manager Josefine Müller.
"We had three years of decreasing results," also admits Markus Wojna. "We had to rearrange our model policy and to put the relation between Maurice Lacroix and our retail partners on a different basis. We provide them with new marketing tools like displays etc. and we stay in close contact with our customers."






Yannick Michot of Patek Philippe Germany. / Ralf Lehr und Thomas Schörken of Uhr-Kraft. / CANYON by UHR-KRAFT


Watch power
It is a great relief to see some amazing exceptions to the pessimism and sales losses in this uncertain market. Exceptions such as Uhr-Kraft, which was founded around 1999 seems to take its name literally. The brand's name consists of a play on words. 'Urkraft' is the German word for elementary power. Transformed into 'Uhr-Kraft' it means 'watch power' and power is indeed what the young company has enjoyed in quite a short time. When Ralf Lehr and Thomas Schörken started their business in a 36 m2 office in Essen, they were convinced they would be successful with their '3-T' philosophy of top quality, top design and top price.
The first Uhr-Kraft collection was sold out within four weeks because they have some good ideas. For instance their 25-year guarantee on corrosion protection on cases, crowns, pushers and steel bracelets. This might sound a little ridiculous for a watch which is normally not worn for such a long time. But it underlines the Uhr-Kraft appearance of high quality. Quality at reasonable prices by the way, which allowed Ralf Lehr and Thomas Schörken to already generate a turnover of more than one million euros in 2000. Uhr-Kraft has now sold more than 100,000 watches in a price range from 79 to 499 euros and offers good value for money.
The new 'Canyon x-treme' for instance provides a nylon strap with Neoprene lining plus a steel/carbon bracelet, screw on caseback, digital display and luminous hands, two screw on crowns and a carbon cap to protect the sapphire crystal. Retail price: e 299.
But also you can purchase reject watches with a small scratch from e 40. Save money in accepting scratches, which your sports watch will have anyway within a couple of days. It's a good idea!






'Tangente' by Nomos Glashütte. / First watch collection licensed by wrapping artist Christo: 'The Gates' watch from Silhouette.


Classical blue-orange-red-grey-colours
Good ideas is also true for Nomos, one of the small watch companies in Glashütte, which is in a way extremely successful.
Offering only a few different models, Nomos sells some 13,000 watches a year, which gives a turnover of roughly five million euros.
In 2005 the company launched a new automatic movement constructed and manufactured by Nomos Glashütte. In order to sell as many hand-wound movements as possible, which Nomos watches are normally equipped with, last year the company released 3,000 pieces of their most important model 'Tangente' at a special price and with a special look. The Tangente traditionally has black or white dials. Last autumn it was on sale with 30 different dial colours with a limited edition of 100 watches of each colour. Even though the watches were equipped with a transparent caseback, the 'Tangente Super 30' was sold 100 euros less than its regular price. It's no wonder that the special edition was sold out within a few days. Another good idea!

Gates on dials
From February 12 to 28, Christo and Jeanne-Claude, the world's famous 'wrapping' artists, who 'wrapped' the Reichstag, the German Parliament building several years ago, decorated some 40 km of roads and paths in New York's Central Park using around 7,500 wooden archways. On each of the five metre tall archways a saffron coloured nylon strip waves like a flag.
It was a German jewellery manufacturer who became the first licensee of Christo producing watches acknowledging this performance. Arnd Bentner, Managing Director of the Pforzheim based 'Silhouette Schmuck' is an art lover. His family business was established in 1893 and today produces a small series of high value jewellery. Bentner heard of Christo's plans in October 1993 and applied for a license to produce Christo art watches. "Actually, we would have liked to release a collector's edition of different motifs like 'The Umbrellas', 'Surrounded Islands' or the 'Berlin Reichstag', but that was not the wish of the artists," Bentner said in an interview.
That is why a collection of three different watches was produced. They are available with a gold case and Swiss made quartz movement (limited edition of 999 pieces) and two versions with a steel case. The gold watch comes with an art print signed by Christo. Three different dials printed with sketches, which Christo made before starting his project are available.
Starting at a price of e 89 the watches are on sale on the Internet and in selected watch stores. Yet another good idea!

Everything's possible!
These examples of successful ideas can make one optimistic, even with the German consumers wide-spread refusal to spend money. However, the general situation within Germany's retail business remains varied.
The outlook keeps the chronicler curious and reminds you of the text of a Toyota advertisement: "Everything's possible!"



Walking two lines at once
Jörg Schauer, who was originally a goldsmith, turned to high crafted watch production in 1990. "Schauer, der Uhrenbauer" (the watch builder) as he sometimes calls himself started making very individual watches with a 'machine' look which rapidly became successful.
A couple of years ago Schauer bought the old German watch brand name Stowa and started producing watches in a lower price range than his Schauer watches'. Today the company, based in Engelsbrand near Pforzheim is trading watches over the Internet as well as and through watch retailers – mainly from abroad.
"Unfortunately, only my exports are increasing," says Schauer who's major markets are in Japan, USA and China.
While Schauer watches are distributed exclusively through jewellery stores, Stowa watches are only available through the Internet at prices starting at 300 euros.
Business on both lines is going well. Last year Schauer increase sals by some eight per cent. Trading his way seems to be yet another a good idea!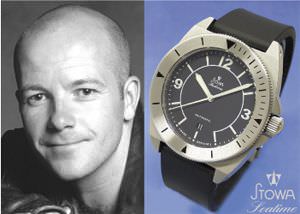 Jörg Schauer sells some 900 Schauer watches a year.
STOWA DIVER'S WATCH by Jörg Schauer.


Source: April-May 2005 Issue

More...Click here to subscribe to Europa Star Magazine.