A
s information becomes more readily available and the value of iconic watches in the secondary market skyrockets, a growing number of newcomers are showing interest in the watch market. They may be motivated by the sheer pleasure of collecting beautiful objects, by the prospect of investment returns, or a combination of both. Despite the ever-expanding community and a market heavily focused on aspirational luxury, the watchmaking sector remains relatively underdeveloped in terms of financing solutions when compared to industries like the automotive sector.
A growing number of solutions are seeking to fill this gap. One of the newest players is Swiss startup Yourasset, founded by former wealth management banker and watch enthusiast Stephan Kolz.
In partnership with a Swiss bank, the platform offers regulated financing payment solutions for luxury watches up to 150,000 francs, with monthly payments spread over 12 to 48 months. Yourasset has also developed a digital platform on which every brand and retailer has their own digital boutique space (shop-in-shop) to directly connect with customers.
"With Yourasset, our goal is to support and grow the existing ecosystem by expanding the core customer base," emphasises Stephan Kolz. "We're not in direct competition with luxury brands and their authorised sales networks." Among the main potential partners are brands and retailers; the company enables them to accept regulated financing payment solutions, while Yourasset handles the banking relationships.
Stephan Kolz, Founder and CEO, and Gabriel Tanguay, CTO of Yourasset
As Yourasset does not hold any inventory, it aims to be a "trusted intermediary" between the retailer and customers interested in financing their watches. "By removing all friction related to the financing payment solutions, we enable retailers to focus on what really matters and what they do best: building relationships with their customers," adds the entrepreneur.
An early adopter of the platform is Zurich-based retailer Zeitmeister. Established in 1932, this authorised dealer of mid-range brands such as Rado and Maurice Lacroix was acquired in 2014 by the Rahiminia family. "My father had a jewellery store in town for a long time, where he also sold vintage watches," shares Schahin Rahiminia, who now manages the boutique near Zurich's main train station. "In addition to showcasing new models, we have maintained a significant pre-owned business since taking over Zeitmeister."
Seeking financing solutions for its selection of new and pre-owned watches, the retailer contacted a Swiss bank last year, which connected them with Yourasset. The startup was simultaneously developing an offer tailored to the watchmaking industry. "Almost every day, we receive financing requests from customers. In real estate or for cars, credit is a standard system. We can finally address this demand for our watches," observes Schahin Rahiminia.
Zeitmeister's digital boutique on the Yourasset platform
"The idea behind our service is to make the process completely seamless for the retailer," notes Stephan Kolz. "It's also crucial that the data is transferred directly from the customer through the Yourasset platform to the banking partner responsible for making the financing decision."
Zeitmeister has a digital boutique on the Yourasset platform. Customers submit their requests confidentially on the platform, and await the banking partner's decision. "It's a decision that you don't necessarily want to share with your retailer, because it's basically very private information: our system guarantees this confidentiality," explains Stephan Kolz.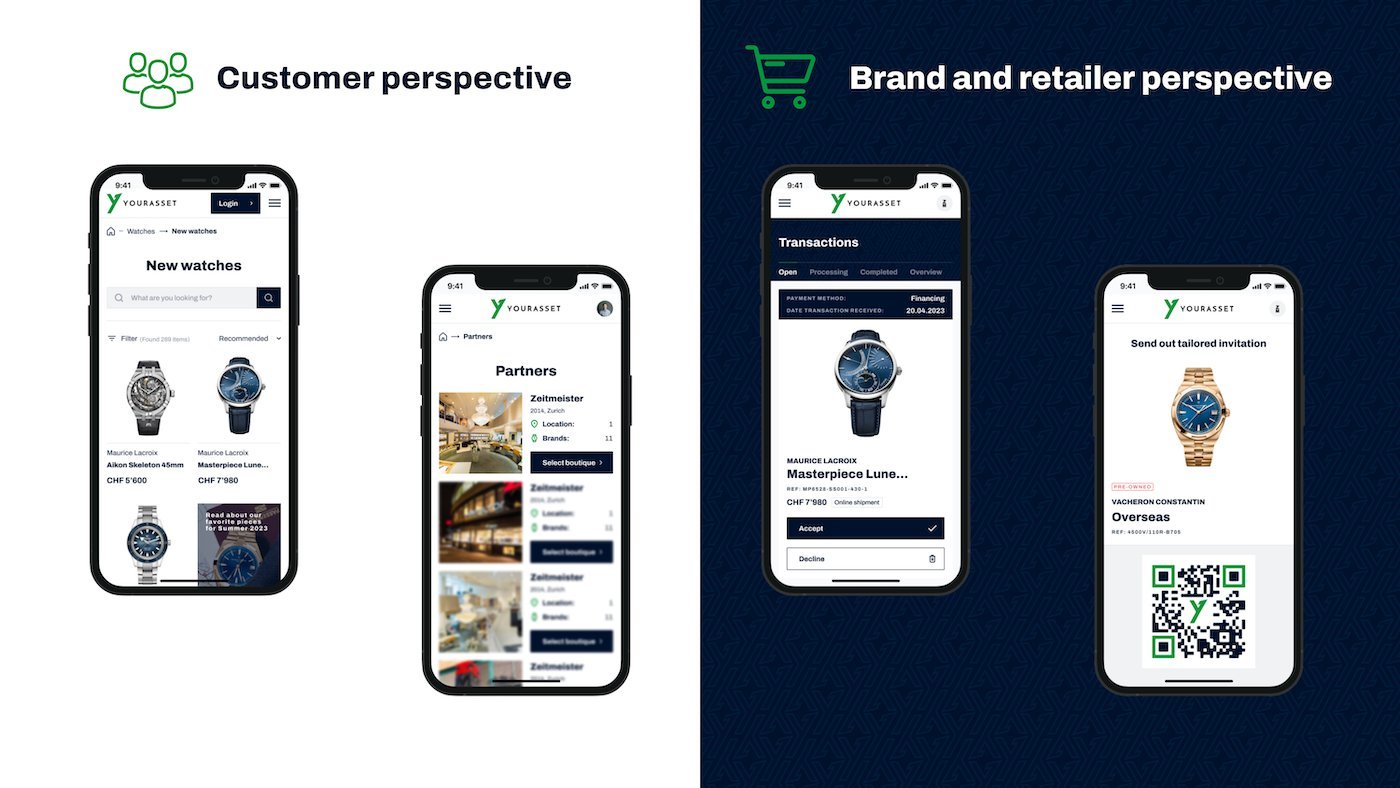 Yourasset's financing solutions will initially be available to Swiss residents, before expanding the service to other countries. In Switzerland, the new financing solution is subject to regulation and follows the rule that the granting of credit is prohibited if it leads to the overindebtedness of the consumer (Art. 3 UCA). Yourasset intentionally focuses on regulated financing solutions to ensure the new payment option follows the strict rules for the benefit of the customer and the retailer.
"Until now, customers who came to our store to buy a new Rado were not necessarily the same as those who came to buy a pre-owned Rolex. Thanks to the financing solutions, these customers might overlap and we will be able to offer our entire range to all our customers. This opens new options for our customers," emphasises Schahin Rahiminia.
In the United States, financing solutions such as Affirm are already widespread, and are used by several online watch sales platforms. In Switzerland the market is still developing. One of the pioneers is the Watchdreamer platform, which has established direct collaborations with brands such as Breitling and Hublot. To differentiate itself, Yourasset focuses on its role as an intermediary, providing its technology platform and regulated financing payment solutions to brands and retailers on a modular basis. Ultimately, with the emergence of these various initiatives, financing could soon become much more prevalent in the sector.
A watch profile on the Yourasset platform
"Investors often use credit to purchase assets, as it allows them to keep money available to diversify, or simply to budget the expense monthly," says Stephan Kolz. "Furthermore, financing encourages financial discipline: if I must pay a certain amount per month over the financing term, I must reflect that amount in my current monthly budget."
Inflation also plays a role in this decision: "We have recently seen increases in list prices. Buying today with financing locks in the current retail price. If you finance over a 24 to 48 month period for instance, you won't have to pay any subsequent price increases. Only the interest rate agreed upon by the customer on the date of purchase has to be paid on top of the retail price. In fact, price increases due to inflation may even offset the interest rate."
According to Schahin Rahiminia, financing has the potential to revolutionise a common practice among collectors: that of selling one or more models from their collection to acquire another. "One of my clients sold me two watches to buy another... and recently he bought them back from me because he was so attached to them. With the benefit of financing, he could have likely kept all his watches all along, as well as acquiring the new one. It's a much nicer feeling when you're a watch lover!"