Despite the success of the United States watch market, most brands and retailers feel that the surface of the market has barely been scratched and, if handled correctly, the United States market will be strong for decades to come.
That doesn't mean that there aren't problems that brands and retailers have to overcome to succeed in this huge market, there certainly are, but currently business is very good and every indication points to it getting better.

How's business?
Across the board, retailers and brands in the USA are reporting that business is robust, in spite of predictions that 2006 would be a 'so-so' year. As the holiday season approaches, the mood is upbeat and positive.
"Business is very good," says Paul Ziff, President, Zenith North America. "We are riding the wave of the mechanical renaissance, which is still in its infancy."
Patek Philippe in the United States has never been stronger and Hank Edelman, responsible for the United States market, attributes that to more consumer awareness due, in part, to increased coverage by trade and consumer press in the USA. "As little as five years ago our biggest complaint about the United States was that there was so little coverage of watches," he says. "As there has been more trade and mainstream coverage, when people understand Patek Philippe better, it makes us more desirable."
"In general, the US is the best market in the world," says Ron Jackson, President, Girard-Perregaux North America. "The US market has 50% of the world's billionaires, so there is ample wealth, but there are still a lot of people who are now discovering watches as a means of expression."
Business is great for Melissa Oster, a retailer from Denver, Colorado. "We are developing a loyal clientele who appreciate the rare watch brands and finer jewellery that we carry," she says. "Awareness is growing exponentially. The market in the United States is still vastly untapped when you consider how much incredible wealth exists in this country. As awareness grows and the industry expands, more consumers will turn to the industry experts to guide them. Retail relationships will become more important, both with the manufacturers and the customers."
"We are ahead of last year and we are achieving target," says Les Perry, Vice President, Seiko North America. "I think Christmas is going to be good. Gas has come down tremendously. We were at US$3 a gallon and lately it's US$1.97 and the timing is good going into the holiday season."
There has been some talk of market decline, especially on the low-end, with the younger generations of American consumers relying on other devices for the time (cell phones, PDAs, etc.). However, everyone contacted for this story talked of positive sales and increases over years before. According to the LGI Network, who works directly with brands and retailers in the United States, same store sales are up in every category except the lowest segment (US$150 - US$299.99) that LGI tracks. The highest growth was in the US$5,000 to US$9,999 range, where same store sales inreased 19% (see table).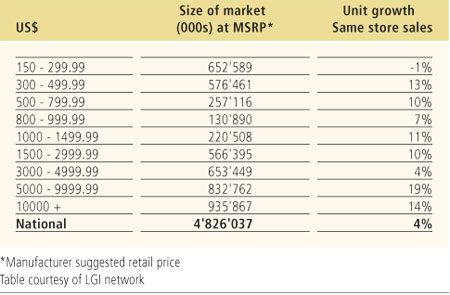 Trends in the USA
Bigger is clearly better - the trend towards big watches in the United States continues, for both men and women. Across the board, brands have resized their watches up or introduced new, larger sized models. This is not just a USA trend, however, as watch wearers around the world are buying and wearing bigger watches.
Mechanically inclined - mechanical watches are still going strong in the United States and higher priced watches are selling better than ever before. The companies playing at the opening price points in the market, Swiss Army, Hamilton, Tissot, even Fossil, are doing well, attracting new buyers, quartz buyers, into the mechanical fold. The biggest growth, however, is being seen in the higher price points with more complicated watches. "The high-end watch business is in very, very good health in the US," says Ronnie Wolfgang, President, Jaeger-LeCoultre North America. "There is a tremendous amount of interest in mechanical and high-end complicated watches."
Diamonds are a retailer's best friend - diamond watches as a segment are still incredibly hot. For most watch brands, watches with diamonds outperform the same models without diamonds, despite the higher price point. Diamonds for men are growing in popularity, but the lion's share of diamond watch sales are still to women.
Sports watches - with the introduction of some great new sports watches, this category is very strong in the United States. These 'do everything' timepieces are popular because the wearers don't have to worry about them, no matter where they are going or what they are doing.
Unique is the thing - in order to succeed in the ultra-competitive American market, watch brands have to have something interesting and unique. It's not enough to have a 'me-too' product.
"People are gravitating to watches that are unique," says Zenith's Ziff. "People want limited editions or limited allocation watches. People are looking to express themselves uniquely with something that other people don't have."
New watch brands - new watch brands, which pop up on the United States market all the time, are a double-edged sword. Excitement and the next big thing can really help drive the watch industry, but at the same time, new watch brands can be difficult and extremely costly to market and sell. There has been such an influx of new watch brands over the last ten years, some retailers are jaded and adopt a 'watch and see' attitude when it comes to deciding whether to take a new brand on. So many watch brands have come and gone, leaving retailers with product that won't move and dissatisfied customers who can't get service on watches that no longer work, retailers are justifiably wary of getting too involved in a new watch brand too soon.
"New brands don't have history and no one knows about them," says Amit Handa, Vice President of fine watch sales, Alpha Omega Jewellers (Boston, MA). "It's hard enough with brands that are well known. I feel that it's good to have selection, but when you have too much selection it can confuse the customer."
There has been a trend towards the single watchmaker or small company, making high priced, severely limited production. Some of the names that have surfaced and succeeded recently include Jean Dunand, Michel Jordi, Hautlence, Richard Mille, Svend Andersen and more. There is some question about how long this trend can last, as the market for these watches is relatively small. Some retailers, like Westime and Cellini, have had great success selling these watches and are servicing existing customers and creating new ones at the same time.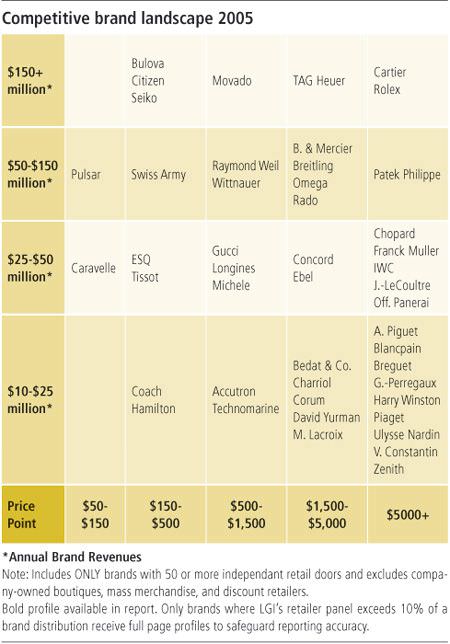 Service issues
As more watches get sold in the United States, the challenge of servicing all these watches, especially mechanical timepieces, becomes something that brands and retailers have to take seriously.
"After-sales service is always a challenge," admits Zenith's Ziff. "We have these machines that work 24 hours a day every day. The industry has to work on improving after-sales service. There is a reasonable expectation and when you go over that, you run the risk of angering the customer. As the market grows in the United States, it's something we have to keep up with."
In order to succeed when it comes to service, brands and retailers almost have to see it is a second chance to sell their original customer. "After-sales service is crucial to the success of the brand," says Rudy Chavez, President, Baume & Mercier North America. "You cannot sell luxury without providing an aftermarket luxury experience. A consumer buys your watch and at some time that watch will need service, and that's an opportunity for the brand to reinforce the buying decision."
Ruediger Albers, President of Wempe USA, puts it simply - "Companies that recognize the importance of excellent after-sales service will own the future and that is true for retailers and manufacturers alike."

Advertising and marketing
Advertising is so important in the United States market to generate interest and word of mouth, and to increase foot traffic in the stores - the challenge is that the country is so vast and markets and taste vary depending on which part of the country you are in. Most watch companies advertise in the specialty watch press, in magazines like InSync and Watch Time, but more and more of these same companies are branching out to the mainstream magazines, like the newly launched Men's Vogue, Vanity Fair, GQ and others. Some watch brands have gone into other, specialty magazines such as Auto Aficionado, Robb Report Motorcycling and others.
Bigger brands like Citizen and Bulova have increased their presence on TV, which can only help watch awareness in general. "This fourth quarter we will be advertising Bulova, Accutron and Wittnauer in print and television, along with some radio," says Francie Abraham, E.V.P. and Chief Marketing Officer, Bulova. "We look at television as a way to reach people that you can't reach through print. We are running these television advertisements on a regional basis, but we are buying over 8,000 spots which cover most of the country, bought in areas to support the retailers and we tag the advertisements to push traffic into our local retailers."

Celebrities
The United States market is very receptive to celebrities linked up with the correct product. Getting that magic mix, however, is a challenge. Many new watch brands in the United States hand out watches to all the 'right' people, trying to get their timepieces on magazine covers, in photo shoots, in movies and more. Unfortunately, these right people tend to be the same people everyone else is targeting, so you get the same celebrities wearing many different watch brands, which can cause consumer confusion.
"Celebrities can be very important, but it tends to have more to do with if you use those opportunities in a way to communicate about your brand," says Girard-Perregaux's Jackson. "In our relationship with Patrick Dempsey, one of the hottest actors in the USA right now, he wears the watch on his TV show, in photo shoots, in the movies, and I think that's absolutely wonderful and I'm always excited to see that. If you look at our advertisement campaign, though, we are not saying that you should wear our brand because he wears it. We are proud that celebrities enjoy our products but we are not trying to leverage this into more sales."






Bozeman Watch Co., Bulova





Patrick Dempsey, Club Baume & Mercier


Baume & Mercier has been very successful with its celebrity based campaign, with all payments to the stars going to charity. The company started with Kiefer Sutherland and Meg Ryan and this year is transitioning over to Kim Basinger and Gary Sinise right now. "The celebrities we have used put a face on the brand," says Baume & Mercier's Chavez. "These celebrities are well known, respected and liked, and we have seen our awareness increase in the US."

Problems/challenges
One of the biggest problems for the United States market is the grey market or transhipped goods. Retailers and brands alike bemoan the presence of grey market watches and everyone says something has to be done.
"The grey market is mostly an image problem," acknowledges Girard-Perregaux's Jackson. "You can't just work to do business with the very best retailers and spend a lot of money to design wonderful watches, the best campaigns and marketing materials, and ignore what is happening to your brand on the Internet. The Internet has become the window to brands, so a brand has to pay attention to the image it is portraying, on their own site and on other sites."
The impact of the grey market is hard to quantify but it surely must be substantial. "The question is if companies are sincere about their efforts to combat the grey market or are they actually condoning or even fuelling it," says Wempe's Albers. "My stomach turned when I went to one of the hotel shows where fine watches where being sold 'by the pound' in original factory-sealed packaging. The grey market ruins the margins for the retailers which they need to present the product in the environment that reflects the value of the product. Once the brand is no longer found in the best locations, it's downhill from there."
If the industry can shut down grey market watches, the consumers will value the authorized retailers and the products they sell more. On-line retailer Amazon.com, however, recently reported triple-digit year-over-year sales increases for watches and jewellery. According to Baume & Mercier's Chavez, "Amazon.com is all grey market." Clearly and increasingly, the grey market is an alternative to authorized retailers for many purchasers.
The watch industry is going to have to deal with the Internet eventually. Currently, most watch brands refuse to sell any watches on the Internet. Don't expect sweeping reform any time soon. "A lot of brands are looking at how to deal with this new generation of people who buy on the Internet," says Jaeger's Wolfgang. "We can't ignore this phenomenon, but we don't have the proper solution to deal with it yet. For us, selling through retailers, it's more complicated. We have to search for a solution that works for our wholesale distribution."

The Future of the Market
The United States is a strong market and all signs indicate it will continue to be so for the foreseeable future. The potential for watches is so great in the United States - only a small fraction of the people who could be wearing fine watches actually are. The USA is, however, a tough place to sell watches. There are so many brands already in the market and more entering all the time and the country is so big. The rewards of success for the brands and the retailers who take a long-term view of the United States market are enormous.

Facts from LGI Network 2005 Annual Report:


The average fine watch manufacturer's suggested retail price (MSRP) grew 10% to US$812, while for women it was US$546


Steel watches and 18 carat gold watches continue to increase in popularity.


Upper-range price points (US$5,000+) drove the overall growth of the market.


The fine watch retailing business remains highly fragmented and competitive and defies consolidation.


Over 31,000 storefronts comprise the retailer landscape; 82% of them were operated by over 21,000 independent jewellery retailers.


Despite the concentration of wealth held in the largest United States cities, 53% of luxury and guild jewellers reside outside the top 18 regional markets.


Ownership of top selling watch brands is highly concentrated. In 2005, the top five fine watch companies generated 64% of dollar volume sales and the top 10 companies 87%.


Top brands drive the business across all price ranges. Whether at entry retail price levels or in the US$5,000 +category, a small number of leading brands dominate the market. In each price range, the leading five brands enjoy over two-thirds of the market.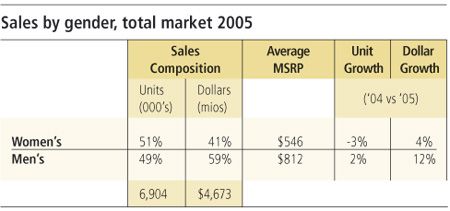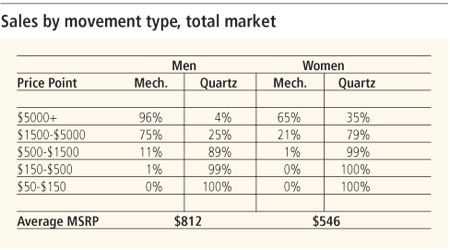 Mechanical watch movements (automatic and manual winding) are in the majority men's watches priced above US$1,500 and women's watches priced above US$5,000.
However, the use of quartz movements is the norm for watches priced below US$1,500. While only 11% of men's watches priced between US$500 and US$1,500 contained a mechanical movement, this is up sharply from 8% in 2004.
Two factors appear to explain the strong usage of mechanical movements within higher price ranges: consumer appeal and the higher price point brands that choose to exclusively market mechanical timepieces.

The combined sales of men's watches and women's watches reached US$4.7 billion in 2005. Of this total, women's watches accounted for 51% of unit sales but only 41% of dollar sales. Conversely, men's watches accounted for 49% of unit sales but 59% of dollar sales. This disparity between unit sales and dollar sales stems from the significantly higher average MSRP for sold men's watches. Women's watches averaged an MSRP of US$546, while men's watches averaged US$812, a 49% premium. Overall, unit sales for women's watches fell 3% versus a 2% increase in men's unit sales. Dollar sales, on the other hand, grew 12% for men's watches and 4% for women's.


Source: Europa Star December-January 2007 Magazine Issue