Antiquorum's summer auction, held at The New York Timezone, obtained the extraordinary sum of $ 8,586,583 (€6.447.665).  Bids came in from around the world including  Italy, Malta, Singapore and the Netherlands. Enthusiastic and heated bidding contributed to 120% sold by value and 85% sold by lot. In addition to the plethora of telephone, room, and  commission bidders, there were 368 bidders on the internet eagerly competing for the 289 highly collectible timepieces offered in the sale.

"Today's results verify that the United States has become a mecca for serious watch collectors in addition to confirming Antiquorum as the leading auction house in the field of horology", says Julien Schaerer,  Auctioneer and Watch Director, Antiquorum USA.

The highlight of the sale was lot 289, a Patek Philippe Ref. 5002  which sold for $ 1,240,400 (€931.416) ; a record for a wristwatch in the United States. In addition, Patek Philippe did very well with several other watches: lot 247, the platinum diamond-dial Ref. 3970E sold for $ 146,150 (€108.993) and lot 278, the pink gold Ref. 3970E fetched a remarkable price of $ 123,150 (€92.474). Also attaining extraordinary results were the Patek Philippe "so-called TV watches"; the yellow gold Ref. 5020, lot 152 and the pink gold, lot 279 both achieved the  world  record price of $ 232,400 (E 174.510). Other noteworthy prices fetched by Patek Philippe were lot 277,  Ref. 5050 in pink gold with Roman numerals sold for $ 117,400 (€88.155) while lot 93, the Sincere Ref. 5035 sold for $ 54,280 (E 40.759) nearly twice it's estimate.

Audemars Piguet also obtained important results as evidenced by lot 107, a "Royal Oak Concept" which sold for $ 232,400 (€174.510). Harry Winston was not to be overlooked with lot 109, a "Platinum Opus 4" which fetched $ 232,400 (€174.510). Moreover, FP Journe also faired well with lot 255, a platinum "Octa-Lune"  which sold for $ 47,200 (€35.443). Another fantastic price was achieved by lot 203, a Vacheron Constantin Tourbillon Malte Squelette which achieved $123,150 (€92.473). Furthermore Omega obtained a great result for lot 46, a De-Ville Central Tourbillon sold for $ 47,200 (€35.443).
Finally, Rolex achieved significant prices for the "Rolex Panerai", lot 175, which sold for $ 82,600 (€62.025) and the Rolex Explorer II Steve McQueen , lot 259, fetched $ 31,860 (€23.924).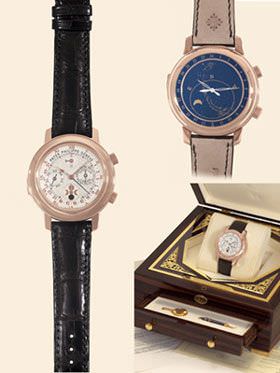 Lot 289
"Pink Gold Sky Moon Tourbillon" Patek Philippe, Genève, "Sky Moon Tourbillon", No. 3350008, case No. 4224987, Ref. 5002. Sold on November 10th, 2003. Extremely fine, rare and important, oversized, minute-repeating on cathedral gongs, astronomic, 18K pink gold gentleman's double-dialed chronometer wristwatch with one-minute tourbillon regulator, perpetual calendar with fly-back retrograde date, nocturnal sky chart of the Northern Hemisphere, moon phases and lunar orbit, time of the meridian passages of Sirius and moon, solar mean and sidereal time indications and an 18K pink gold Patek Philippe buckle. Accompanied by a fitted box, a setting pin, Official Chronometer Certificate and a Certificate of Origin. Recently serviced by Patek Philippe.
Sold Price (incl. Premium)   $1,240,400  (€ 931.416)

Source: Antiquorum
Full Press Release:click here
Contact:[email protected]
(Please credit europastar.com)