It used to be that not too long ago, a sports watch was a black plastic, ugly thing that was designed to withstand the rigours of actual sport. They didn't cost very much, didn't look very nice, but they certainly got the job done.
My, how things have changed.
The sports watches introduced at BaselWorld and SIHH this year mirror the current trend of higher quality, purpose built watches that perform well and, perhaps more importantly, look great in the gym, the office and out to dinner. The black plastic variety still exists, though the watches are much better looking, more feature rich and sophisticated, but there are also all other manner of sports watches - there are rugged watches designed to be practical while doing just about any sport, or just to look sporty on the wrist, while there are watches that are very specific, designed for certain activities. Just because a watch is designed for diving, however, it doesn't mean that it can't function as a regular watch when out of the water. In fact, the majority of today's sports watches probably aren't used for their intended purpose but are purchased more for the look and the 'idea' that the wearers don't have to worry about their watches, no matter what they are doing.
Many watch wearers like the versatility of a sports watch - if they are on a business trip, they don't have to worry about their watch when swimming in the hotel pool, working out in the gym or going into the hot tub. They just strap it on and forget about it - one less thing to worry about in an increasingly worry-filled world.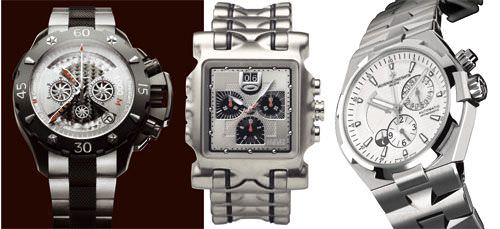 Zenith Defy Extreme Chronograph, Time Tank by Oakley and Overseas Dual Time by Vacheron Constantin


Qualifiers
What qualifies a watch as a sports watch? There are several distinctive features, but there is no set standard in the industry, which is the cause for some discussion here at Europa Star. The editors here have different opinions as to what qualifies as a sports watch, but I think there has to be a certain base level of performance, and since I'm writing the story, here is what I think a sports watch has to have:
Tough materials: ideally, a sports watch should be made out of a material that is resistant to bumps, knocks, scratches and all-round rough treatment. After all, a sports watch is in theory designed to be used and abused and it should show little or no signs of wear even years down the road. Some of the more popular materials in use in sports watches today are: high grade stainless steel, titanium, aluminium, rubber, carbon fibre, ceramic etc.
Rugged design: sports watches should look like what they are - designed for sports. As such, they are most often beefy, tough looking, thick and sometimes massive.
Water-resistance: due to the expected uses of sports watches, they should be water-resistant to at least 100 metres, if not much more, depending on the type of sports watch. All levels of water-resistance are available in this category, from 100 to 2,000 metres and even more.
Shock-resistance: sports watches have to stand up to the wear and tear of an active lifestyle, so there should be some shock-resistance built in. There are watches that have special integrated shock-resistance systems - it all depends on what the wearer needs and is willing to pay for, after all. (See The Hunting season is open - ref. Wyler - by Pierre Maillard).
Special sports features: many sports watches have special features (e.g. chronographs, countdown timers, golf stroke counters, incredible water-resistance, etc.) that make them well suited to use during the performance or when watching a sport.
Easy-to-read: a sports watch should be easy-to-read, as in the midst of activity it can be hard to decipher the time on a watch that is too small or busy, and that means design as well as luminosity. For example, Reactor recently introduced the Flux, a watch that has enough Super-Luminova on it to stay readable for more than twelve hours! Ball, Luminox, Traser and Mondaine have watches using Tritium technology that will stay bright for as long as six years or more without needing an external light source.

Well-rounded
There are watches that are general all-round sports watches. They aren't designed to do any one thing, like dive or sail, but they are robust enough to withstand the rigours of going to the gym, swimming in the pool and going to the office, and they certainly have the look of a sports watch.
Some of the watches that fit this mode include the recently introduced Time Tank from Oakley. A huge watch, heavy and solid, it can take a beating and withstand just about anything, and it has a chronograph for timing. On top of this, the Time Tank looks great on the wrist and makes a fashion, and personality, statement.
Reactor makes a line of watches that suit this all-round sports watch category quite well - all water-resistant to at least 100 metres with the crown unscrewed. Some of Reactor's watches are really technical, while others are more stylish, but they all feature performance-oriented design and manufacture.
Zenith's newest watch, the Defy Extreme Chronograph, is a great example of a strong, do just about anything watch – water-resistant to 1,000 metres, with key parts made in shock-resistant Zenthium, encased in black titanium featuring the famous El Primero movement.
Many companies with serious, dedicated sports watches in their line also make all-round sports models. Companies like Panerai, Chase-Durer, Luminox, Omega, Audemars Piguet, TAG Heuer and others have a broad range with many different models that satisfy the requirements for a sports watch.
Ball Watch, a famous and respected name from the early days of American watches, makes a line of hardy extreme watches that look great and can easily stand up to a trek to the North Pole or down to the corner for a litre of milk. Their newest watch is the Engineer Hydrocarbon Titanium, with a movement built to withstand cold to -40°C, 12,000 anti-magnetic resistance, shock-resistant to 7,500Gs and water-resistant to 300 metres. Kobold is another example of this all-round sports watch, famous for its in your face advertising, including an advertisement where British explorer Sir Ranulph Fiennes holds up his finger, proclaiming that Kobold is number one with him.
The thinking among consumers is that if their watch can successfully go to one of the poles, like the Panerai Arktos produced as special edition for explorer Mike Horn to be worn during his circumnavigation of the Arctic Circle, then it should perform fine while its owner shovels snow.
Adidas, a well-known name in sports, introduced a whole range of sports watches at Basel. In addition to a collection of quartz watches designed for professional timing, there is a street line of classically styled watches that are good looking yet still have the sporting heritage.
Vacheron Constantin introduced the ten year anniversary edition of its Overseas Collection, a do everything sporty watch water-resistant to 150 metres. This year's offering includes a dual time, making it even more practical for everyday wear.


TO BE CONTINUED...
In the forthcoming days, the rest of this lenghty survey will be added to our europastar website.

Part 1
Part 2
Part 3
Part 4
Part 5


Source: Europa Star June-July 2006 Magazine Issue