The markets, all over the world, however, are still largely untapped. In the United States, for example, it is generally agreed that the pen-etration of the potential consumer base by fine mechanical watches is very low – the majority of Americans don't understand fine watches and wouldn't be able to tell you what the difference between a quartz and mechanical movement is. Europe, on the other hand, is very aware of finer watches and is very mature. Asia, India, Russia, Australia and other developing markets are important and waiting to be aggressively developed.
For the future of the watch industry, however, retailers and brands should not forget the entry level mechanical watch. If mechanical watches are to remain strong, this 'stepping stone' price point is critical to move people out of quartz watches and into mechanical watches. The future hinges on getting the younger generations into mechanical watches.

The opening price point
It is important to understand what the opening price point is - for our purposes, entry level means anything from 200 to 3,000 Swiss francs, with the majority of watches at, or around, the 1,000 Swiss franc price point. There are a number of brands introducing mechanical watches in this price range. While many hardcore collectors will scoff at these watches, they are an important way to get people into mechanical watches and they have to be good enough quality to keep them in.
The worst thing would be to entice people into using a mechanical watch at an entry-level price point, then have that watch have quality issues - that would be enough to drive people back to quartz permanently.
There are brands like Swatch and Fossil that offer watches that compete directly with the price points of quartz watches. Fossil has a watch that combines quartz and mechanical functions for around 100 Euros, while Swatch has an automatic for a little more. These are basic watches, to be sure, and while Swatch uses a Swiss movement, Fossil uses a Chinese movement (the automatic movement in the Fossil watch drives the second hand, while the quartz movement ensures the precision and reliability of the timekeeping). Seiko has a kinetic watch in its line in the entry price point that combines kinetic winding with quartz precision, so people can understand what the mechanical elements of a watch are like.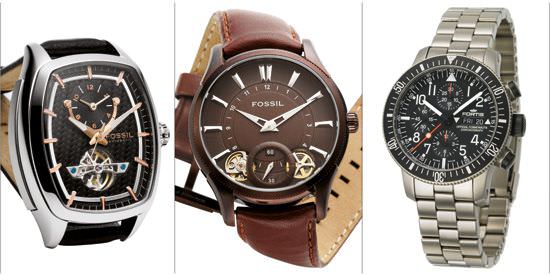 AUTOMATIC and TWIST by Fossil, COLUMBUS by Fortis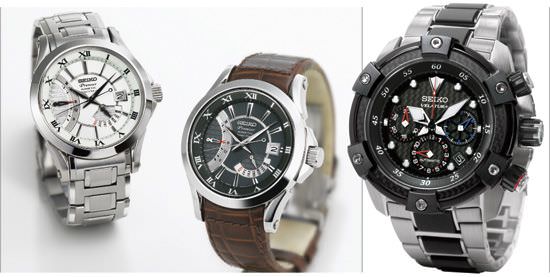 PREMIER KINETIC DIRECT DRIVE and VELATURA AUTOMATIC CHRONOGRAPH by Seiko


Other companies who do well in the opening price points include Hamilton, Victorinox Swiss Army, Tissot, Oris, Fortis, Louis Erard, Armand Nicolet, Daniel Mink, Baume & Mercier and many others.
Now, these watches are not complicated watches, but their simplicity is important so the new customer is not overwhelmed by this 'new' (to them) kind of watch. Many of these entry level mechanical watches have some way for the owner to see the movement, either by a small aperture on the dial (which reveals the turning balance) or with an exhibition back. These movements are not finished like their more expensive counterparts, but it is important to get these new customers looking at the movements and appreci-ating the tick tock that hopefully will become a passion for them in the future.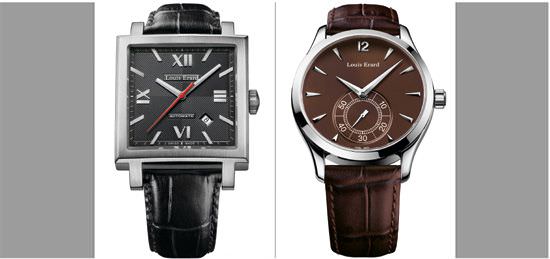 LA CARRÉE and CHOCOLATE by Louis Erard


Education
It is the rare customer who becomes a mechanical watch lover overnight, so education by the retailer and by the brand is important. Sure, there is a lot of information available on the Internet, but sites like Timezone and others are for the people who love watches already, newcomers will not seek out those websites. Mainstream magazines don't do a very good job of spreading the word. If they feature watches at all, it is usually just a pretty picture with technical details and prices. One of the worst things that these magazines do is run a 'theme' layout with six or more watches (e.g. newest dive watches), then include a number of disparate watches ranging in price from 200 - 20,000 Euros with no explanation whatsoever. This doesn't help clear up the confusion in the marketplace - someone who doesn't know watches looks at the story and wonders why one watch is 200 and the other 20,000 and doesn't really get it.
Recently, watch inserts have been featured in newspapers and magazines around the world, aiming at educating people about the worth of finer timepieces, and these have varying success at reaching the intended customer base. While these inserts have the potential of reaching millions of people, it is important that the content be suitable for the mass customer who knows nothing about watches. A recent insert in Vanity Fair, for example, skewed way too high-end for the general reader. The assumption has to be that the reader knows little about watches and the focus should be on education, not luxury promotion.
So, it is up to the staff in the stores and to the brands to push the educational aspect so new customers can be brought into the mechan-ical fold. The better brands understand that today's entry level customer is tomorrow's luxury buyer and know the importance of spreading the word.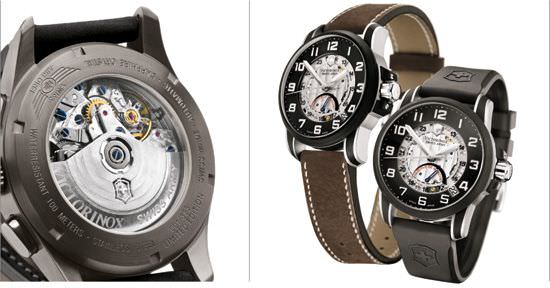 Victorinox Swiss Army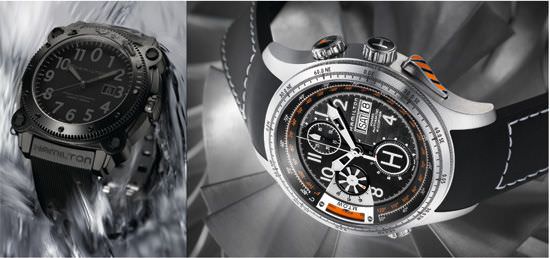 BELOW ZERO and KHAKI X-COPTER by Hamilton


"For Patek Philippe it is extremely important to continue to introduce the world of fine watchmaking to the next generation," says Larry Pettinelli, President of Patek Philippe USA. "The entry level mechanical watch is that opportunity to let a client develop an understanding of this world. It takes a fundamental shift in the customer's approach to timepieces to move them from quartz to mechanical. Quartz is wonderful for someone who is solely interested in function or design. The person who becomes interested in mechanical timepieces has an appreciation for the movement and workmanship and for the most part does not intend to dispose of the watch. There tends to be more substance in the purchase of a mechanical piece as it is seen as a long-term investment.
"Our experience has been that people generally buy multiple Patek Philippes," he con-tinues. "Educating the customer to make the first sale is typically the most difficult. The more the customer knows about the company, the more they understand the value Patek Philippe brings. This leads an individual to purchasing more complicated pieces as their collection develops."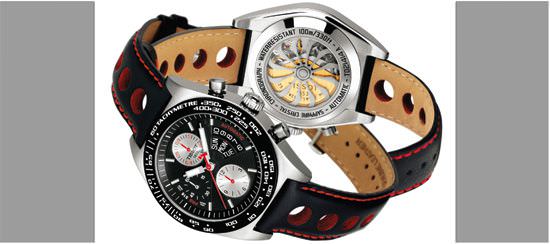 PR516 AUTOMATIC CHRONOGRAPH by Tissot


The entry level mechanical watch opens the door for retailers and brings customers into the culture of the mechanical watch. "The entry level is a base on which they can start to comprehend how the mechanical watch really works," says Rolando Braga, President, Armand Nicolet. "If mechanical watches are a new thing for them then they probably will not dive right in and spend money on the highest level, they will try and first grasp the sense of the mechanical watch. If these consumers really appreciate a mechanical watch, they will most likely go to the higher priced and experiment with the different complications a mechanical watch has to offer."
Retailers have to do a better job of communicating the benefits and passion of these timepieces. "One of the most important things a retailer should do is educate the customer to understand how interesting mechanical watches are and explain the value to them both in quality and price," says Robin Levinson, co-owner, Levinson Jewelers (Florida, USA). "We very rarely sell quartz any more. Most of the brands we carry are not quartz and the customer doesn't even ask anymore. The majority go for the look they like first."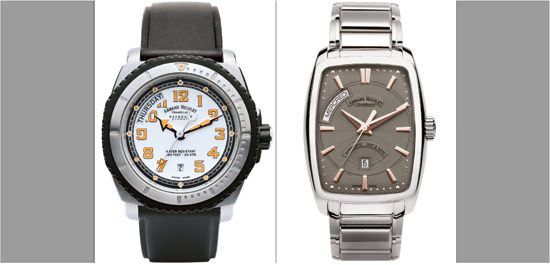 SO5 and TM7 by Armand Nicolet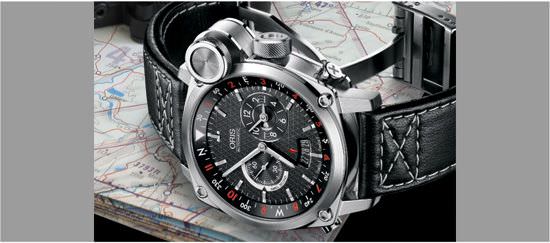 BC4 FLIGHT TIMER by Oris


The entry level price point timepiece brings the mechanical watch to the masses, the only way that the watch industry can survive. "The entry level mechanical watch is very important volume-wise as it doubled its size during the past five years reaching last year 600,000 watches," says Alain Spinedi, President, Montres Louis Erard SA. "I strongly believe that if end users are not in contact with an entry level price, watches will only be a luxury product only available for some millionaires and the whole mechanical segment could lose importance. In each consumer goods segment, you have an entry level price and a luxury segment (cars, clothes, pens etc).
"Mechanical watches offer prestige and an emotion, an impression of having a timepiece handmade with some real values," he con-tinues. "The quartz watch has been too de-valued by the fashion names and a quartz watch is not prestigious any more. I also believe that today an owner of a mechanical watch belongs to the 'elite' as he already can tell the difference between a mechanical and a quartz watch."
Even fashion watch brands are getting into the mechanical sector. "The mechanical watch is an emerging new category in fashion watches and is important because of the long term strategy of luxury watches to have mechanical movements as a design and quality statement," says Greg Thumm, Senior Vice President of Product Development, Fossil. "As a general rule, the fashion watch consumer usually stays within the fashion retail classification. That said; there is a widening band width in the fashion retail range that this consumer may aspire to purchase as their interest in mechanicals increases.
"Fossil mechanicals really stand out in the fashion category," he continues. "The consumer's choice is all about brand recognition, the visual experience of the precision mechanical movement which can be seen through an open dial and exhibition case back, overall quality, and the price value relationship in comparison to the competition. We predict fashion brands' mechanical watches to be a growing market - the reason for this is due to the luxury Swiss and German watch brands that are locked into the mechanical movement in the marketing of their brands. These fine watchmakers are committed to mechanicals. This business driver has produced the mechanical movement demand at all levels of retail."
NakedWatch is a company specializing in entry level skeleton watches using Chinese movements. "Our first timepiece was a sub US$300 mechanical skeleton manual wind and we have continued to drive this category with our line NakedWatch timepieces, using mechanical manual and automatic movements exclusively and listing below US$500," says Doug Flentge, President, NakedWatch. "We have seen an increase in awareness at the consumer level about many of the features a mechanical watch provides, not the least of which is never replacing a battery. This is especially important where 'green' in-itiatives are important. Keeping waste, es-pecially toxic battery waste out of landfills is vital for the health of our environment. Additionally, mechanical watches, especially skeletons have a character that endears them to their owners. The watches become more than just a timepiece, they have a soul."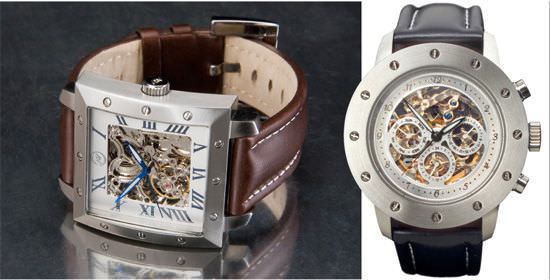 MAGNUS and MAXWELL by NakedWatch


The watches available in the opening price point
The great thing is that there are many brands for which this opening price point is their 'bread and butter', so to speak. Though these watches aren't as sexy as tourbillons and minute repeaters, they are very exciting in their own right. The brands involved at this price point are working hard on design, movements and quality so that there is real value here – these are not just basic three hand watches. You can get great chronographs, power reserves, annual calendars, world timers and more for less than 3,000 Swiss francs, with the watches finished quite well and very well performing. In fact, these watches often outperform the delicate watches at the extreme high-end, as they use movements that are like tractor engines - robust and reliable.

Quartz complications
Don't discount the importance of quartz complications, however, as Citizen, Seiko and other brands use quartz watches to popularize traditional complications – witness the quartz retrograde watches, the Eco-Drive Minute Repeaters and Perpetual Calendars from Citizen and Seiko's cutting edge chronographs. These watches educate the watch buyer on complications and create a new customer, one who comes from the high-end quartz market straight into the higher-end Swiss mechanical arena.

Getting to the younger generations
The entry level mechanical market, though not as sexy as complications and high-end watches, is an important stepping stone for the new watch customer. If the watch industry is to survive in the long run, new blood has to be brought in. It will be challenging for the watch industry as a whole because the younger generation has to be turned onto watches - right now, the majority of teenagers and young adults are not wearing watches. They depend on cell phones for the time and for alarms. So without being educated about timepieces, they will not become customers on their own. Luckily, parents who love watches will probably offer their children a timepieces and the love of watches will start there. IWC introduced a great new concept with their Father and Son timepieces - a platinum watch for the father and a smaller, mechanical Pilot's watch in steel for the son. It's a great way to get the younger generation wearing a better watch, and it allows Dad to share his love for mechanical timepieces with his son (or sons - Dad can buy more than one for all his sons).

The entry level mechanical segment is a thriving one and a vitally important one for the future of the watch industry. Every retailer should really have a selection of timepieces in this price range, to attract new customers. Also, retailers shouldn't overlook the need for education for their customers, as that is one of the keys to the continuation of the boom years for mechanical watches.


Source: Europa Star August-September 2008 Magazine Issue