N
ew watch brands have been multiplying in recent years – a sure sign that the industry still exerts a strong appeal, and continues to capture the imagination (even if the trend on the Kickstarter crowdfunding platform, the preferred instrument for newcomers, appears to be falling off – with a few recent exceptions such as that of Furlan Marri). Rarer, however, are those brands that establish themselves over the long term and really go beyond this social financing stage.
One such is Baltic, which has been active for four years in what might be called the "affordable mechanical neo-vintage" segment, providing a telling reflection of the globalisation of the watchmaking scene. Founded by three French partners who had already created an eyewear brand, the start-up was launched via an American crowdfunding platform, uses designs inspired by Swiss watchmaking history, relies on Japanese or Chinese movements and manufactures its watches in France and China. Like many start-ups, it sells almost exclusively online (notably via Hodinkee).
Baltic's adventure, played out between France, the United States, China, Switzerland and Japan, is a powerful reflection of the global trajectory of watch start-ups born online.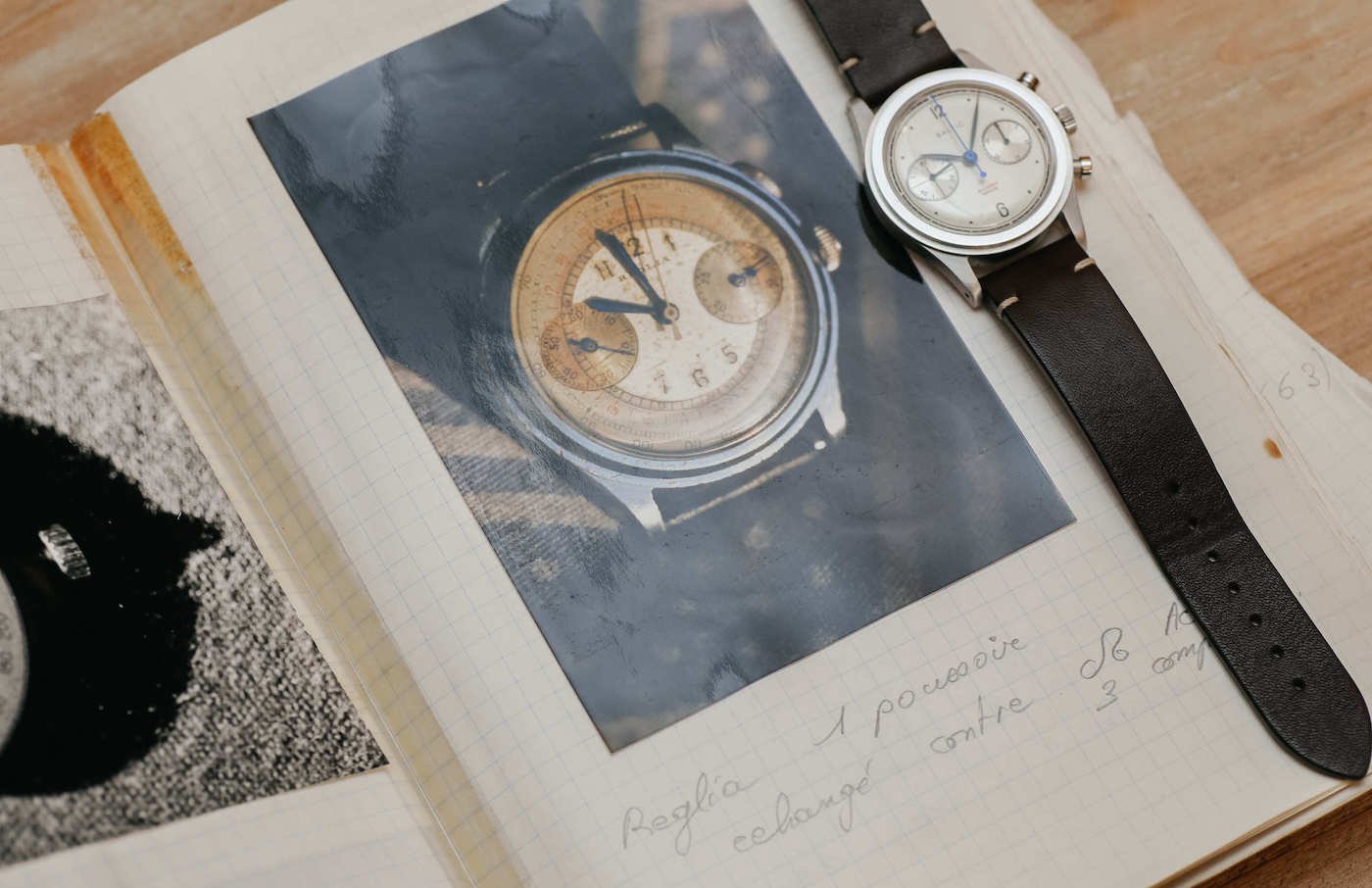 Dipping a toe into the watch forums
The figure behind Baltic is Etienne Malec, a young man in his thirties who has been obsessed with watches since he was 15. "My father was a photographer and collected cars and watches," he explains. "I lost him early. When I was a teenager, I found a suitcase of his, which contained a hundred or so watches all jumbled together. There was a little bit of everything, but mostly military chronographs, two Breitling Navitimer 806s, a Heuer Calibre 11, a Zenith El Primero, an Omega Speedmaster 2998... When my father was collecting watches in the 1980s, it was still a very small community. I found notebooks with the telephone numbers of people he met at flea markets. There was actually more trading and bartering than selling."
French entrepreneur Etienne Malec founded an eyewear brand in 2013 with two partners before launching Baltic watches in 2017.
For Malec, this marked the beginning of a passion that he nurtured initially by frequenting the many online watch forums, and subsequently by going to Paris to meet other enthusiasts in person. "At the same time, I took up photography," he says. "As I was posting so many pictures online, I thought I might as well look after the visuals of the timepieces. When I was a teenager, I even won a photo competition to visit the Omega museum, and I met Jean-Claude Monachon [head of product development] there."
This aspirational, neo-vintage style of watchmaking paradoxically reveals a lot about the period the industry is currently going through.
Putting his horological hobby on hold while he attended university, Etienne Malec founded a start-up called Rezin with two associates in 2013, producing not watches but glasses, made of wood and natural materials.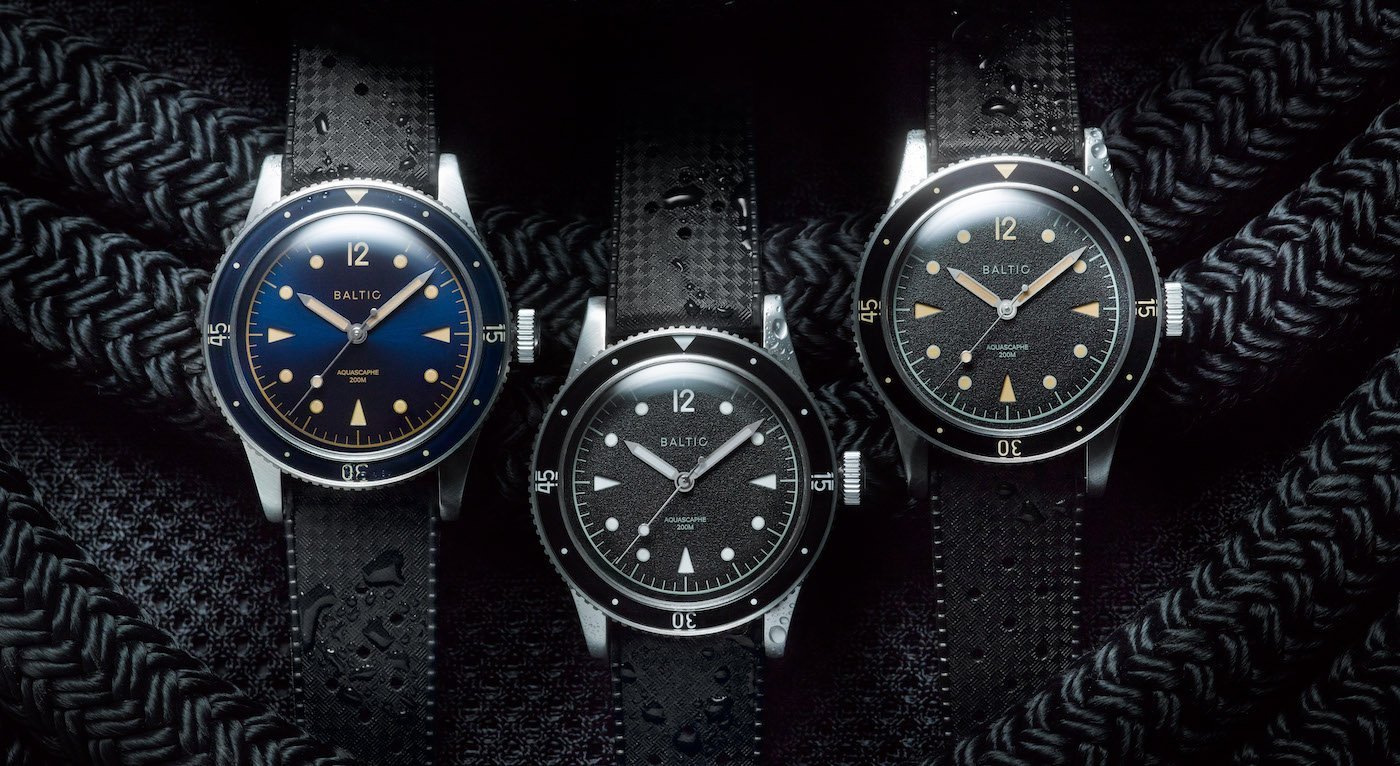 Affordable neo-vintage
The entrepreneur continues: "During the development of Rezin, I got to know a French entrepreneur producing watches in Hong Kong. At the time, there were a lot of watch projects going up on Kickstarter. It was a very dynamic scene. Having already had the experience of launching a product in the optics space, I then thought about developing something in watchmaking."
Etienne Malec stepped back from his activity in Rezin for a few months to investigate the possibilities of creating a watch brand. "In fact, I had already put together some watch sketches at home using Photoshop," he says. "From those initial plans, we made some samples with a case borrowed from the Longines 13ZN step-case chronographs of the 1940s. I think these models are great, because they mix a vintage feel with a fairly modern simplicity. In fact, I wanted to buy that watch myself but couldn't afford it..." He would go on to create contemporary and affordable reinterpretations, through a new brand called "Baltic" (in homage to his father, who was originally from the Polish coast of the Baltic Sea).
The young man struggled with a minimal budget, mobilised the specialised press, activated social networks and travelled to the United States to meet the Hodinkee and Worn & Wound teams. All this was to lay the groundwork for the crowdfunding campaign.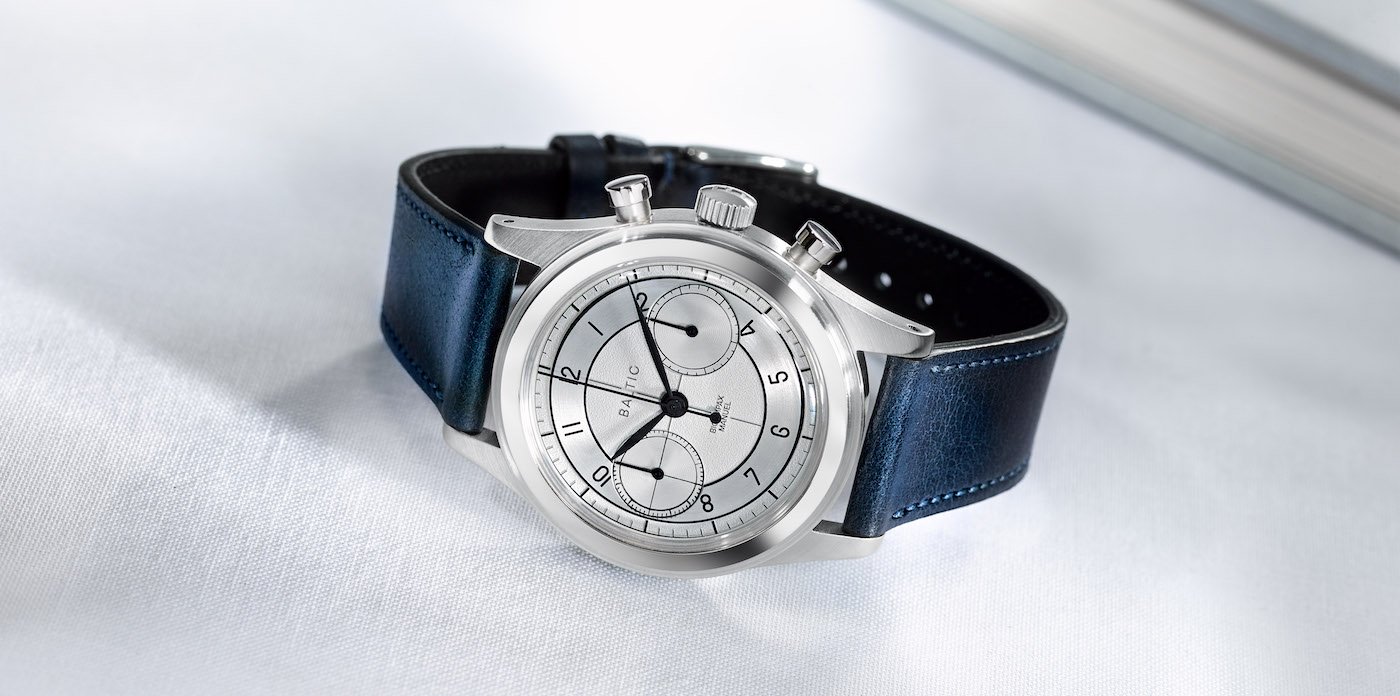 "For this new adventure, we did not survey potential customers or do any market research," continues Malec. "It was the opposite, in fact: we proposed designs that we liked ourselves. It took six months of preparation to organise our funding campaign on Kickstarter." The young man struggled with a minimal budget, mobilised the specialist press, activated social networks, and travelled to the United States to meet the Hodinkee and Worn & Wound teams, to lay the groundwork.
Then in April 2017, the crowdfunding campaign was officially launched on Kickstarter. Two prototypes were proposed: a bicompax chronograph and a three-hand HMS model. The media campaign preceding the launch paid off: 300,000 euros were raised on the first day, and 45 days later, at the end of the campaign, 515,000 euros had been invested in the project's launch. At the time, this was the largest financing of its kind for a French watchmaking project. "Even though we were already experiencing great momentum, we did not expect this result."
"Many start-ups experience a short-lived peak on Kickstarter before falling off."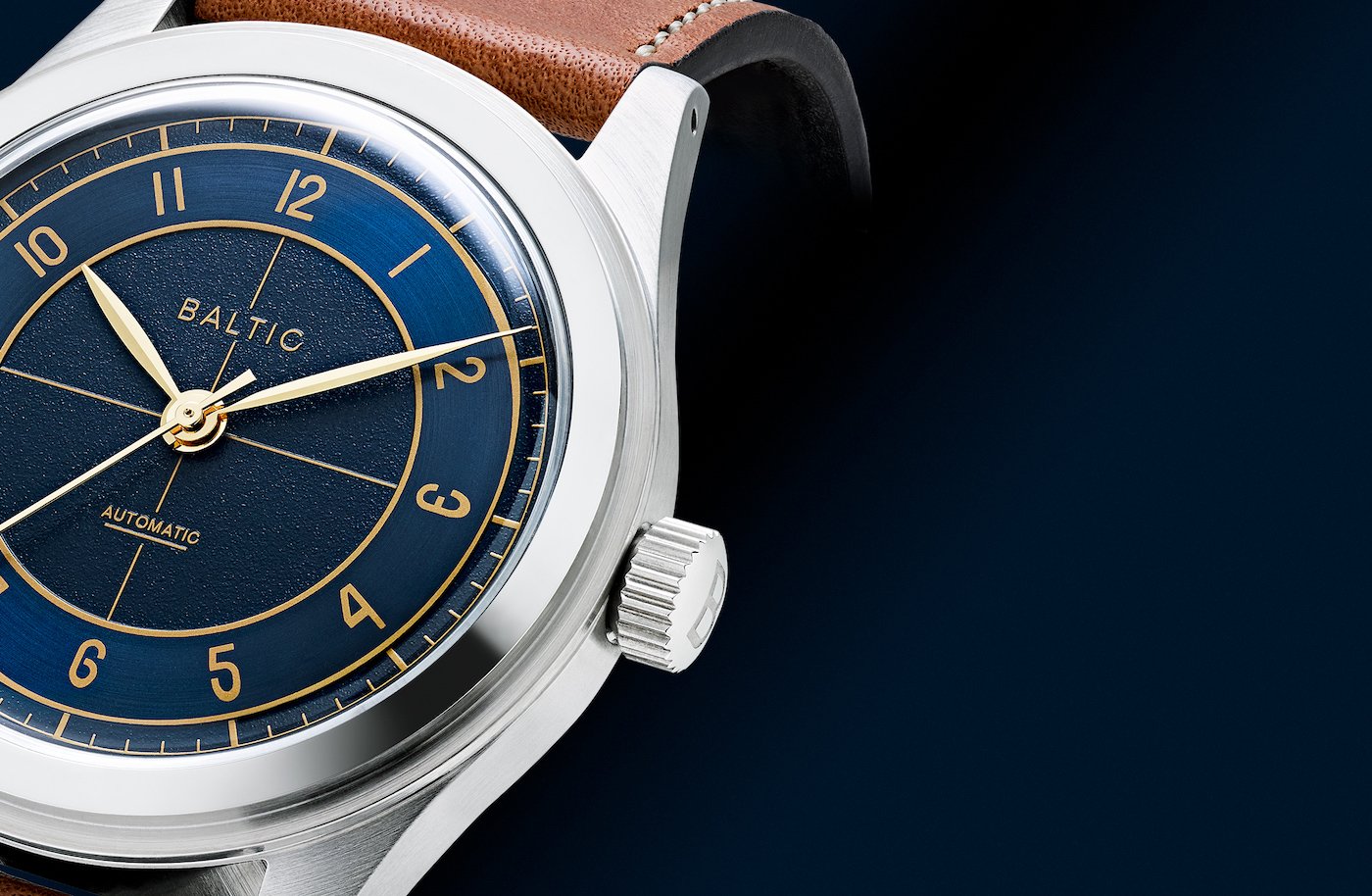 Confirm or fade
A new challenge now faced the team, which had never actually produced watches, although they did have experience with eyewear manufacture. The first models were delivered in December 2017, just before Christmas. "We managed to meet our deadlines, which is far from being the case for all Kickstarter projects."
Several limited series followed, also pre-sold by subscription. In June 2018, all 200 units of a panda chrono model sold out in an hour. Etienne Malec says: "We were very anxious that, following the success of the Kickstarter campaign, we would no longer be able to produce designs that people liked, that we'd remain a one-hit wonder. The real anxiety always comes post-Kickstarter."
"The real angst always comes post-Kickstarter – the fear that we would no longer be able to please, that our success would remain a one-off."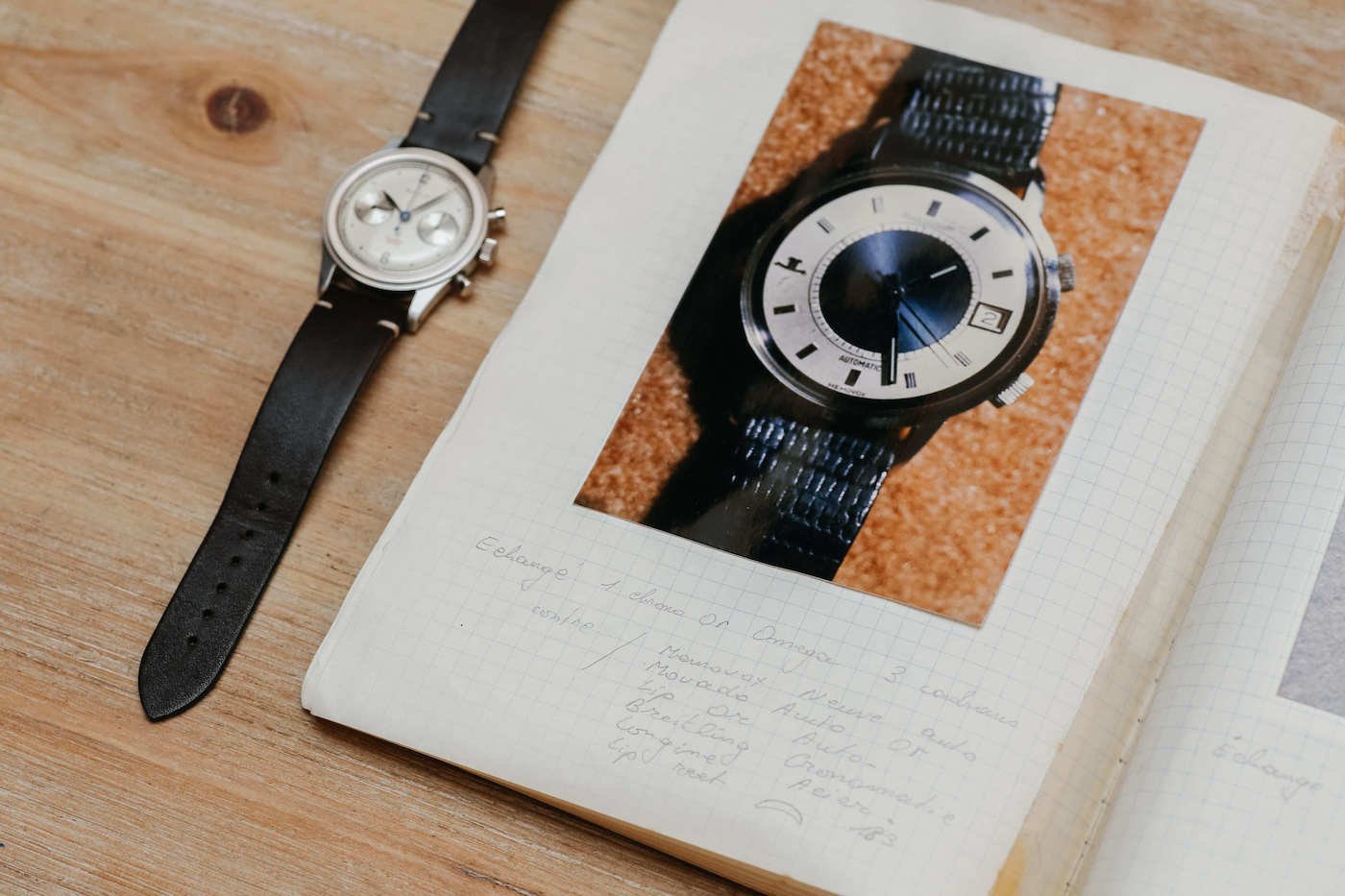 A double-edged label
The next step for Baltic was the release of the now-ubiquitous dive watch. The Aquascaphe went on pre-order in November 2018. "It was a much more difficult model to prototype than the chronographs," comments Etienne Malec. "We spent the whole summer producing convincing visuals, then we duplicated on our own site what we had already done for the Kickstarter campaign: appointments beforehand and then three months of pre-orders."
Why not go through the crowdfunding platform again? "We didn't want to be labelled a 'Kickstarter brand', which is quite limiting," replies the entrepreneur. "For us, a campaign on that platform should really only be used for the initial launch. It's in the name!"
"We didn't want to find ourselves stuck with the 'Kickstarter label', which is quite limiting. A campaign on that platform should really only be used for the initial launch. It's in the name!"
The Aquascaphe collection, whose funding round on Baltic's website raised more money than the original Kickstarter campaign, has since become the brand's best-selling line. It has also been expanded with bronze and GMT editions. "Thanks to these results, we had confirmation that our offering was much stronger than we had feared it might be. Many start-ups experience a short-lived peak on Kickstarter before falling off."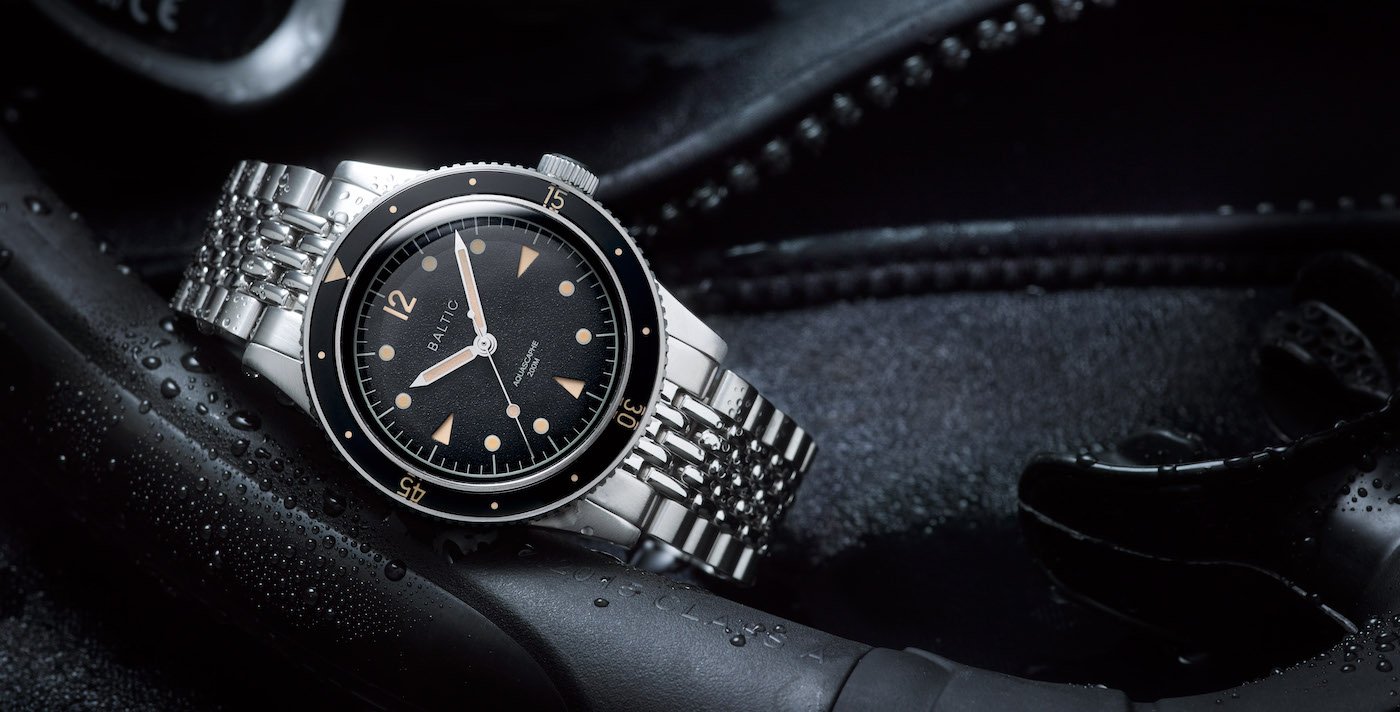 Copy or Inspiration?
Baltic's models, which range in price from 300 to 900 euros, are equipped with Japanese Miyota (821A and 9039 automatic) or Chinese Seagull (ST19 manual) mechanical movements. The exception is the brand's top-of-the-range Aquascaphe GMT, equipped with a Swiss automatic Soprod C125 GMT movement.
The components are transported from Hong Kong to Besançon, where the models are assembled and shipped. "China has made it possible to carry out projects that would have been impossible to execute in Switzerland," emphasises Etienne Malec. "We considered Swiss made production but gave up because of the prices charged. In addition, we realised that in the end, many components came from Asia anyway. Not surprisingly, there is a lot of hypocrisy when it comes to questions of origin in watchmaking."
Baltic's brand concept revolves around the "democratisation" of neo-vintage designs. "I am well aware that there is a fine line between this and the many tribute watches that we see on the market today, which are almost identical reissues," admits Etienne Malec. "Of course, on a four-centimetre dial, you're bound to find similarities with certain historical models, because we all grew up with the same icons in mind. We are naturally attracted, even sucked in, by this heritage. But we try to bring different elements to our neo-vintage lines. For example, our signature is the number 12, which we always indicate at noon on our models."
Baltic's brand concept revolves around the "democratisation" of neo-vintage designs: "I am well aware that there is a fine line separating the almost identical reissues you see everywhere. But we try to bring in different elements, with a certain eye for detail."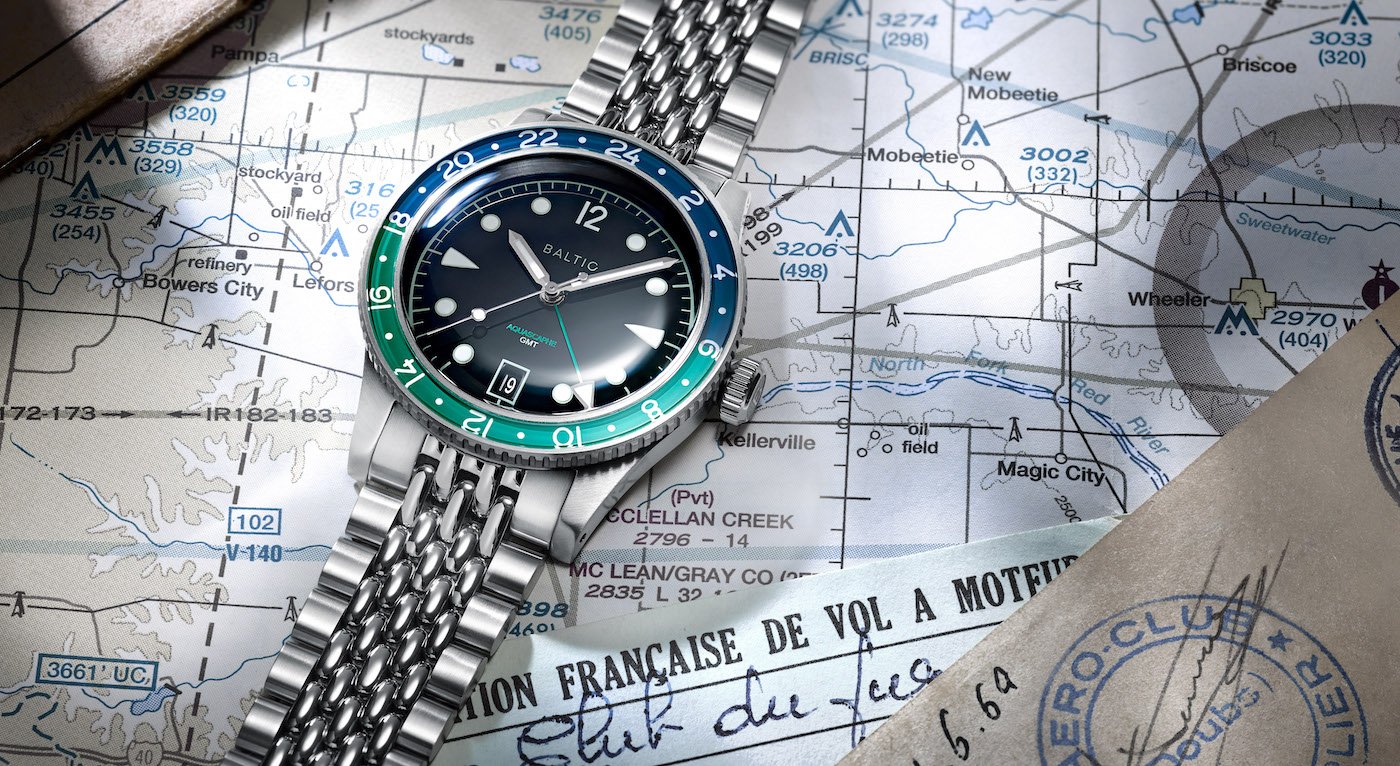 In the view of the entrepreneur, Baltic pays tribute less to specific models than to eras. "We take the best of the past and combine it with the best of today: a more reliable movement, a scratchproof sapphire crystal... We try to play with these two facets."
In keeping with the accessible price point, and as with most newcomers born online, the brand's clientele is essentially American and European. This runs counter to the commercial dependence on Asia that luxury watchmaking is increasingly experiencing. Baltic's primary target audience is people who already possess some degree of watchmaking culture, enabling them to understand the historical references that its timepieces evoke – in other words, customers who strongly resemble the very people selling them the watches...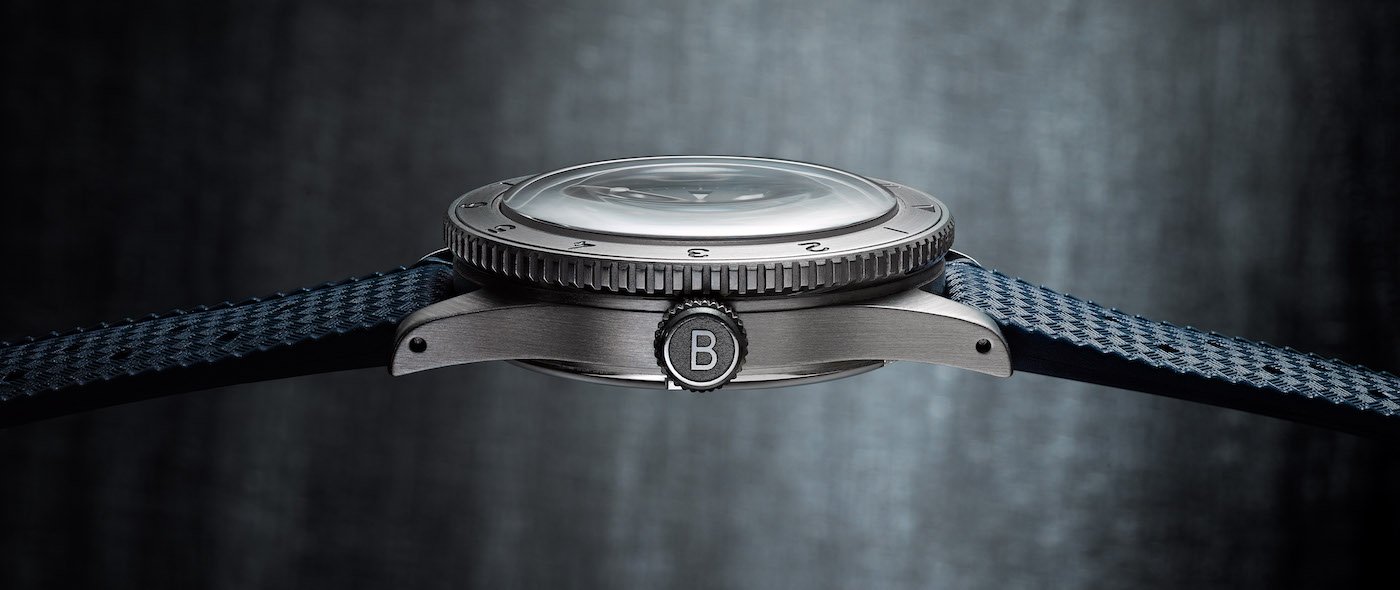 The advantage of the blank sheet
"I'm obsessed with symmetry and balance, which is why our designs never include a date window," says Etienne Malec. "There are so many designs that have already been made – and more are coming out now – that it's hard to stand out. But we still want to create our own brand image. We don't want to revolutionise anything in the neo-vintage world, but rather refine a certain sense of detail."
The brand is distributed entirely online and through direct sales, with one exception: Japan. "We wouldn't have access to this market without physical distribution," says Malec. "Otherwise, we are part of a generation that, I believe, prefers a direct relationship with the brands it consumes. Through our experience with Rezin, we dealt with a number of retailers and, in the end, unfortunately, we always talked more about financial considerations than the product itself. The direct relationship gives a completely different dimension to our brand."
"Through our experience with optics we dealt with retailers but, in the end, we always talked more about financial considerations than the product itself."
By starting from scratch, Baltic was immediately able to embrace new online distribution practices, with the much more comfortable margins associated with selling direct: "The established brands have all their contracts and pricing structures based on the previous system of distribution," comments the entrepreneur. "If they wiped that out, only then could they consider lowering their prices. But it is difficult for them to turn everything upside down. We take advantage of this by offering a more accessible range of similar products through direct sales. That's the great thing about our business model, and I think that's the system that's going to take hold... with a bit of inertia, inevitably."
In lieu of having a physical space to try on watches, customers can order them, test them and return them within two weeks if they want. Incidentally, Breitling has just launched a similar service, so this system is also being embraced by mainstream brands. "This is fairly standard and is already widely used in industries other than watchmaking," emphasises Etienne Malec. "But the whole process has to be smooth for it to work and not create dissatisfaction. The biggest obstacle remains getting the products through customs."
With the adoption of e-commerce accelerated by the pandemic crisis, Baltic's owners plan to double their sales in 2021 compared to 2020, a year in which the brand sold 8,000 watches.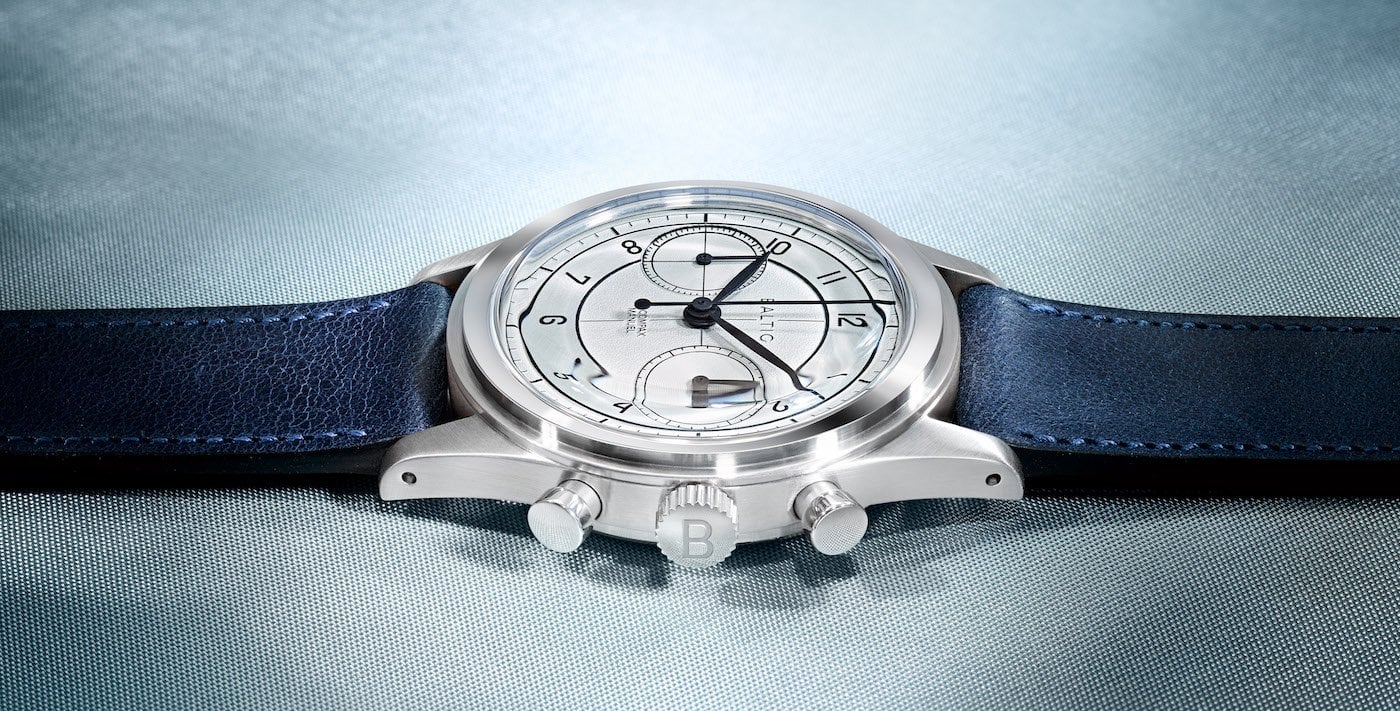 "Arrogance doesn't sell anymore!"
Eventually, the brand plans to open physical spaces in a few key cities to present its watches. Its Paris office already acts as a de facto showroom, accessible by appointment.
For Etienne Malec, the big problem with the classic watch boutique is that they remain very intimidating: "The new generations are looking for a much more relaxed shopping experience, not a security guard at the entrance and then sales assistants spying on your every move. This may work for customers who are used to it, but I don't really see this type of boutique being able to broaden the spectrum of watch customers. I myself did an internship in this environment in the past, and it did nothing to encourage my taste for physical boutiques. It's a much too formal, even anxiety-provoking environment. And arrogance doesn't sell anymore!"
"The new generations are looking for a much more relaxed shopping experience, not a security guard at the entrance and then sales assistants spying on your every move."
However, brands like Baltic would certainly not exist without the continuing fascination for Swiss watchmaking and its icons, which many people would still like to buy one day, even if they can't afford them yet. Baltic and its ilk respond to a strong interest in vintage style, and a certain nostalgia specific to the millennial generations.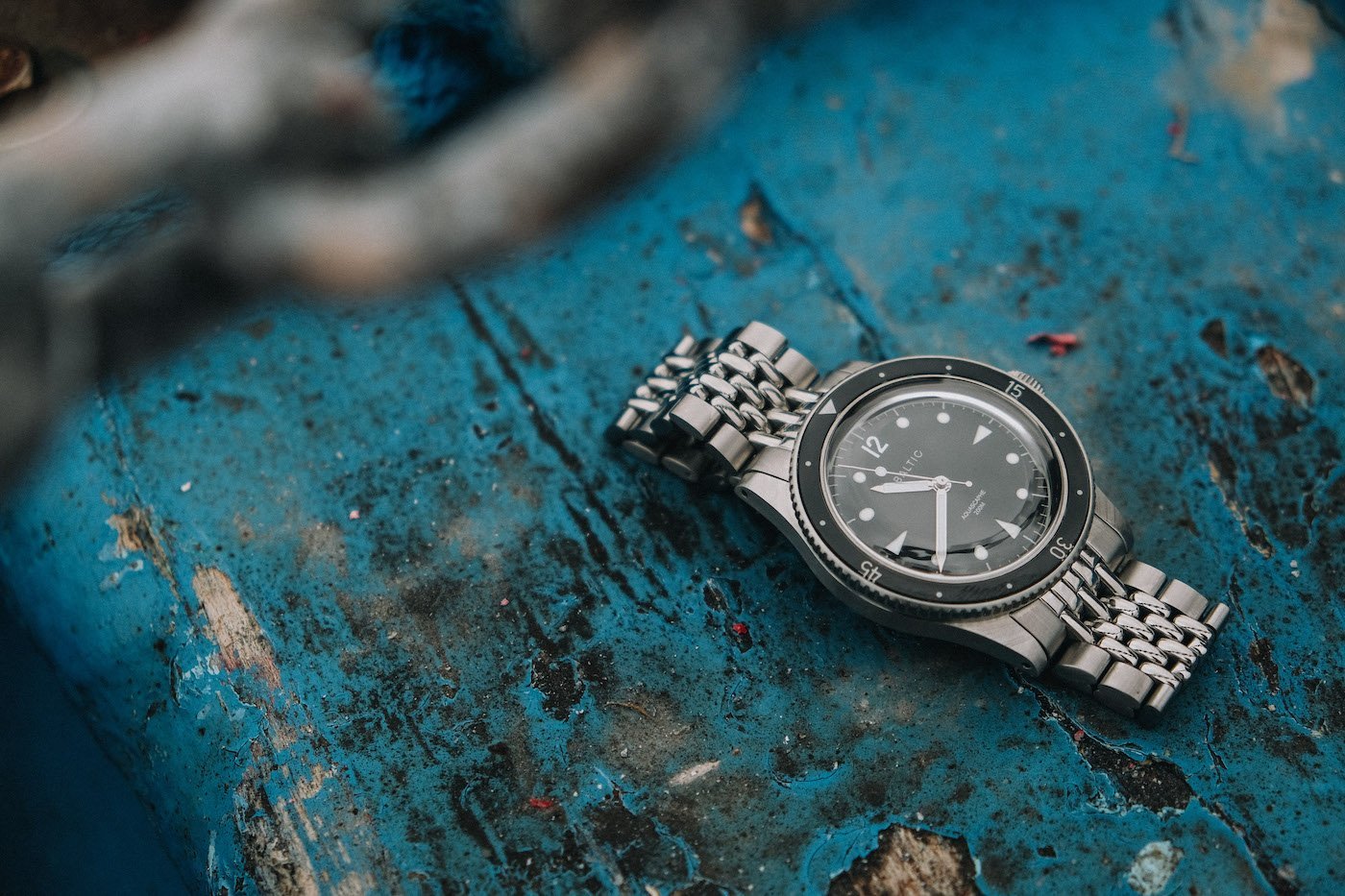 These start-ups can also introduce new customer relationship experiences and best practices in terms of digital adoption, that could be beneficial even to mainstream houses looking for new ways to reach customers. In a healthy industrial ecosystem, one feeds into the other. And the day Swiss watchmaking no longer generates successful aspirational start-ups like Baltic, that's the day it can really start to worry about its desirability.
"We have been lucky in our journey because we started at just the right time," says Malec. "And I think people appreciate the sincerity of our approach. Otherwise, like many start-ups, we wouldn't have made it past the ephemeral Kickstarter stage."