T
he joint venture between Ralph Lauren and Richemont lasted from 2007 to 2018 – more or less the golden age of Swiss Haute Horlogerie, driven in particular by new customers from the Far East. This year, the New York-based firm is presenting a line – the Polo Watch – that very clearly marks the refocusing of its watchmaking strategy.
Within this collection, Ralph Lauren's polo player emblem is displayed in the very centre of the dial. It's an uncompromising design choice, not unlike theflying tourbillon presented by Louis Vuitton last spring with its immense "LV" as a bridge.
It was in 1972 that Ralph Lauren's signature emblem – capturing the moment before mallet meets ball during a polo game – took its place on the chest of the Polo shirt, where it became a symbol recognised around the world.
It was in 1972 that Ralph Lauren first placed his logo on the chest of the Polo shirt. It now also features on the dial of a new watch line.
Over the last few decades, numerous fashion houses have been keen to try their hand at horology. They have all faced a number of difficult choices. To go solo (like Gucci, Chanel or Hermès), or team up with a specialist partner (Calvin Klein with Swatch Group and then Movado Group, Tommy Hilfiger with Movado Group, Michael Kors with Fossil Group, Pierre Cardin with Mondaine)? To position themselves in the fashion accessory segment (Hugo Boss, Lacoste, Tommy Hilfiger, Michael Kors and many more) or as luxury mechanical timepieces (Chanel, Hermès, Louis Vuitton)? To distribute their models with multi-brand retailers or within their own circuit of dedicated boutiques?
Ralph Lauren changes approach
Ralph Lauren's watchmaking journey is particularly interesting. It began with a desire to conquer an audience of purists beyond its original clientele, with a new luxury mechanical offering introduced at major watchmaking salons such as the SIHH.
Since 2018, the brand has switched to an approach centred on its own clientele, through distribution mainly via its own boutiques (although there are still a few historical retailers, notably in Japan, which is the second largest market for Ralph Lauren's watchmaking division, behind the United States) and with more accessible prices, bringing its timepieces back into a more global Ralph Lauren "brand experience" rather than a strictly horological one.
"Sales teams in the boutiques will have no difficulty in explaining and selling this collection, which is fully in line with all Ralph Lauren products."
Ivy League classics, time-honoured English haberdashery, downtown styles and all-American sporting looks are the worlds that Ralph Lauren conjured up when he named his company Polo in 1967. These themes are reflected in the new Polo Watch line, with its original reinterpretation of the famous Ralph Lauren logo, printed in 3D with several layers of colour.
Guillaume Tetu, the head of Ralph Lauren's watchmaking division (and an acknowledged connoisseur of the independent watchmaking scene, having previously co-founded Hautlence), is comfortable with this new positioning. "It's a segment that seems to us to be well suited to today's reality in the market," he says. "We are completely within the Ralph Lauren spirit and we are registering modest growth this year, which is quite enviable compared to the watchmaking industry as a whole. In addition, we still have access to Richemont's capabilities, even though the joint venture no longer exists."

High online visibility
Like the equivalent garments in the Polo Sport range, the new Polo Watch line is intended to be Ralph Lauren's entry-level watch, "without making any concessions on quality". Models range in price from 1,650 to 2,150 dollars. "This is a watch that could have been released thirty years ago, it so clearly bathes in the Ralph Lauren universe," explains Guillaume Tetu. "We are playing around with the brand's interchangeable straps and casual codes. Our sales teams will have no trouble explaining and selling this collection, which is fully in line with all Ralph Lauren products."
The Polo watches are available in four models with lacquered dials: Ralph Lauren green, navy blue and two black dials with stainless steel or matte finishes.
Guillaume Tetu co-founded the independent watchmaking brand Hautlence (now part of MELB Holding), before joining Ralph Lauren's watchmaking division in 2016.
Managing a smaller dedicated watchmaking team from Geneva, Guillaume Tetu's primary task is to sell the concept internally, in order to extend the horological offering within the network of Ralph Lauren boutiques – and now also Polo Ralph Lauren stores. Around 80 of the brand's points of sale (out of a total of almost a thousand, including the many department store concessions) offer watches.
This task should prove easier with an entry-level collection such as the Polo Watch, particularly in terms of online sales. The model is particularly visible on the brand's general website (a crucial point during a public health crisis).
"The figures speak for themselves"
"Alongside this line, we continue to produce and sell more high-end models, including timepieces worth up to 65,000 dollars in the Western collection. The Stirrup line remains the brand's best-seller in the 2,000 dollar segment," stresses Guillaume Tetu.
To produce the Polo Watch, equipped with a Sellita automatic movement, Ralph Lauren is using the services of the long-established Swiss-based private label specialist Roventa Henex. As Guillaume Tetu explains: "The brand has never wanted to simply license its name to a major watch distribution group," as many fashion houses have done.
"We are much more comfortable in this configuration than we were five years ago. The potential for Haute Horlogerie customers remains limited to our flagship boutiques."
The round stainless steel cases measure 42mm by 12.35mm and include an exhibition case back to make the fine details visible - including vertical Côtes de Genève stripes and circular graining, known as perlage. The timepieces are powered by an automatic Swiss-made RL200 movement running at a frequency of 28,800 vibrations per hour, which features 26 jewels with an approximate 38-hour power reserve.
Well-versed in the effects of economic crisis on the watchmaking industry, since he was at the head of Hautlence during the Lehman Brothers crash in 2008, Guillaume Tetu is aware that this period favours the "blue chips" of the watchmaking industry and fosters market concentration. The choice to refocus Ralph Lauren's watch offering on the brand's own network seems to him all the more relevant in what is a challenging time for the sector.
"We are much more comfortable in this configuration than we were five years ago with a heavier structure," he says. "The average price is lower than it was a decade ago, but we're up on total sales. The potential for Haute Horlogerie customers remains limited to our flagship boutiques. The figures speak for themselves."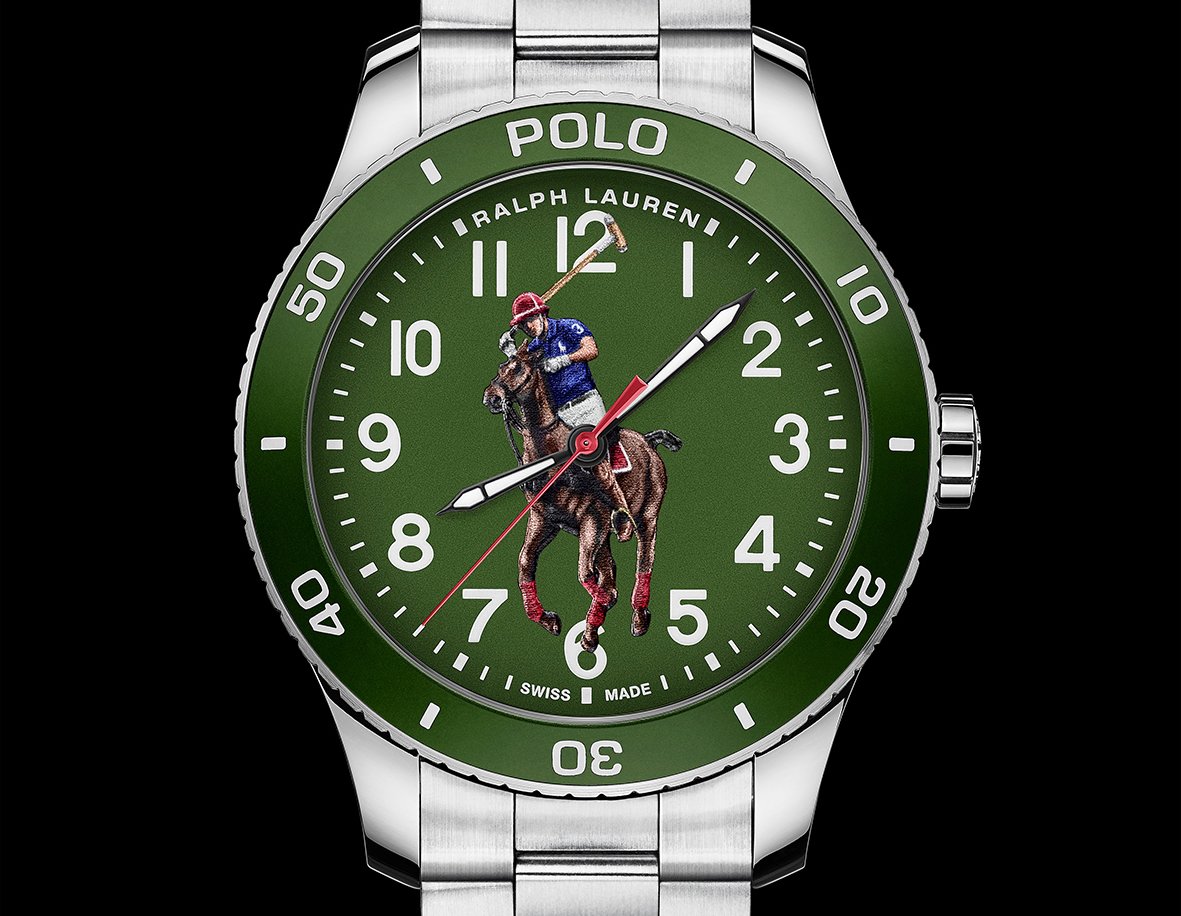 A brand horizon that matters
The time is ripe for more commercial "realism" towards a product that fits into a much broader brand horizon. At the very least, Ralph Lauren will have tasted an era of growth that will probably not be seen for a long time in mechanical watchmaking, the revelry of an SIHH show that no longer exists, and a spirit of Swiss mechanical exception that looks increasingly isolated... In this respect, we can only take our (cowboy) hats off to the American brand for having chosen a bold and risky path (given the astronomical sums involved), when so many other fashion labels have simply chosen to sell their names.
The brand offers a choice of several interchangeable straps: classic stainless steel, leather with ecru stitching, cotton madras straps inspired by authentic woven shirting, and a leather strap in three colourways printed with Ralph Lauren's Polo Sport logo inspired by '90s apparel collections. Additionally, there is a black sandblasted stainless steel option, available only with the black lacquered dial and matte hardware.
At a time when Swiss watchmaking is losing volume and retreating ever further into the uplands of mechanical exception, Ralph Lauren's horological journey reveals the limits of this model for "outsiders". On the other side of the watchmaking spectrum, fashion brands that have licensed their names are now suffering from competition from the smartwatch, which is particularly fierce for models produced by the giant Fossil Group (read the excellent analysis by Joe Thompson on the "Apple effect").
As the case of Ralph Lauren shows, with the air becoming increasingly thin on both sides of the mirror, the time has come for everyone to redefine their strategic positioning.