For those looking for elegant boutiques, the Place Vendôme is considered the most beautiful and prestigious location in Paris. "It is a magnificent and marvellous place. It exudes a sort of natural magic," declares Agnès Cromback-Augis, President of Tiffany & Co. France. She is also President of the 'Comité Vendôme,' an association for the businesses and merchants of the Place and the adjacent streets. While Cromback-Augis is generally correct in her assessment of this world famous locale, she is also slightly wrong. She is right in the sense that the overall area, designed by the architect Jules Hardouin-Mansart in 1685 at the request of Louis XIV, is a model of harmony and magnificence. And, since parking has been banned from the red brick streets, it is indeed one of the rare architectural ensembles of this size that can be admired without obstruction. On the other hand, though, her description of the Place needs to be tempered with another reality. In spite of its rich magnificence, the Place Vendôme, also can be cold and aloof.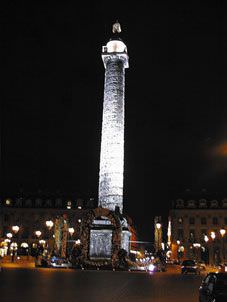 Still, people come to see it from all over the world. They walk around it. They take pictures of it. They even cast dreamy looks at the windows of the world's most prestigious watchmakers and jewellers. Yet, it is not a place for a leisurely stroll with friends. There are no trees to shade the visitor from the sun, nor are there any bistros for a cup of mid-shopping coffee. But, these drawbacks obviously don't stop the many tourists who come to take in its famous grandeur. It doesn't faze the guests at the Hotel Ritz or the clients of the large banks and luxury boutiques that abound.
Nearly every important name can be found there - Cartier, Corum, Omega, Rolex, Fred, Dior, Hermès, Patek Philippe, Chaumet, Piaget, Chanel, Bréguet, Van Cleef & Arpels, Boucheron, Buccelatti, Bulgari, Ebel, Tiffany & Co., and so on and on. Obviously, there is no need to mention that anyone wanting to shop on the Place Vendôme should bring a well-endowed wallet, even if most of these boutiques do offer a few small objects at reasonable prices.
It certainly seems that, for the clientele frequenting these stores, those people who have the money and the desire to spend hundreds, thousands or even millions of dollars on a watch or a piece of jewellery, the economic crisis has not hit home. The Place Vendôme did not seem to suffer the before- or after-effects of September 11, 2001. Having said that, however, it is based on a matter of impression, since no one will speak publicly about the balance sheet or give precise statistics on sales. They prefer to jealously guard their little secrets and to conduct business inside the cosy cocoon of their elegant boutiques. An explanation…
"The fashion sector was undoubtedly more affected than we were by the international economic events. By definition, it is more fragile and more dependent on the mood of people. On the other hand, during these times, prestige jewellery and watches remain more than ever safe refuges for money. These products continue to sell well," explains a spokesperson at Chanel. This opinion is shared at Tiffany & Co.: "Our clientele is especially varied, undoubtedly more so than at other brands. This is because our range of products begins with a deck of cards at ¤25. Also, we have clients that have been faithful for many years, for decades, and even generations. They have not changed their habits. They appreciate our classic and timeless collections."
These are two examples of the Place Vendôme, that intangible symbol of French tradition, luxury and international business all rolled into one elegant location. Of this, no one can be mistaken. After all, did not Suisse Tourisme, the company that organizes tourism in Switzerland, choose the Place for a large promotional and artistic event at the end of the yearı During more than a month, in collaboration with the Comité Vendôme, the Place will be completely transformed by a prestigious and scintillating occasion. It will live on Swiss time, both inside the shops whose windows display a myriad of wonderful Swiss timepieces, as well as outside, during the spectacular happenings on the magnificent Place Vendôme.


Click here to subscribe to Europa Star Magazine.