Introductory facts
It seems like it was only yesterday that Spain joined the European employing around 3,000 people and producing around 1,500 million Euros a year. This is in addition to this the 'grey market' commerce of the credited brands, the upcoming online businesses and the fearsome 'black market' of replica watches (we will come to this later when we discuss distribution channels).
There is a high level of concentration in the sector, where the five leaders of the market monopolize more than half the overall sales – Festina, Munreco, Valentín, Geresa and Diarsa. All these manufacturers have followed a parallel evolution inspired by the magic spell of verticalization: the vertical market segmentation of business has permitted the brands to entirely control the production process, from the design table up to the after-sales and technical support services. To achieve proficiency in this trend, Spanish watchmakers and distributors have made huge investments in research and development, have diversified their sources of suppliers and have delocalized processes to Switzerland and Asia. They have built a solid network of subsidiaries to promote exports to European countries and have strengthened their distribution network in America and Asia.
A common segmentation of the market has been established and is tagged as 'economic' (up to 300 Euros), 'mid-market' (up to 1,000 Euros), 'upmarket' (1,000 to 2,000 Euros) and 'Alta Relojería' (2,000 Euros and over). The overall success of the Spanish watchmaking industry in penetrating foreign markets has allowed these companies to invest in the acquisition of a number of Swiss manufactures, with an aim to consolidate positions in the more exclusive segment for timepieces costing more than 2,000 Euros.
Advertising has been richly funded by these manufactures, especially in the struggle to dominate the interior market, representing 50 percent of its production. Very expensive campaigns have been shown on television and in the generic press as well as the specialized press (very strong in Spain, with more than a dozen magazines, two of them monthly). As a result they have obtained a solid positioning of national brands in the interior market with a prevailing image in the consumer's mind.
The ranking of manufacturers in Spain is headed by the undisputed leader, Festina, a group of companies based in Barcelona, leader itself in the Spanish mid-market segment and solidly established in France, Italy, Germany, Belgium and Switzerland through subsidiaries. A powerful distribution network that reaches 65 countries has allowed Festina constant and sustained growth over the last few years. It makes more than 4.2 million units a year and sales amounted to more than 237 million Euros in 2006, half of them coming from export activities, mostly from European countries. They have developed their own technological know-how and their own component production facilities in Spain, Switzerland and Asia. The Festina Group operates through the brands Festina, Lotus, Jaguar and Candino.
Second to Festina is Grupo Munreco, owner of the Viceroy and Sandoz brands and exclusive distributor of Maurice Lacroix. With sales only slightly under its rival's, it sells one million pieces a year, relies on a network of 4,500 points of sale, eight regional offices in Spain and its exports reach 30 countries. Currently they are working hard to penetrate the U.S.A. and Asian markets and are following a policy of exclusive proprietary and franchised shops, the first of which has been recently opened in the Serrano street in Madrid, the prime location in the capital for watch and jewellery shops.
The lower step on the podium is for Grupo Valentín, which has worked exceptionally hard to reintroduce its leading brand Time Force. It has invested large amounts in research and redesign of its collection of timepieces; in the implementation of latest generation production processes and a brilliant, and very expensive, advertising campaign. In addition to this, the company has multiplied its production by eight and doubled the number of countries reached by its products, nearly 50. The group has also designed a clever reincorporation of the Swiss brand Favre-Leuba.
We could still speak about other brands making watches in Spain, but the ones we have already mentioned account for half the business. Those who follow are large distributors like Geresa (with Seiko, Lorus and Zenith among others) and Diarsa (with Hublot, Ulysse Nardin, Cuervo y Sobrinos, etc.).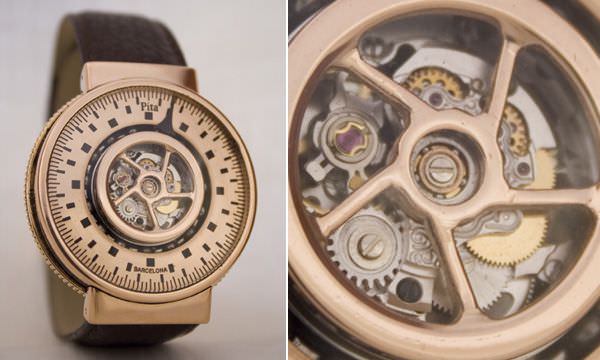 PITA modelo 21


Independent creators
It is the sort of thing that happened in painting, at the end the nineteenth century, with the arrival of photography. What has happened to watchmaking is that the wristwatch has lost most of its utility as an instrument to measure time and has become like a background, where styled brushes of master mechanicals paint the colours of new materials to recreate, with increased sensitivity, the concepts of subjectivity regarding time. This current flow of creativeness, diversification of methods and freeness of expression has not left Spain out of the wave.
Spain is a country with a scarce tradition for timekeeping, the contact with the tides flowing from elsewhere have propelled a batch of bold watchmakers to develop their own dreams. It is not in the scope of this article to detail all of the initiatives in the hands of these tiny brands in the shade, but we'll mention four of them as an example of what can be achieved by small manufacturers in the future.
In 1971 Aniceto Rodriguez Pita, a self-taught watchmaker from Barcelona opened his own atelier. For many years he restored and collected all types of clocks and wristwatches and taught to his watchmaking alumni. It was not until 1990 when he decided to create his own timepieces. His patented system known as Pita-TSM (time-setting mechanism) is one example of his work; it is a reinvention of the classical remontoire subsystem, which makes the setting of the watch and the winding of the spring possible. Surprisingly, his watches are crownless, resulting in a new concept of technical and aesthetical purity.
Pedro Izquierdo, another self-taught master watchmaker, launched his Independencia' model in 2002 in a limited series of 150 timepieces. This 100 percent Spanish watch, entirely hand-built and assembled is made with the noblest of materials and crafting arts and is a tribute to classical watchmaking. After 'Independencia' followed, two years later, the chronograph 'Descubrimiento' with its skeleton winding pendulum. It is also noteworthy to mention Izquierdo's teaching activities in his own school in Madrid where he also passionately designs his new watches.
Extático, referring to time, means detention and perception of movement. This new brand has developed its own concept of Hora Española (Spanish time), which is a way of measuring time in a slightly subjective manner. The second hand has been dropped and the 12 o'clock position has been shifted several degrees to the right, thus allowing a sort of adaptation to the user's intimate vital rhythm. As a model of philosophical setting and by the precise use of exquisite materials of contemporary appearance, the design of 'Extático' has produced models such as 'Tiempo Ausente' (Absent time) or 'Momento Oportuno' (Adequate moment), whose names are declarations of transcendental intentionality. The brand is currently working on the development of proprietary mechanisms into which it will undoubtedly inoculate the company's peculiar ideology.
And what should we say about Franc Vila, Spain's most relevant example of excellence in watchmaking? The Geneva-based company produces contemporary creations that break through an assortment of great complications with the ease of true craftsmanship and the clairvoyance of the expert watchmakers. It conveys the use of high technology, the latest generation of materials, in the vortex of extreme watch engineering within a true handmade assembly process and a limited production. His last model, 'FV nº cuatro', is a showcase of futuristic technologies applied to watchmaking. He is an ascendant influence to all watch masters working in Spain. His creations, fruit of genial inspiration, enhance the trend of enjoying the pleasures of lively mechanics.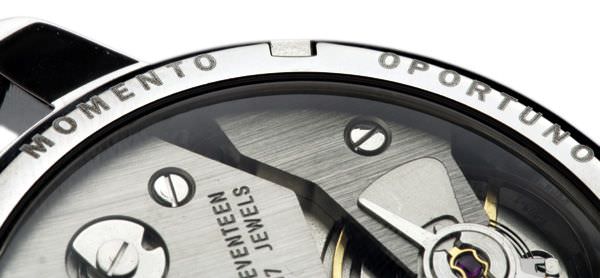 EXTATICO Momento Oportuno


Traditional sales and distribution networks
In Spain, the main channel for watch sales is still the classic jewellery stores, holding 40 percent of overall sales. In second place, the dedicated watch shops with another 28 percent. Department stores carry 10 percent of sales. The remaining 22 percent are sold through fashion and accessory shops, that don't have any after-sales or technical support facilities.
Distribution works as an overlay of different systems. On one hand, the established brands of luxury watches work with a horizontal exclusive distribution network through acknowledged jewellery and watch stores, in the main cities of the country, who operate as distributors and technical support of the manufacture (Duran, Suárez, Unión Suiza, etc.). Brands like Rolex, Patek Philippe or Frank Müller operate in this way. This operative model generates a high level of confidence in the customers by means of the professionalism of the shops, who frequently have exclusive corner shops for a brand or two. These establishments have a solid base of customers, several generations old.
The same applies to the other grand brands melted into large groups (Swatch, Richemont, etc.) who prefer a vertical model of commercialization for their mid-market and high-end products, where they can position several different brands in different segments in the same store. This kind of model works better in such a dynamic market and is more efficient and self-regulating.
There has been a new trend over the last years consisting of the opening of exclusive brand stores, like those of Montblanc, Chopard, etc., and it is forecast that it will soon be adopted by others, like Munreco, who are both manufacturers and distributors of Swiss brands. This is a system to reach the final consumer with minimum expenses in distribution and with asserted control in the commercial process, giving quick dynamic response to the market everyday which has become more segmented and volatile. And we shall not forget about department stores, such as the Spanish giant El Corte Inglés, which operate a very efficient network of stores all around the country, but with the disadvantage of a severe decrease in the manufacturer's profit margin.
Last, but not least, at the lowest end of the market we find the 'fashion' market, with affordable prices and high turnover of products. These watches are usually found in small stores or corner shops in shopping centres and department stores, offering a wide selection of timepieces under the 300 Euro barrier.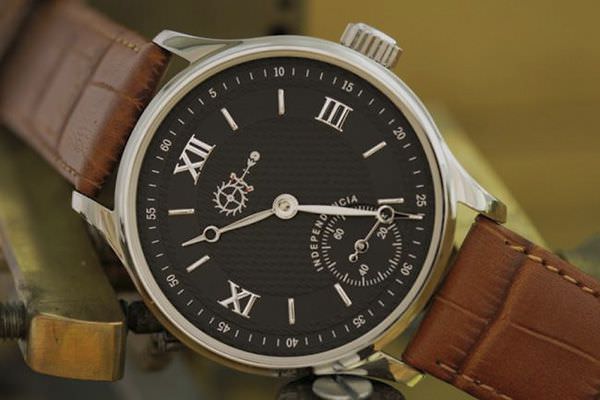 PEDRO IZQUIERDO Independencia


New distribution and commercialization channels
Online sales need a dedicated explanation due to a lack of reliable information of online sales of watches in Spain. Most of the manufacturers who sell part of their production through online websites are including those sales in their general results. The sole objective data available is that the advertising traffic in those websites multiplies by two every 12 months. The haute horlogerie brands choose not to operate through Internet portals, but instead invest large sums in designing efficient websites to help support prospective customers in their search for information. We should also consider the related forums (professional or amateur), where many designs are bench-tested before they arrive in the stores. Professional websites like www.horalatina.com,; www.inforeloj.com or www.relojes-especiales.com offer both information to resellers and to users. On the contrary, for small manufacturers of short series of watches, the Internet is a vital source of sales, if not the only one. This is certainly the case for Extático, Pedro Izquierdo and Pita for example. Evidently, the importance of the Internet in the decision-making process of new consumers is its undeniable capability in following consumers' interests and the consolidation of marketing and branding strategies, which results in most brands designing and redesigning their presence on the Internet.
The Internet is also important regarding the 'grey market' of watches, where genuine pieces are sold in an irregular manner, though not illegally. This exit permits overstocked dealers to detour them to non-authorized agents. These irregular submarkets offer watches with discounts of up to 30 to 40 percent on official price lists, and operate as a safety valve for a saturated market that is oversupplied with fashionable products and new releases. Despite its unpopularity among manufacturers, it undeniably has a utility as a regulatory body of the traditional distribution networks.
Last but not least we will refer here to the 'black market' of replicas and counterfeits, an activity that, paradoxically, is not affecting the haute horlogerie brands in Spain as much, but is damaging the mid-segment watches with a value of around 300 Euro, because they are introducing in the market replicas and fakes with quality movements fitted into counterfeit cases. Vigorous actions should be taken in order to fight this fraudulent bootleg activity that regrettably is not perceived by the public as a clearly illegal activity.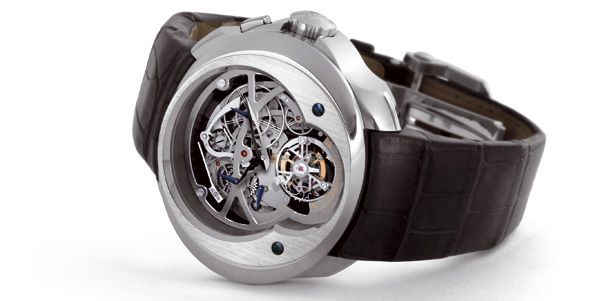 FVa N°3 TOURBILLON REPETITION MINUTES WITH CATHEDRAL GONG STRIKE by Franc Vila


Future horizons
In view of facts, trends and tides of the market, we may predict a short-term overview for the Spanish watch market.
The Spanish manufacturers will enter a period of consolidation following a phase of continuous growth, expecting the return of the investment made in production technologies, know-how and advertising campaigns. In the lower tiers of the market, these companies will keep on supporting their research programmes needed to defend their quotas in the interior market and their growth in their export activities.
Swiss brands operating in the country in the middle segments will have to fight different battles. They must empower their distribution networks and adapt to the new forms of e-commerce and intelligent purchase, which are predicted to be more important every day. Competition in this segment will be fierce with newcomers arriving constantly to cover a demand more and more specialized coming from all over the EEC. The consumer in this segment will be eager to differ from others and will appreciate limited editions, special series and true novelties, both technical and aesthetical, and will regularly search for online information in order to decide what he will purchase.
Regarding the haute horlogerie sector, the market will most presumably have to deal with the overcoming slowdown of the economical growth in Spain, steering towards a decrease in the availability of capital to be invested in luxury items. In this context, the brands with better 'visibility' shall win the battle. Reaching in a better way the potential customers through an alliance between the specialized press and dedicated watch portals.

All in all, what has been exposed above gives a picture of what the Spanish watch market and industry are experiencing today. Forecasts are optimistic both for nationally produced goods and for imported products. Designers boast about new projects, factories produce at full steam and the bankers rub their hands together. My, watchmaking is certainly a passionate world!


Source: Europa Star October-November 2007 Magazine Issue