Put those words to music and you have the song many brands are singing today. It seems that everywhere you look, a brand is announcing that it is leaving its niche and going to higher prices, higher quality watches.
Surprisingly, affordable sophisticated watches from well-known companies are still available out there. This price point, from US$1,000 - US$5,000 is an important stepping-stone from the entry level to the luxury brands. For this reason, brands and retailers should not overlook this segment of the market.

The market niche
For quartz watches, the opening price point is from US$50 upwards and some companies are offering very low priced mechanical watches (Fossil offers Chinese-movement equipped timepieces for US$105 and up, while Swiss-movement mechanicals start at around US$295). These are great price points, but the watches are pretty rudimentary.
The next step up is what Europa Star is calling 'affordable sophistication' - better made watches, with better movements and more features (decoration, design, complications, etc.) for between US$1,000 - US$5,000. This is a vital niche for consumers who want a better watch but cannot afford to spend more. As such, manufacturers and retailers should not ignore this price point as it is a first step towards more expensive watches and if a brand can capture a customer, it is possible to keep that customer and move them up in price.





FREELANCER by Raymond Weil, 1900 by Daniel Mink, MASTER COLLECTION by Longines


"We at Perrelet categorize our watches in three price levels: entry level, US$2,000- US$5,000, mid-level, US$5,000-US$10,000 and the top level, beyond US$10,000," explains Marc Bernhardt, President, Perrelet. "It's interesting that we see feverish sales at the entry price level."
There is good and growing business for timepieces, which offer strong value and timeless designs, says Rudy Chavez, President, Baume & Mercier North America. "For Baume & Mercier, over 80 percent of our business is done within the US$1,500-US$5,000 price range," he adds.
This mid-range might not be the sexiest segment, but it's a vital cog to the evolution of the watch customer base. Typically, a watch customer graduates from entry-level to mid-priced, then to the higher priced watches of the luxury level.
"Consumers today are smarter than in the past and besides buying just for the name, they are very aware of all of what makes up the timepiece, styling, design, quality, and movements," says Mitchell Kaplan, President, Daniel Mink. "The demand in this price point is increasing even in uncertain economical times, and the number of choices for the consumer seems to be on the rise as well."
Customers, especially in financially tough times, are looking for value. "The perfect price point is the price which the client is willing to pay for a specific watch and brand," says Walter von KÄnel, President, Longines. "Longines has an optimal price point because it is perfectly related to the brand positioning and message and gives buyers very good value for their money."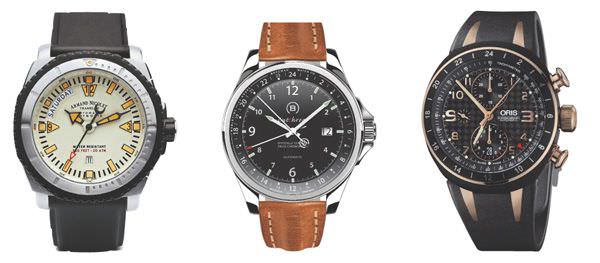 S05 by Amand Nicolet, CUTTHROAT by Bozeman, TT3 CHRONOGRAPH by Oris


Growth of this niche
Fuelled by international growing markets, which need this starting price, savvy manufacturers and retailers are targeting this price point. For a time, this was the forgotten sector, with everyone heading for the higher prices, but now there are a number of manufacturers who see the opportunity here.
Some examples of manufacturers who push this price segment are Baume & Mercier, Oris, Tutima, Raymond Weil, Louis Erard, FrÉdÉrique Constant, RSW, Seiko, Ernst Benz, Longines, Armand Nicolet, Cyma, Daniel Mink, Rado, Milus, Vo!lÀ and more.
"The affordable sophistication market is becoming bigger and also more competitive because middle class markets from Eastern Europe and Asia, such as China and India, are growing," says Alain Spinedi, Managing Director, Louis Erard. "Another factor not to forget is that mechanical watches are trendy again and some consumers who were not interested in this technology before are now buying. They first start with the mid-price segment brands. In Asia, the young generation now wants a mechanical watch as their first main watch."






SIMPLY EIGHT by RSW


Some companies are taking advantage of this price segment and finding themselves becoming players. "The Direct Drive Kinetic, the heavily advertised flagship of the Velatura collection, is priced at US$1,150 and we are seeing strong sell through," says Les Perry, Executive Vice President, Seiko North America. "A few years ago you would maybe have questioned Seiko's ability to sell at such retails."

More awareness
This price point really raises awareness for the general customer of finer watches. Though there is a limit to what can be done within these price constraints, there can be dramatic improvements in finishing, decoration, features, movements, and more from those first, entry-level timepieces.
There are some very interesting watches available in this range, featuring interesting designs, movements and even useful complications like chronographs, dual times, retrogrades and more. This is a great way to get customers interested in the finer points of timepieces. If these customers are nurtured, chances are that they will become lifelong buyers of fine watches.
"I believe that this segment of Swiss watchmaking is growing and continues to show increasing interest as the entire industry expands," says Leonid Khankin, Designer & Managing Director, Ernst Benz. "Brands continue to create awareness as well as educate consumers about the art of watchmaking, which is bringing more interest to all levels of our industry. As the world continues to become more developed as well as fast paced, more and more people seem to be discovering the endearing quality of mechanical watches."
As more people around the world become aware of better quality watches, the need for this initial price point will increase. Luckily, many manufacturers are aware of the need and are working hard on supplying interesting, value-priced product.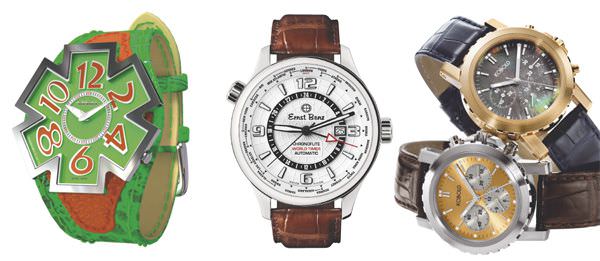 SUPERSTAR by Vo!lÀ, CHRONOFLITE WORLD TIMER by Ernst Benz, SOARWAY CHRONOGRAPH by Kobold


Conventional wisdom says that the luxury customer is insulated from economic downturn because people with money will always have money, but this mid-range price should also remain strong as these watches offer a strong combination of quality and value.
"There is likely going to be a continued increase in the market size for affordable luxury watches," says Michael Kobold. "This market's core demographic seems pretty insulated from the economic downturn and they will likely continue spending, especially as more people become comfortable with the idea of owning a collection of wristwatches."
Keep an eye on this segment and make sure you have strong offerings for all your customers - it's an opportunity to serve your existing client base while also drawing in new customers.


Source: Europa Star February-March 2008 Magazine Issue