Go into any specialist watch store or pick up a professional watch magazine and the chances of finding a children's watch are almost non-existent. With 29 percent of the world's population under the age of 15, isn't this a little surprising? Adult watches and children's watches couldn't be further apart in the consumer universe, but maybe they shouldn't be, after all, a first watch is the start of every collection.

First experiences
The sensation experienced with one's very first watch can often fuel a lifetime love of watches. "Even collectors who have 200 watches started with a childhood experience. It starts from the day a boy goes to school with a new watch and holds his arm up proudly in the air. He is not in the same group as he was the day before. He is now part of the group of boys with watches. This feeling stays with today's clients," explains Laurent Picciotto, the owner of Chronopassion in Paris. "After having sold 100 or 200 watches to the same person, I tried to understand the pride a customer has when he purchases a new watch. It is the same feeling, the next set of classmates, if you like. This fundamental function of childhood is the passage towards adulthood, firstly he is able to read the time, just like a grown up, and then, with each watch, the client is transformed, never quite the same again."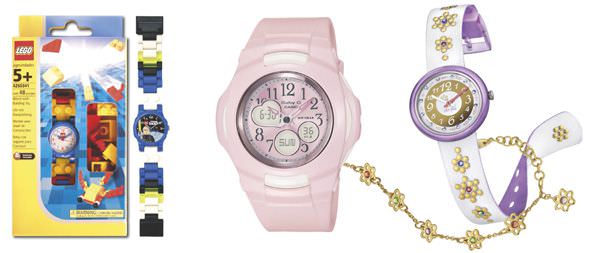 Lego, Casio, flik flak


Today's children and consumer marketing
If you are like me, you probably spent most of your pocket money on sweets and candy, and kept your children's watch into your early teens! Things are a little different for kids today. Competition for children's attention from all sectors of the consumer market is rife. With the multitude of products exposed to children, watches are just one of many choices of objects that can serve as vehicles for self-expression and identification. In addition to this, children's watches are less expensive than they were a couple of decades or so ago and children may have many different watches without attaching any particular value to any of them.
There is also concern about the increasing number of young people using mobile phones to tell the time and who don't even possess a watch. If children start relying on electronic devices from an early age, it may be harder to convert them later.





Passion, Baby Watch Paris'Tiny


The market offering
However, the situation isn't all doom and gloom. Estimates put the number of children's watches sold per year between five and six million units and there is certainly a plethora of choice.
Educational watches account for a large part of the children's watch market. These watches help children to learn how to tell the time with different pedagogic techniques. flik flak is probably the most well known children's watch brand. Established by the Swatch Group in 1987, the company developed its own unique Time Teaching Concept with two characters Flik and Flak. Flik, the big brother, indicates the minutes and Flak, his little sister, points to the hours. Quality and security have been specially adapted for small children with plastic buckles and straps that won't hurt in the event of a tumble. The watches can also be machine-washed in a sock for particularly adventurous children!
Baby Watch Paris' Tiny instructive watch, for four to six year olds, comes with a cardboard clock so the child can discover how to tell the time through play. The company also has a ZIP collection for the six to sevens and a Passion line for the eight to 11 age group.
Lorus, manufactured and marketed by Seiko, has a variety of learning watches to help small children tell the time. The minutes past the hour and the minutes to the hour are clearly marked on the dial. Next to the number seven, for example, is the number 25, for 25 to the hour. Watches come in a variety of themes such as football, flowers, diggers and fire fighters. Jacques Farel has a fun and colourful collection for children with the words 'minutes' and 'hours' marked on the hands and vibrant, three-dimensional straps that not only look good, but smell good too.

The 'Tween' market
The age segment with perhaps the most lucrative potential is what is commonly called the 'Tweens', pre-pubescent children aged between six and 13, who not only have more spending power than ever before, but who are particularly responsive to advertising and branding. There is a variety of choice in this sector, such as Activa, Baby-G, Chipie, DDP, Choufleur, flik flak, Jacques Farel, Juicy Couture, La Senza Girl, Lego, Lorus, Luscious Luscious Girls, Monji, Nordstrom Kids, Nike, Quiksilver, Timex and hundreds of licence brands that cover everything from nursery rhyme characters to superheroes. Competition is fierce, however, and manufacturers must keep up-to-date with children who are constantly growing and changing their interests.







Children's views
In order to find out what today's children think about the watches available to them, I visited a local primary school (ages between eight and ten) near Yverdon-les-Bains, Switzerland, and took a selection of children's watches with me to animate the debate.
My first surprise was that only 25 percent of the children were actually wearing a watch and 30 percent of them already owned a mobile phone. Although this was somewhat alarming, what I did discover was that they were absolutely fascinated by watches. The children in this age bracket are still developing their cognitive capacities and are like sponges for information. It was interesting to see that watches I thought would appeal to them didn't, and watches that I thought would be too sophisticated for them were a huge success. I was surprised by how many of them noticed elements of the watch such as the crystal, the numerals and the packaging. Entertainment-based licensed characters, like Harry Potter and Batman, for example, which I thought would be popular, were of little interest to the group, but that's probably because the films were released a while ago and the interest in these characters has long since waned.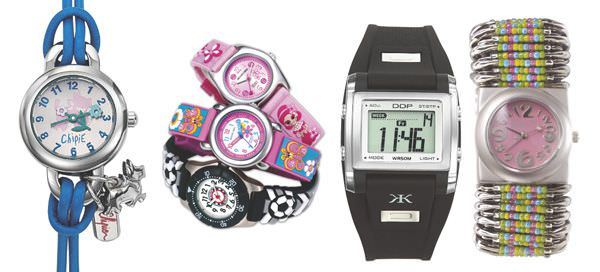 Chipie, Jacques Farel, DDP, Monji


What the girls liked
The girls were most drawn to the brands Luscious Luscious Girls and Naughty Naughty Pets owned by the Korean company Stylish People. The designs are bright, sparkly and more grown-up than the more traditional brands. The Naughty Naughty Pets watches are inspired by the American tele-vision show of the same name that hasn't reached Switzerland yet, but that didn't deter the youngsters, as they adored the designs of the watches and the images of the animals getting up to mischief. As expected, anything pink, glittery and with 'pretend' diamonds was popular with the girls. All of the children were particularly impressed by the Monji watch with its bracelet made of safety pins adorned with Japanese glass beads. They have been working on a project about the environment and loved the recycling element of the watch. They were also impressed to hear that pop stars such as Madonna and Britney Spears were wearing this watch.

Boys
The boys tended to prefer the watches that corresponded to their personal interests, whether it was football (Jacques Farel's floating football second hand was very popular) dolphins or construction diggers. Both boys and girls loved the packaging and watches that came in tin boxes or bags with additional toys captured their attention more than watches on their own. The boys were also more interested in the functions than the girls and asked me a lot of tricky questions about my altimeter watch and why atmospheric pressure decreases with altitude!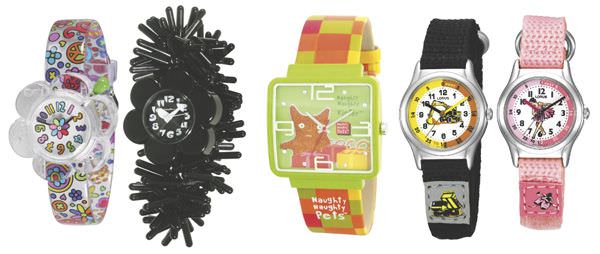 Choufleur, Naughty Naughty Pets, Lorus


Manufacturing, distribution and retail / Internet shopping
Department stores are the main point of sale for children's watches, along with toy stores, supermarkets, mail order, home shopping, duty free and tax free retail stores, jewellery stores and some watch speciality stores. Anywhere that parents are shopping with their children is a good location. Children are certainly buying watches for themselves, as Lisa Waage, Vice President of Sales at Titanium Marketing (La Senza Girl and Nordstrom Kids watches) explains, "The kids are in the stores and are really choosing for themselves, es-pecially during the back to school season, but there is also a large amount of gift-giving." The Internet is also a good place to find children's watches, but this is probably more successful with parents looking for gifts than children shopping for themselves.

Today's children – tomorrow's customers
With the difference in distribution channels, how can the children's watch industry benefit the rest of the watch trade? Can't we just wait for children to grow out of their junior watches?
Marketers have proven that children's attachment to products and brands can begin even before they can walk. In his article 'Tapping the three kids' markets' (American Demographics April, 1998) James U. McNeal, expert and author on marketing to children explains how children can be a secret source of tomorrow's customers. "A company can virtually guarantee itself customers tomorrow if it invests in them as children, so many insightful executives do so. With relatively small expenditures on public relations, promotion and advertising, firms can build equity in their brand names among today's youth, making the companies acceptable and desirable tomorrow." A number of brands, from soft drinks to airline companies, have been using this marketing strategy for years, which has become known as 'cradle-to-the grave' marketing.
It wouldn't take much for a retailer to welcome a customer's children to the store by making the experience fun for them too. It could involve something as simple as a few colouring books and pens, a huge bowl of candy or an aquarium. Not only will the children leave mum or dad to ponder over the latest array of complications, but wait a decade or two and the moment the child needs a watch, guess where he or she will come first?
On the manufacturing side, having a children's brand can be a great advantage. Marc Lauper, Regional Sales Manager from flik flak explains, "We are absolutely convinced that we can build up client loyalty, helping other brands within the Swatch Group. This is one of the strongest points of the Swatch Group; all the market segments are covered by one group, from the children's watch up to the high-luxury watch."
Who knows, maybe there is even a niche for a luxury children's watch brand. Luxury brands in other industries have had been supplying children's products for over a decade. Think of Baby Dior, Burberrys, D&G Junior and Kenzo who have fully developed children's clothes and apparel lines. There are even magazines dedicated to children's luxury such as Italy's Vogue Bambini and MilK in France and Japan. So why not a Baby Rolex or a Patek Junior? It is certainly food for thought.

The future
Children will always need to tell the time and probably even more so now than ever. Between school, sports, play dates with friends and countless other extra-curricula activities, the clock regulates our children's lives. There will always be a need for watches to teach the little ones to read the time and the older ones to stay on time. The 'tweens' market will remain a challenge as children's tastes change rapidly and the competition from the mobile phone and electronics industry will continue to rise, but children are curious and open to new brands, which could create opportunities for the right company.
The challenge for the industry as a whole is to get children interested in watches, not only to secure future sales, but also as a career. We are all aware of the shortage of watchmakers worldwide, but to ensure the future we need to get children on board early. I don't have a solution, but I did take the children who helped me with this article on a tour of Vacheron Constantin as part of a watchmaking project that I accidentally started with all my questions. With the help of the teacher, we also organized a watch design competition which was kindly judged and sponsored by Mr. Jorg Hysek and ValÉrie Ursenbacher from HD3. So I am hoping at least one of them is inspired by the project and goes on to follow a career in the field and this article would have helped serve the industry in a small way!

Many thanks to Mr. Schumacher and all the 3rd and 4th graders, Vacheron Constantin, Jorg Hysek, ValÉrie Ursenbacher and everyone who shared their first watch experience with Europa Star.


'MY FIRST WATCH'

Lawrence Kosick, CEO and President of ViaLuxe (formerly with Yahoo)
When I was nine years old, for Christmas I received a clock radio, a clock pen, a Timex mechanical wind watch with a metal elastic bracelet and a book about a little boy who is always in trouble and always late - so when he gets a watch he is always on time and life is good. My parents definitely had a theme for that Christmas, and it was time. That was my first watch, a Timex, that started my habit and my collecting.

ValÉrie Ursenbacher, HD3
My first watch was around the age of 8. It was a gift and it was very special as it was in plastic and I had to assemble it myself. I remember it clearly and how I could attach lots of flowers around the dial, and like all little girls at this age, I loved it.

Jorg Hysek, HD3
My first watch was at the age of 12. It was a birthday present from my father. My dad took me to a watch shop and told me I could choose a watch (although the budget was somewhat limited!). I chose an Omega (without knowing the brand) because of the specific strap - a metal one with round holes in it. I liked it very much (even if the strap itself was anything but comfortable to wear!)

Cindy Livingston, President and CEO, Sequel
I had a Mickey Mouse watch with movable arms as his hands that I wore diligently with my 'mouseketeers' hat (complete with mouse ears). There's a real mental picture for you...

Ron Jackson, President & CEO, Girard Perregaux North America and JeanRichard North America
My first watch was a Seiko Automatic in steel with a steel bracelet which I bought while I was in 6th grade (age 12). It had a wonderful flat crystal and a black dial and I wore it all the time. I especially liked the weight of the heavy steel case and the crystal which allowed me to appreciate the nice dial and hands.
The crystal also doubled as a wonderful reflective device which was useful in shining a focused beam of light which could be quite entertaining when directed towards classmates, and other items of interest in the classroom. I always tried to sit by the windows in order to have a consistent supply of direct sunlight for this great little feature.

Jean-Daniel Pasche, President of the Federation of the Swiss Watch Industry
I must have been six or seven years old when I received my first watch from my parents for Christmas (1962 or 1963). It was a steel Buttes Watch Company (BWC) mechanical watch. My father worked in the watch industry and we were living in Bienne at this time, although I had spent the first years of my life living in Buttes (Val-de-Travers, NeuchÂtel) when my father was working for the company. This watch had a direct link to my family and the village of Buttes. We left Buttes when my father stopped working for the Buttes Watch Company in 1962.

Max BÜsser, MB&F
My first watch was a simple hand winding round steel Jean Perret, with a white dial and Arabic numerals (I must still have it somewhere). No Mickey mouse, no Superman... My Dad was a very reasonable no frills person. I remember that every evening I would wind it up while my father would say goodnight to me. And that it really hurt because the crown was very small and the winding mechanism was really tough.

Laurent Picciotto, Owner, Chronopassion, Paris
My first watch was a Minilip, which was an educational watch to help me learn how to read the time. After I had mastered how to read the time, I had a Yema chronograph, a sporty watch that I was very proud of.

Georges-Henri Meylan, President and CEO, Audemars Piguet
I received my first mechanical watch for my sixteenth birthday. It was a present from my parents. I have kept this watch preciously; it is a Jaeger-LeCoultre timepiece.
Family is extremely important to me and I particularly value the notion of transmitting patrimony. A watch is a highly emotional object, which has an unlimited life span and is an ideal present if we wish to pass something on to our loved ones. I have offered a watch to each of my children, as well as my nieces and nephews, for certain important occasions such as birthdays or school graduations. When my father passed away, I inherited the watch he received for his 20th birthday. It a model that dates back to 1935, which I have had restored and which means a great deal to me.

Michael Tay, Executive Director, The Hour Glass
My first timepiece of any significance was a stainless steel, black PVD coated Porsche Design Automatic watch on a bracelet. It was offered to me by an aunt in 1988 and served many years on my teenage wrist. That was really the start of my love affair with black-coated watches and stemmed as the inspiration behind The Hour Glass All Black edition watches that were created in 2007.

Peter-Speake Marin, The Watch Workshop
An LED Six-Million-Dollar-Bionic Man digital watch, press the button and it lit for about five seconds, I loved Steve Austin, not literally...watchmaking was a long way off and until I got lost at the age of 17 in career direction and met a kindly careers teacher, I had no concept of horology or the direction I was about to follow...

Thomas Morf, CEO, Carl F. Bucherer
I remember exactly my first watch. It was in 1972 at the age of 8. I got it as a gift from my Godmother. It was a mechanical watch, very simple and clean design, hand wound, 3 hands, no date with a purple dial and Arabic numerals. The brand name was 'Uranus', a brand that I haven't seen since. But I guess at that time, it was quite common that there were tons of private label brands in Switzerland. Unfortunately I don't have it anymore and I don't know where the watch has gone. It was purchased at a jeweller in Ermatingen (Kanton Thurgau) where I was born.

William Devine CEO, BÉdat & Co.
My first watch was a present from my father for passing my maturitÉ (Swiss high-school exams). It was an analogue watch with a dual time digital display, a Tissot if I'm not mistaken. I always remember the things I got as presents, even more so when I left to study abroad and it was stolen.
In spite of that, I still have a happy memory of the watch and recently I was able to offer a beautiful BÉdat and Co. timepiece to my father for his 70th birthday. How things turn around…


Source: Europa Star February-March 2008 Magazine Issue