All the "purely watchmaking" brands belonging to the Richemont group, Cartier, Piaget, Vacheron Constantin, Jaeger-LeCoultre, A. Lange & Söhne, IWC, Panerai and Baume & Mercier are integrated into the distribution structure of Richemont Japan Ltd. Yet, each company maintains its own autonomy and its own management teams.
In the case of IWC, present in Japan since the end of the 1950s, this integration into the group's structure dates back only to 2002. Up to that time, the brand was distributed by Cosa Libermann. The principal test of this integration was the "image challenge", as explained by Manuel Brandela, the young and brilliant Brand Manager of IWC in Japan.
"The situation of IWC was very delicate because, during that time, the agent in charge made about 50% of his sales through discounters. Even though the positioning of luxury brands in Japan is higher than in Europe, we still find nearly all luxury products selling in discount stores, which practice pricing policies of 30% to 40% lower than traditional stores," he continued. For IWC, the situation was even more difficult because the agent "sold only the Portofino, Pilot and GST collections, mainly in steel. The entire Portuguese and Da Vinci lines were absent, and therefore made up only a very small part of IWC's overall image in Japan."






CHARMY TANAKA MOTO (before and after)





TOBU IKEROKUBO (before and after)





HANKYU (before and after)





TAKASAKI (before and after)





HOUR GLASS and KOKURA ISETAN


The decision to cut off supplies to the discounters in order to clean up the marketplace was not without its risks. Almost immediately, IWC lost 50% of its turnover. Even worse, among the 110 traditional sales points, the representation of IWC was often quantitatively and qualitat-ively "disastrous," confined to a "Pilot" image. The decision was also made to discontinue sales to some of these stores.
The change was carried out in a radical manner. For the remaining retailers, Manuel Brandela and his team firmly proposed a "strict policy regarding the IWC collections. In the beginning, stores had to carry 17 pieces, of which 15 were purchased outright and 2 could be placed on consignment. This provided a more complete and representative assortment of the brand's products. It was that or nothing," he declared.
In March 2002, 44 sales points accepted the offer, with three types of collections, A, B and C. By the end of the year, the number of retailers had grown to 66. In October 2004, 70 retailers are expected with a goal of having 80 selective sales points over time. Brandela is quite proud of the support of his managers and that he was able, in only a year and a half, to reach the sales level of before, but "without the negative 50% coming from discounters."

Improvement in image
This has resulted in a significantly increased visibility and a better perception of the brand. Its image has noticeably increased due in large part to a harmonization of the presentation and the creation of 14 corners bearing the brand's name. The sell-out has increased by 25%. "In November 2002, we sold three Portuguese. In April 2003, we sold 35! Today, the average has stabilized at around 26 Portuguese per month, while the collection as a whole has moved upmarket," smiled Brandela. The upmarket move was clearly demonstrated during the recent SIHH show, with notably the introduction of a Portuguese tourbillon. In total, Japan currently accounts for about 7% of IWC's turnover but is certainly one of the best growth opportunities for the brand.
"This policy of 'model stock' was a real battle in the beginning," admitted Brandela, "but now our determination is better accepted and retailers understand how it will benefit them. We won the battle because my managers understood the stakes. George Kern listened to us and let us rebuild the brand, forgetting about short-term profits. Retailers are now ordering more prestigious pieces than they ever would have done in the past. We are not yet at the level of our European markets, but we are moving up, slowly but surely."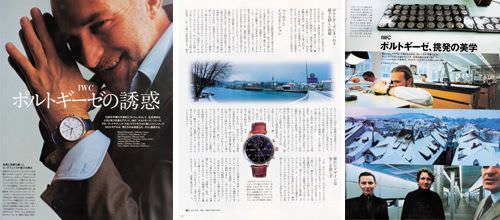 DORSO MAGAZINE





SEVEN SEAS MAGAZINE


When asked about the typically Japanese system of using 'gaishos', private sellers who address their choice clientele directly, Brandela explained that this particular channel represents about 10% of IWC's sales, but is "currently growing."
From an advertising standpoint, IWC (which the Japanese call 'Intar' for 'International' even though the brand is trying to impose the initials 'IWC') favours the advertorial type of communication rather than traditional advertising. "It better expresses the history of the brand and emphasizes the quality of its manufacturing facilities."
IWC's policy of using detailed and more explicit communication, going above and beyond the mention of a product or the idea of a brand, seems to fit in perfectly with why Japanese customers choose one watch over another. According to retailers, it is because the client is looking for legitimacy, history and artisanal qualities in his timepiece.


TO BE CONTINUED...
In the forthcoming days, the rest of this lenghty survey will be added to our europastar website.

1. The Japanese watch market in convalescence
2. In Japan, Seiko is also positioned in the haut de gamme
3. Citizen – Classic Outside, Hi-Tech Inside
4. The IWC image challenge
5. Girard-Perregaux: the cultural strategy of an independen
6. The exemplary establishment of Hermes in Japan
7. F-P Journe: Listening to intuition!