"Sydney has an air of compelling charm, romance and excitement and is delusively alluring." So says the web dictionary when applying 'glamour' to 'Sydney'.
We can walk along the endless white sandy beaches and see the girls and boys tanning themselves in the warm spring sun; we can walk in the parks and gardens and smell the flower perfumes of spring; we can sit by the river banks and have a picnic with all the anticipation of a warm spring day (without interruption by rain) or we can chill out with a cool stubby in the shade of the trees from the afternoon sun and snooze the day away. Very alluring and in lifestyle terms very peacefully glamorous.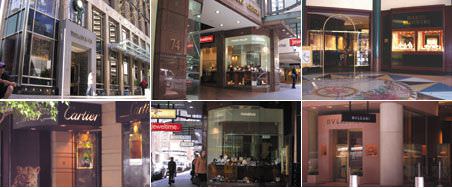 In the last few years some of the high-end watch brands have provided an alternative side to the natural charm of this city. We can walk along Sydney's Castlereagh Street from Martin Place and find some rather more up-market glamour in the form of the luxury watches and jewellery which are more the equipage for the night-life of this vibrant city.
Right on the corner of Martin Place is the venerable Fairfax and Roberts which established their exclusive watches, clocks and jewellery business in Sydney in 1858. They weren't doing interviews about their beautiful watches but through reading sign language and observing the straws-in-the-wind it seems they have been granted the exclusive rights to distribute the fabulous new range of diamond-set Fabergé watches.
In 1916 Fabergé made the last pre-revolutionary Imperial Easter Fabergé egg – the so-called War Egg but the company declined after the death of Peter Carl Fabergé in 1920. The company has gone through a gradual rebirth and reconstruction since 1980 by Victor Mayer GmbH and the new watch range marks a magnificent milestone in this process. These spectacular watches will be launched at the end of October in ladies' and gent's models up to CHF 50,000 to 60,000. It seems their launch in Australia may even be the first launch in the world of this new ground-breaking series!
Just 100 metres along Castlereagh Street is Cartier of Paris and opposite them is Tiffany & Co of New York. I was too early for Cartier who hadn't yet opened their doors for the working day. Tiffany who had suffered a horrific sledgehammer robbery about a year ago observed the very best tradition of our American friends by neither confirming nor denying that they had glamorous watches. History suggests they do but today they are keeping them secret!
A further 100 metres and we are at the corner of King Street where can be found Rolex and Louis Vuiton. Rolex in Australia is associated, as elsewhere in the world, with successful achievement. And it is indeed extraordinary that their own level of success means that in one year they make more watches than Patek Philippe have made in the whole of their exclusive history!
Another 60 metres is J Farren-Price with a stable of Swiss high-end glamour watches such as Patek Philippe, Blancpain, Audemars Piguet, Vacheron Constantin and Rolex. Over the road is Levendi Jewellers with Chopard, Jaeger-leCoultre, Franck Muller, TechnoMarine and IWC. Levendi was established in 1985 and is in the right end of town with the right brands. Very much a Geneva brand, Franck Muller gets high ratings here. Says Panos Levendi "Franck Muller is our 'glamour' brand – buyers know what they want before they come into the shop. This brand is now well recognized and buyers ask for it." At CHF 10,000 to 20, 000 it is right there with the other brands competing in the street. Levendi also comments "Of course Chopard too is right in the glamour range of watches with its complementary jewellery, but surprisingly buyers don't seem to buy the watch/jewellery ensemble in the same purchase."
Within a further 50 metres is the old watch and jewellery firm of Hardy Brothers and Bulgari right nearby. Hardy Brothers were established in Sydney in 1853 and carry all the top brands where the glamour brands are to be found.
So when you visit Sydney there is plenty to choose from and where so many choices come together the price is competitive simply by virtue of propinquity. Glamour is to be had at the right price and then may be enjoyed with "an air of compelling charm, romance and excitement" or simply be "delusively alluring"!


Click here to subscribe to Europa Star Magazine.