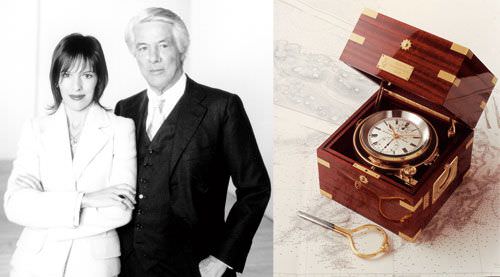 Kim-Eva & Helmut Wempe
Wempe's Ship's Chronometer.


A little more than two years after the celebration of the 125th anniversary of Wempe, the only German jeweller of international rank, another jubilee came up this year in October: The Wempe 'Chronometerwerke'(chronometer factory) became 100 years old.
Wempe Chronometerwerke was originally a manufacturer specialized in ship's clocks and chronometers, which were ex-tremely important at that time for accurate navigation, espec-ially in terms of sailing between the longitudes.
"The establishment of the company goes back to seven decisive Hamburg ship owners," explained Helmut Wempe, the recently retired senior owner, in his speech at an international press conference aboard the cruise liner 'Europa' in the port of Hamburg.
"To supply the increasing demand for ship chronometers and to ensure delivery for German vessels, they founded the 'Deutsche Chronometerwerke Hamburg' in 1905. At that time, the reliability of delivery of these urgently needed instruments from England left much to be desired and the Hamburg shipowners' intention was to make the fast growing German merchant fleet independent from supplies from England. However, the young company had a fight on its hands. Building ship's chronometers in those days was a purely British domain, consequently, specialists in that area were non-existent in Germany. First, chronometer manufacturers had to be trained and the planned annual production of 240 pieces was never achieved. In the end, an expert buyer was sought since production had decreased to less than 10 pieces per year."
Herbert Wempe, the father of Helmut, was such an expert. He had the chance to purchase the ailing company on 1st January 1938 and by the end of the thirties, Herbert Wempe had received the first of the brand's many international awards.
"Our Chronometer, and I say it with a certain pride, was reproduced by Lange & Söhne in Glashütte, who shipped their clocks to our factory for a final control and accuracy test at 'Deutsche Sternwarte'" (German Observatory, Hamburg) Helmut Wempe explained.
"During World War II," Wempe continued, "the Wempe Chronometer-werke produced clocks in sixteen different places around Hamburg to avoid the danger of getting bombed. However, the main factory in the centre of Hamburg was totally destroyed in July 1943."
After a very difficult post-war restart, the 1950s brought a renaissance of the business and by 1955, 240 pieces a year were finally being produced. "The typical bi-metallic balance, however, came from our friends in Glashütte, often crossing the East/West German border in an under cover operation," admitted Wempe.
In 1962 the first ship's electric chronometer was presented. After the dominance of quartz clocks, satellite-based time signals and the invention of the Global Positioning System, the demand for mechanical chronometers rapidly decreased.
Today, Wempe supply modern clock network installations for cruise liners and cargo carriers as well as producing mechanical chronometers for special orders. "Even though these chronometers are no longer used on board ships, we still produce a few of them for collectors or retired ship's captains and ship owners," Helmut Wempe, who gave up the leading of the company to his daughter Kim-Eva a few years ago, explained. He added: "The Wempe Chronometerwerke was, is and will remain the 'second leg' of our business, which we will carefully maintain."
In order to celebrate the anniversary and to not only spend money for the occasion but also earn some, Wempe assembled a group of prestigious watch brands that agreed to make a unique watch collection for this very special event.
The watches from IWC, Audemars Piguet, Nomos, Longines, Vacheron Constantin, A.Lange & Söhne, Breitling, Chopard, Glashütte Original, Jaeger-LeCoultre and Panerai, which were all produced in Limited Editions for the special jubilee sale, are promoted with the slogan 'Never available before, won't be available again, are now available only at Wempe.'


Source: October - November 2005 Issue

Click here to subscribe to Europa Star Magazine.