Surprisingly, using new materials is a tradition in watchmaking as old as the hills. Sure, watchmakers are using previously unknown materials in their watches, but the idea of using new materials is decidedly NOT new.
Throughout horological history, watchmakers have been willing to experiment with new materials to make watches lighter, more precise, more attractive, more reliable, more dependable and much more.
It may seem like today, more companies than ever before are experimenting with new ma-terials, and new combinations of proven ma-terials, but the truth is that this experimentation, to the industry's credit, has never stopped.

New materials, new solutions
Many watch brands are experimenting with new materials to enhance the technical aspects of their watches. Some companies, like Patek Philippe and Rolex, are working on new materials for springs and other parts. In 2005, Patek Philippe filed a patent for the first silicon escape wheel for a Swiss lever escapement. Rolex created its new blue Parachrom hairspring, made from a new alloy, to resist magnetism and increase shock absorbance. Others, like Jaeger-LeCoultre, are experimenting with new materials to reduce the need for lubrication - the Extreme Lab introduced last year was the first watch ever that doesn't need any lubrication at all.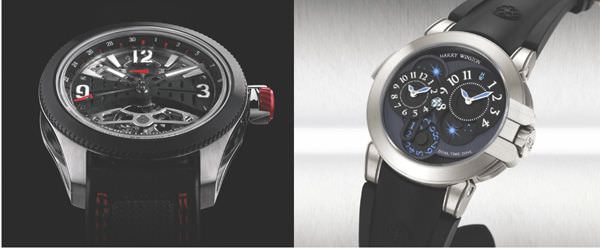 EXTREME LAB by Jaeger-LeCoultre, PROJECT Z4 by Harry Winston


The hope with these new materials is that wear and tear will be alleviated, the need for servicing or lubrication will be reduced, shock resistance will be increased or greater pre-cision will be achieved.
"Jaeger-LeCoultre prides itself on its innovation and contributions to the evolution of watchmaking," says Jerome Lambert, President, Jaeger-LeCoultre. "As a result, researching new materials is extremely important to the company. Just this last year Jaeger-LeCoultre introduced the Extreme Lab, a watch that uses no lubricant and thirteen new materials. As in any trade, researching ways to improve watchmaking is one of the most important aspects of our company. With over 1,000 people working at the manufacture, we are constantly coming up with ways to improve not only our watches, but also watchmaking as a whole.
"With the introduction of the Extreme Lab Jaeger-LeCoultre further defined itself as an innovative company always looking for new materials and new ways to evolve watchmaking,"he continues."We will continue to find new ways to incorporate new materials."
Hublot and Zenith are working with new alloys - Hublot is using AG5, while Zenith has Zenithium - to decrease weight, increase shock absorption and add strength to bolster the performance of the timepiece. Harry Winston has the Project Z4, with cases made in Zalium, a hard, light, zirconium alloy developed for use in jet engines.
"For Hublot the research into new materials is essential as it is the only reason why we are making watches and why we exist," says Jean-Claude Biver. "The message of the brand is 'the Art of Fusion' and therefore the research of new materials and combinations with tra-ditional materials is a key element for us.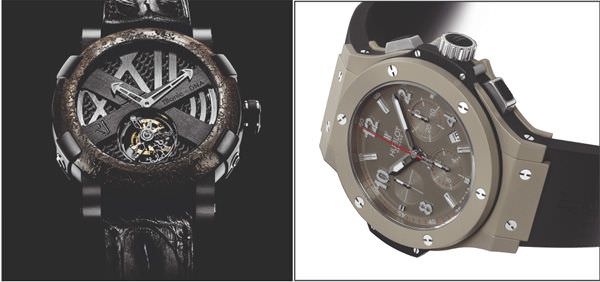 TITANIC OXY III TOURBILLON by Romain JÉrÔme, MAG BANG by Hublot


"All our watches are using new materials," he continues. "The most interesting, because it is the rarest, is the Mag Bang with the AG5 alloy, which is an ultra light alloy of mag-nesium and aluminium."
Audemars Piguet has for years been a leader in the search for new and advanced materials. The latest is the company's minute repeater programme, where they are working with laboratories, professors and students at the best universities to come up with new metals and designs that will enhance the sound of their minute repeaters.
"We make quite a lot of minute repeaters and with the size we have now in wristwatches, we don't have the same nice and high sound that we can have in pocket watches," explains Georges-Henri Meylan, Audemars Piguet. "We want to make the sound better and that is why we are studying with laboratories and schools. After one year, we expect to have some results."
Ulysse Nardin recently unveiled its new Innovision watch, a concept watch that combines the company's most daring inno-vations - from the silicon escapement first used in the Freak to new silicon parts (wheels, bridges, pinions, etc.). Ulysse Nardin is part owner of Sigatec SA, the company responsible for the development of silicon technology in watchmaking.
"I think we are a leader in innovation," Rolf Schneider, Owner and President of Ulysse Nardin says. "We have the courage to try new things. Not everything works, but when things work, we use them in our timepieces."
The Freak is one example of the way Ulysse Nardin makes things happen. When Schneider made the first Freak, it didn't work because the mixture of materials wasn't right. Schneider was ready to abandon the new escapement, but was talked into trying it another way.
"We failed with the Freak with traditional materials," he admits. "When we failed with the Freak, I wanted to go back to the anchor escapement. Ludwig Oechslin, our Chief Designer, wanted to use the new escapement because he thought it was better. So, we decided to go forward in two different directions, one with the anchor escapement and the other with the new escapement. We met someone who had done work with silicon, so we decided to try it. It was very costly and we had our share of problems with the original Freak, as it was an untested material."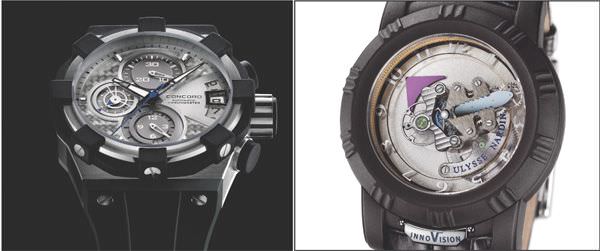 C1 COSC-Certified CHRONOGRAPH by Concord, FREAK by Ulysse Nardin


Now, Ulysse Nardin is concentrating on manufacturing parts in silicon. One of the advantages of making parts from silicon (or silicium, as Schneider and some other watch companies call it) is that the process allows complete freedom of design - just about any shape visualized can be realized. The use of silicon could very well change the way movements are designed, because it removes the limitations that were in place before. In addition, working in silicon means higher precision, lighter weight and the material in its final form is very hard.

New materials, unique watches
Some watch companies are using new ma-terials for aesthetic reasons, like Gerald Genta's new Gefica, which uses bronze in a striking way. "The use of innovative materials is a major factor in the creation of our watches, particularly for Gerald Genta," says GÉrald Roden, Chief Executive Officer of Daniel Roth and GÉrald Genta. "We have long been investigating creative uses for innovative, more so for aesthetics than for technical reasons. For quite some time we have experimented with exciting combinations of materials such as carbon fibre, aluminium and wood with rubber and even fish skin.
"In 2003, Gerald Genta was among the first to use unique metals such as palladium and tantalum for cases, a style which has now been adapted by many others,"he continues."We have developed a patent to use liquid ceramic for the Octo line and are currently working with metallurgists to develop other new and innovative metals for Gerald Genta. We are also in the final test phases of creating an exciting new treatment for steel."
Romaine JÉrÔme received quite a lot of attention, both good and bad, for its use of steel recovered from the Titanic in its newest watch, called the Titanic-DNA line. People can argue the morals of using material from one of the greatest tragedies of all time, but the watch has a unique look and definitely caused quite a buzz.
Glam Rock launched recently using old/new materials like silicon and leather case covers, resulting in a signature look. Piaget and Corum have brought back the famous coin watches from long ago, updated and using new coins, like the Chinese yuan. Hamilton is getting in on the act, using wood in its special edition Riva watches.
Audemars Piguet, JeanRichard, Oris, Chopard and many others are using carbon fibre and other materials from their sponsoring activities - the America's Cup, Formula One, MV Agusta and more. These materials don't necess-arily benefit the watches other than from an aesthetic perspective. That's OK, though, because aesthetics are certainly a big part of any customer's reasons for purchase.
Concord's C1 COSC-Certified Chronograph uses unique combinations of material on the dial, as well as in the interesting and complicated case design.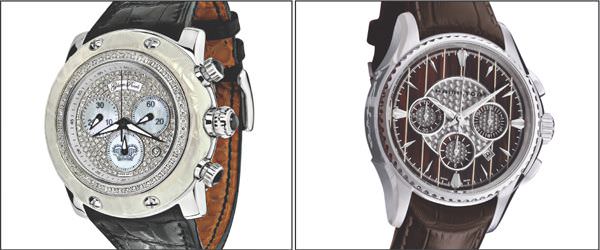 GR80100 by Glam Rock, RIVA WATCH by Hamilton


The future
Many customers, especially those who keep abreast of developments in the industry, are keen to find and buy the watches that use new materials.
"We have found the interest in new materials, new technology and new innovation to be outstanding from our customers," says Jaeger-LeCoultre's Lambert.
The use of some materials can be seen as a marketing ploy, but Gerald Genta's Roden is quick to point out that his company will continue to look for interesting new materials if they add something to the watch. "New ma-terials are important only if they add to the design or the overall quality of the product," he says. "'No gimmick' is a key phrase that I stand behind during new product development."
Interest in new materials from consumers is coming from young people as well, according to Hublot's Biver. These customers are used to cutting-edge materials in other products, so they look for them in the timepieces they buy. "The young generation of successful entrepreneurs is looking for watches with new materials," he says. "This concept connects them to their future, rather than to the past of their parents."
Watch companies will never stop searching for better and more innovative ways of doing things, and that includes finding the best new materials. Whether it's to improve the shock absorbance of a watch or to make a fashion statement, you can be sure that watch companies will continue to push the limits of metallurgy and manufacturing.


Source: Europa Star February-March 2008 Magazine Issue