A
ggressiveness and demonstration of values at TAG Heuer
'Aggressive pricing strategy' was the refrain at BaselWorld. In this vein, TAG Heuer is pursing a 'hyper aggressive' policy by 'not raising prices but also by demonstrating values'. In the current context, with the North American market in freefall as indicated by March numbers showing a 50 per cent decline over the same period in 2008 (the brand was very strong in this market), TAG Heuer must regain market share at all cost. It believes it can do this with new models in the Monaco line, which is celebrating its 40th anniversary this year with an Aquaracer 500M featuring a subtly reworked design and perfect finishing (nice vertical effect on the dial) for a rather amazing price of CHF 2,500 (Euro 1,650) and a Grande Carrera Calibre 36 RS Caliper Chronograph on an El Primero base in the high-end segment. (For more details on the brand's new models, see the articles in this issue by D. Malcolm Lakin and Keith Strandberg).
While affirming that it is 'humble', the brand is assuredly not throwing in the towel since it continues to devote much effort to inno-vation and to the acquisition of true timekeeping legitimacy. Witness to this is the definitive development of the famous V4, which is finally in production (with less belts, but the exploit is nonetheless quite remarkable and we will come back to this in our next issue) and the very innovative anti-shock system that protects the 'suspended' Calibre 36 in its Monaco Twenty Four Concept Chronograph, based on a composite material with extraordinary properties. You have to see the demonstration: two identical small balls, one in rubber and one in this new material are released. The rubber ball bounces while the other falls yet totally absorbs the energy of its fall and therefore does not bounce, not at all, not one millimetre. In spite of the current malaise, however, TAG Heuer has decided to move ahead with the launch of a new campaign, somewhat pompously called 'The Knights of Time'. Magnificently photographed by Tom Munro, its goal is to transmit, with the aid of focused, well thought-out and determined poses, the 'inner strength' of the brand's 'ambassadors', namely Leonardo DiCaprio, Tiger Woods, Maria Sharapova and Lewis Hamilton whose pose seems to indicate that he is in prayer. The mood is expressed not in the appearance but in the substance and the campaign, which perfectly expresses the present moment, is an emblematic success.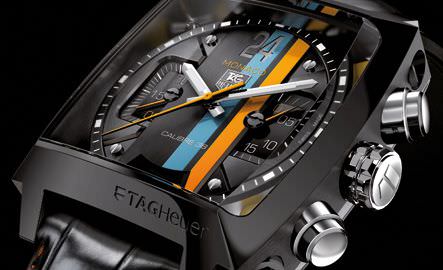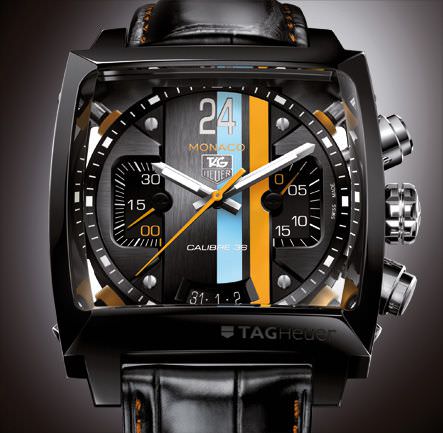 Monaco concept 24 by TAG Heuer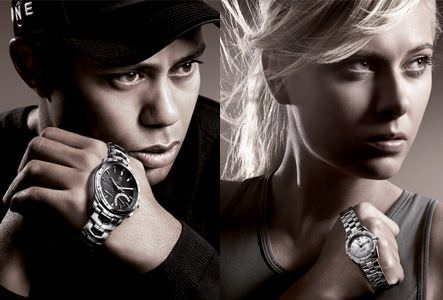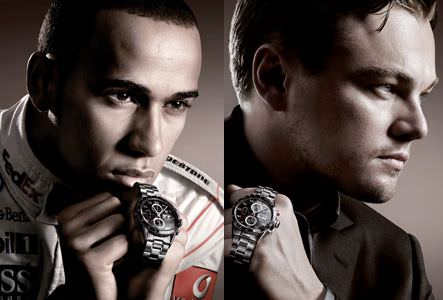 Tiger Woods - Maria Sharapova - Lewis Hamilton - Leonardo DiCaprio the four 'Knights of Time' of TAG Heuer

The Nataf years
A few stands further, at Zenith (another brand tethered in the watch stable of LVMH), Thierry Nataf was giving his latest interviews to the press. As is his habit and without giving away any secrets (rumours of his departure were widespread), the star brand's ex-CEO presented the new models at a frantic pace. Like a magician making one watch appear on his wrist after another, Thierry Nataf was dazzling in both action and word. He promoted even the slightest model, injecting a video into each collection and raising or lowering the volume like a deluxe deejay. While some might criticize Nataf for his over-the-top exuberance, his over-developed ego and his intense taste for show (the perfect representative of the bling years), it cannot be denied that this captivating individual was able to get Zenith into the spotlight in just a few short years.
Looking in all directions, Nataf increased the number of collections, put the El Primero back in the saddle, revitalized the manufacture and launched the Defy, the 'Hummer' of sports watches. At the same time, he organ-ized sumptuous events and put a lot of effort into marketing. The crisis has hurt the business plan, thus preventing the company from getting out of the red. And it seems that LVMH has thrown in the towel. In May the group announced the departure of Nataf and the arrival of Jean-FrÉdÉric Dufour, previously the Director of Product Development at Chopard. How will this change the brand? No one knows yet. At Basel, however, Thierry Nataf continued his customary shower of launches and projects. Expected in the immediate future are: the new and 'Italianissimo' ChronoMaster, equipped with a new 'harmonic' El Primero 4047 with patented large date on three discs and a 28-day moon alternating with the sun over 24 hours; the new Class and Multicity with alarm and a special 40th anniversary El Primero calibre.
Nataf has also announced new models in the Port Royal and Defy lines for June. In October, a new Academy will be devoted to the 'Times of Civilizations'. Is this all? No, Zenith was going to participate in this year's Chronometry Competition and open a string of boutiques one right after the other in Moscow, Burj Dubai and Beijing if space became available. But the March numbers from the FH demonstrate what we predicted in these pages a few months ago: the decline is most affecting the segments with the highest prices, precisely where Zenith is positioned. And today, it is not the sell-in that counts but rather the sell-through that is urgent.





Open grande data sunphase by Zenith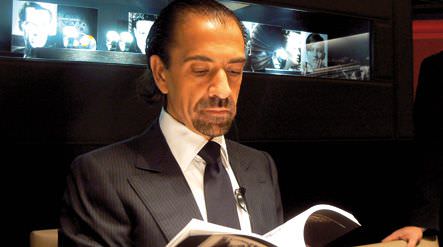 Thierry Nataf reading Europa Star

Return to the basics: the movement
The current slump that demands a long-overdue return to a justified price/quality ratio has thus provoked a renewal of interest in the 'basic' mechanical movement. In Basel, one brand that attracted a lot of attention was Tissot. A symbol of affordable timekeeping, it inaugurated a new imposing stand this year, separate from the Swatch Group Plaza.
With 2,300,000 watches produced in 2008, "Tissot is quite interesting for retailers who are turning this year towards solid brands with the right price and the necessary savoir-faire," explains FranÇois ThiÉbaud, the brand's CEO.
With export prices ranging from CHF 70 to 1,000 (Euro 46 to 660), Tissot is both an entry-level and a mid-level brand. "But we need to understand what these numbers mean," shares ThiÉbaud, "and to remember that, in many countries, spending CHF 100 (Euro 66) for a watch is already a lot." Tissot understands this reality well since it has 16,000 sales points in 150 countries.
People were also talking a lot about Tissot because of an initiative that is important for the sector: an automatic chronograph selling for less than CHF 1,000 (Euro 660) —to be exact, for CHF 795 (Euro 520)—which was impossible with a Valjoux calibre. ETA attacked this problem, drawing inspiration from both Lemania's calibre 5100 dating back to 1978 and the Swatch automatic created in 1991. Its engineers first designed this mechanical chronograph movement, the ETA C01.211, to minimize production and assembly—oper-ations that could be largely automated. The brass base plate is thus on one level while a second part made of an injected synthetic material is joined to it. The escapement, which is light, economical and requires only a small amount of lubrication, is also made of a synthetic material.
The ETAchro index-assembly allowing for precision adjustments, the economical Nivachoc B1 shock absorbers and a brass oscillating weight with integrated friction spring complete this 13 movement that features a thickness of 8.44mm, a frequency of 3 Hz, a 46-hour power reserve and only 184 component parts. With a performance fitting for an automatic chronograph, it is a welcome addition to the watch line-up in these difficult times. It also gives Tissot and the Swatch Group a definite strategic advantage.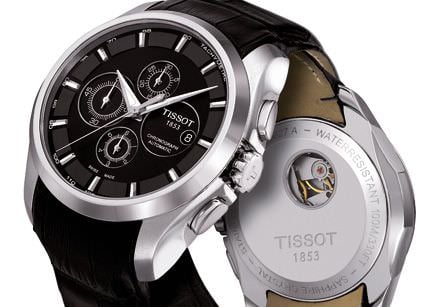 Automatic chronograph by Tissot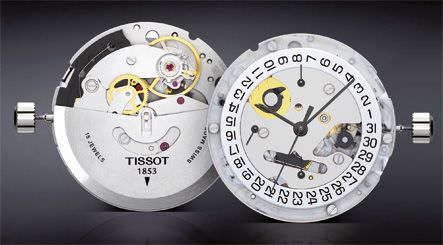 ETA c01.211 by Tissot

Not far from Tissot, we find Pequignet where Didier Leibendgut is also gleefully rubbing his hands together. His entirely new and original calibre whose final name is Cal. EPM01 has also attracted a lot of attention. It features a large date and month, annual calendar, indi-cator for its 72-hour power reserve, large lunar phase display and small seconds at 4 o'clock. With its large balance and adjusting screws, its 21,600 vibrations per hour and its large barrel, the Cal. EPM01 offers reliability, precision and remarkable isochronism. It also inaugurates a new era: Haute horlogerie that is affordable. This is a lesson that we will return to at a later date but to know more, see the last issue of Europa Star (No. 2/2009).

Japanese offensive
The economic crisis has also affected Seiko (available information for the last quarter indicates a 17 per cent decline in watch sales and a 50.2 per cent decrease in operating profits compared to the same period last year), but it also offers "a great opportunity", according to the brand's managers. "Consumers want to invest in true values. Seiko is a totally integrated real manufacture and the only one in the world to master four technologies—mechanical, quartz, the Kinetic and the Spring Drive."
As for seizing the opportunity, Seiko intends doing this in two ways: 1, by promoting its 'secondary' brands such as Pulsar, Alba and Lorus and 2, with the launch of a new Ananta collection. The Ananta marks a form of rupture in terms of design since it focuses on 'Japanese values' and techniques by introducing a chronograph driven by either a Spring Drive movement or an automatic mechanical movement.
Seiko's team in charge of creating this new collection had to consider the 'Japaneseness' and the 'technical' aspects of the new watches, but otherwise they had a creative carte blanche. Their inspiration came from katana, an extra-ordinary mastery of iron and steel techniques dating back 800 years, which allowed the Japanese to make the most remarkable swords in the world. Katana is not only the art of forging blades, but also of polishing them and shaping them into a curved form, thus making them usable in one single motion after removal from their scabbard. The new Ananta collection (originally from Sanscrit, Ananta means infin-ite) evokes these elements in its styling. The design of the case, in the form of a socket, requires 30 different CNC operations and takes on the parabolic forms of the katana sabre. Like the sword, its mirror finish is particularly sophisticated and is done by only five master polishers at Seiko (which employs a total of 350). Other aesthetic details, such as the sharp form of the hands and the indexes, also draw inspiration from the sabre.
Seiko marks the greatest rupture with its past in terms of the movement. Since the 1960s when Seiko was successful in a number of Swiss chronometric competitions, followed by the arrival of quartz, the Japanese brand has continued its research in mechanical timekeeping, but only for the Grand Seiko collections that were only sold in the domestic market. With Ananta, Seiko is introducing, for a world's first, a new automatic column-wheel chronograph movement with a vertical clutch. This movement features a frequency of 28,800 vibrations per hour, a barrel made of a SPRON 510 alloy and a Magic Lever that improves winding efficiency and speed. Superbly finished, this highly precise movement is sold at a greatly competitive price: Euro 2,700.
In the same Ananta collection, Seiko is also proposing two other movements: an automatic double retrograde (day and date) with power reserve indicator (Cal. 6R24 at Euro 2,000) whose size was made possible thanks to the Micro-Electro-Mechanical Systems (MEMS) technology, (similar to Mimotec) for two particular pieces (Date operating cam and date finger) and the Multi-hand automatic, with indications of the day, date and power reserve (Cal. 6 R21 at Euro 1,800).
The same Ananta line also comes equipped with Spring Drive calibres, either in the form of a GMT or in a chronograph, which, with its sliding hand, becomes the first chronograph in the world to measure 'exact' time and not the 'approximate' time of the next tick.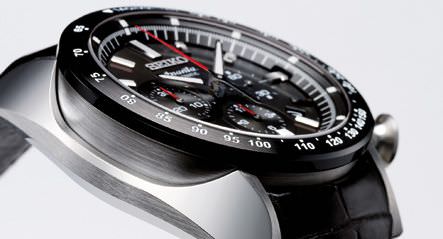 Ananta by Seiko


Corum's four pillars
'Strengthen and confirm' is the general message, wherever the brand is positioned. We observe this mantra with small, medium and large brands as diverse as Corum, Chopard, Maurice Lacroix, Oris, Raymond Weil, Vogard, Linde Werdelin and Vulcain, among others. Let's take a quick look at this landscape.
At Corum, Antonio Calce admitted to us that he "worked this year with 20 per cent less budget and thus created fewer pieces—15,000 watches instead of 18,000." He also cleaned up the brand's distribution by "concentrating on a lesser number but 'strategic' retailers". Calce now wants to refocus the brand around its four historic pillars, namely the Golden Bridge, Admiral's Cup, the Romulus and the Artisans line. The goal is to renew with Corum's history and its strong creative legitimacy. "Corum is the opposite of a single-product brand," explains Calce. One way to strengthen the brand is the very interesting Corum Ti-Bridge, designed around the linear CO 007 movement whose bridges and plate are made in titanium. Inspired by the historic linear movement of the Golden Bridge, this second in-house movement does not, however, reuse a single of those components. Perfectly finished, it has an imposing brushed barrel that ensures a power reserve of 72 hours. This baguette movement is suspended by two titanium crossbars inside an imposing curved titanium case. (See ilustration on the previous page).
Another pillar of the brand is the Admiral's Cup. Since the beginning of the crisis, Antonio Calce and his teams have sought to 'open the locks' by creating special series in order to help their retailers. While endeavouring to maintain the collection's strong identity, it has expanded in several directions. 'Urban chic' is seen in the 44mm Admiral's Cup GMT with its softened angles and reduced thickness. Although the emblematic 12 flames are still there, they have been miniaturized for this model, which will be produced in a quantity of 1,000 in 2009 in red gold and steel or steel. 'Virility' comes in the Admiral's Cup Black Challenge 44 with a black or white dial, which as its name indicates is treated with black PVD offering exceptional hardness of 1,300 Vickers. Mounted on a rubber strap, it offers a strong alternative to the existing watches. Finally, among the other new timepieces also in the Admiral's Cup line is a 48mm chronograph in titanium or in jet-black titanium with black SuperLuminova indexes. For the ladies, the brand proposes a lovely steel or pink gold chronograph with a mother-of-pearl dial and a luxurious Golden Bridge Lady set with 2.5 carats of diamonds.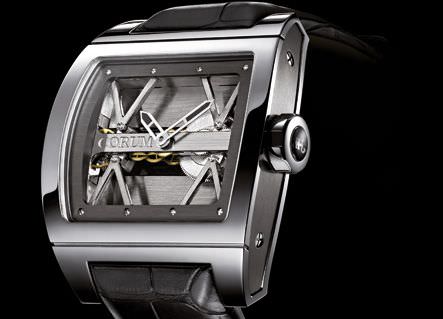 Ti-Bridge by Corum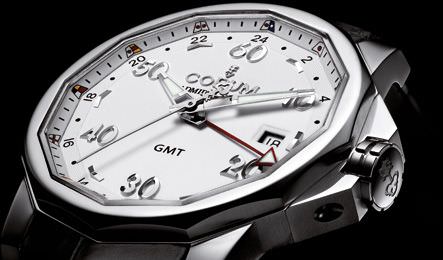 44mm Admiral's cup gmt by Corum



Chopard waiting for its 150th anniversary
At Chopard, while waiting to celebrate its 150th anniversary in 2010 (in 1860, Louis-Ulysse Chopard created his first atelier in Sonvilier), the year 2009 is also one of consolidation. Over the last few years, the brand has made important investments in its production tool, with Chopard Technologies founded in 2006, a unit specializing in new technologies such as silicon, as well as in the expansion of various production sites in 2007 and the creation of Fleurier Ebauches in 2008, in which the brand is investing CHF 15 million (Euro 9.9 million) over four years.
As far as new models, 2009 has been a lean year. On the L.U.C. side, there are: the very lovely Lunar Big Date with a precision orbital moon; the Chrono One Flyback with its new totally integrated chronograph movement; an evolution of the L.U.C Calibre 10 CF movement and the welcome extra-thin L.U.C XPS, which made its appearance in 2006 but now has a sapphire caseback and a small seconds hand.
The Classic Racing Collection is also adding a few new pieces and the brand is also launching the new Elton John Watch line in a plain version or set with diamonds. Royalties from this line will go to the Elton John AIDS Foundation. On the 'Happy' side, Caroline Scheufele offers a fun piece of jewellery called the Happy Invest, a small jewel carved in a piece of gold with diamonds rolling in the centre.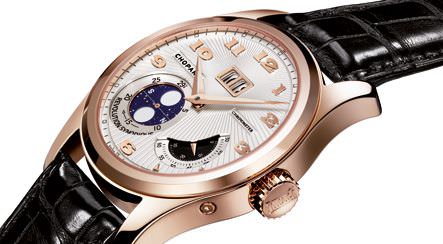 Lunar big date by Chopard


Source: Europa Star June-July 2009 Magazine Issue