In collaboration with Florent Bondoux, IC-Agency

IC-Agency, leader in Luxury Digital Marketing, is publishing the WorldWatchReport 2010. The market study that is a reference for the luxury watch industry has been created in partnership with Europa Star with, for the first year, the help from the Fondation de la Haute Horlogerie. For its 6th edition, the study places an important focus on decrypting the online demand for luxury watch brands in the emerging markets otherwise known as BRIC: Brazil, Russia, India and China.
Predestined to be fueling the industry's major growth for years to come, these emerging markets represent a strategic opportunity for luxury watch brands. If significant signs of recovery in sales have recently been announced by groups such as Richemont and Swatch, it is largely due to the demand increase for Swiss matchmaking in these regions. They have become true 'Eldorados', not only for Swiss matchmakers, but for the luxury industry in general. One would only have to look at the latest financial results of the industry's main actors. Sales in China have surged 87 per cent for Swatch Group while the Asia-Pacific zone has increase sales by 25 per cent for Richemont.

Online Opportunities
Henceforth, it has become of capital importance for the authors of the WorldWatchReport to decrypt the online behavior of luxury watch consumers from these countries. Besides China whose perspectives never cease to please the brands' executives, the Russian, Brazilian and even Indian markets respond, on the Internet, to specific codes and demonstrate distinct preferences for luxury watch brands. In Russia, for example, with 45 million Internet users, Google is not, by a large margin, the most prevalent search engine. With more than 51 per cent market share, Yandex is the main portal for millions of Russian consumers daily online search queries. In China (400 million Internet users), Baidu tops the American firm with more than 63 per cent market share. When considering that 50 per cent of online inquiries for a product or brand pass through a search engine, we understand the strategic importance for brands to proceed with prudence when deploying their digital communication in these key markets.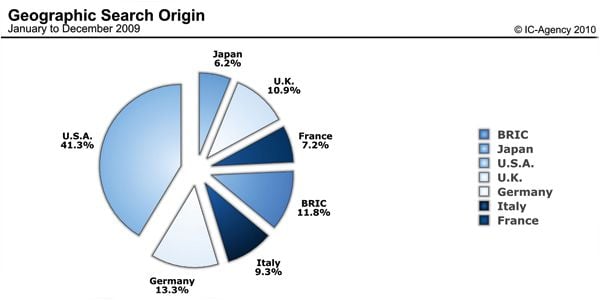 What is in it for luxury watch brands?
According to the preliminary results of the market study, almost 12 per cent of search queries for the 25 brands included in the WorldWatchReport com from BRIC markets. China leads with 59 per cent of the demand from BRIC countries, followed by Brazil with 20 per cent, and then Russia and India come in with 13 per cent and 8 per cent respectively. Compared to the United States or Europe, who command 41.3 per cent and 40.9 per cent of global demand respectively, these numbers attest a latent and significant demand from the luxury watch clientele in BRIC countries, demand which must be captured by brands.

Brazil: A Sleeping Giant
With over 200 million inhabitants, and its affluent population concentrated around the capital Rio de Janeiro, Brazil is still a difficult market for luxury brands to grasp, mainly due to prohibitive tariffs on imports. Therefore, the selection usually reduces itself to four of the most notorious brands (Rolex, Omega, TAG Heuer and Cartier) who collectively account for 90 per cent of the demand, according to Internet searches performed by Brazilian consumers. This is one of the strongest concentrations of demand around only a handful of watch brands. In other words, the other 21 brands represent barely 10 per cent of online demand. These initial findings lead Richard Courbrant, journalist, WorldWatchReport contributor and expert in the South American watch market, to describe Brazil as a "sleeping giant" waiting for trade to open.

Russia: Distribution is Key
Accounting for 13 per cent of search volume among BRIC countries, Russia presents many opportunities for luxury watch brands. Wealthy Russians searching for externalization of their success favour luxury cars and designer clothing ahead of luxury watches. Despite a distribution network that is underdeveloped due to import barriers and corruption, we find brands like Longines and Rado, with 7.9 per cent and 7.4 per cent online market share respectively, that are equipped with distribution networks that reach beyond Moscow and Saint Petersburg's commercial zones, as well as a lower adapted pricing policy. Alexey Tarkhanov, Chief of Culture Department at Kommersant Publishing House and WorldWatchReport contributor, confirms this trend by saying that Russia presents "great growth opportun-ities along with relatively little supply awareness".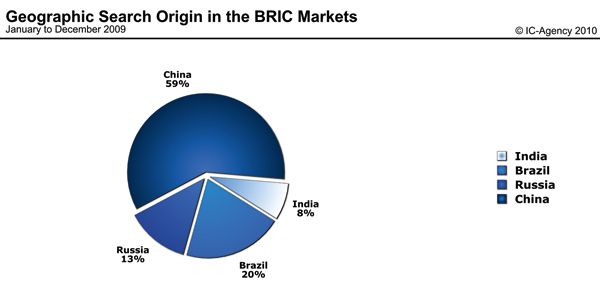 India: The Power of Bollywood
Though India represents a relatively small portion of online demand compared to the other BRIC markets (8 per cent according to the WorldWatchReport) sales for watches with an entry price above 1'000 CHF increased by 55 per cent in 2009, while jewellery only progressed by 19 per cent (AT Kearney Report). Watch brands' strategies centred on local ambassadors seem to be powerful channels of communication. Adding India to the study's scope results in Audemars Piguet's Sachin Tendulkar leading the ranking of most searched Ambassador for haute horlogerie brands. Indeed, more than 1 out of 2 searches (55 per cent) concern the famous cricket Indian player, pushing the 2008 number one Jaeger-LeCoultre ambassador and actress Diane Kruger to second place. In the coming years, it is likely that other ambassadors coming from the BRIC markets are going to challenge Hollywood actors and renowned athletes. Anita Khatri, Times of India General Manager and WorldWatchReport contributor, says "Bollywood influences Indian consumers in a big way". She continues by explaining the high levels of notoriety of certain brands and their flagship products: "TAG Heuer Carrera model is promoted by Bollywood's most successful filmstar Shah Rukh Khan and not to forget Leonardo DiCaprio. Omega is promoted by Abhishek Bhachan and Nicole Kidman, all extremely popular brand ambassadors among Indians".

China: The Internet as a strategic communication tool
China represents the pillar of the current growth of the industry, with performance numbers that easily surpass those of the other emerging markets. This market is currently the third largest consumer of luxury goods, and will rank first by 2015. China's strategic importance has pushed Internet growth at the expense of print media. If brands would traditionally invest in magazines, they cannot replicate this recipe in China where the magazine market is constantly evolving and slows down any coherent or lasting image. When 59 per cent of watch brand searches from BRIC are performed by Chinese consumers, according to the WorldWatchReport, and that there are an estimated 50 million bloggers in China, we begin to understand why the Internet is considered the primary factor influencing the act of purchasing, while boutiques are considered to be in second position and magazines in seventh (BCG Asia).

Source: Europa Star April-May 2010 Magazine Issue