E
very year, the watch industry study by investment bank Morgan Stanley, largely authored by sector specialist Oliver R. Müller, is awaited with a mixture of impatience and apprehension by the Swiss watchmaking world. In the space of just a few years this study has established itself as a benchmark among the slew of reports that endeavour to peer into the innermost business secrets of a world that values its discretion.
The apprehension of the watchmaking milieu is due in particular to the figures that the report ingeniously accumulates, brand by brand ¬– some of which are then tacitly confirmed, others vehemently denied, and still others splendidly ignored.
Oliver R. Müller, LuxeConsult
Oliver R. Müller who in the course of his career as a manager has worked for both large houses (Omega, Chopard) and small independents (Laurent Ferrier), has swapped his executive hat for that of an analyst (although he continues to advise and thus influence many of the most dynamic and disruptive players on the watchmaking scene). He is undaunted by the pressures of this role and of an environment he knows only too well. Following the publication of the 2022 report, he shared with us his vision of the contemporary watchmaking landscape.
Europa Star: Your 2022 study resulted in findings similar to those of last year, starting with the polarisation around the market's top brands, which has continued to accelerate. You also note a number of interesting comebacks, including that of Vacheron Constantin (+53%)...
Oliver R. Müller: Yes, there are many reasons for this. It is a brand that is extremely credible in Haute Horlogerie, offering a sport-chic model in the most fashionable category at the moment, with the Overseas. This model could have been successful earlier, but it finally seems to be getting the recognition it deserves. The sport-chic steel trend spearheaded by the top brands is such that it is accelerating this whole segment. In this case, the top brands are generating a virtuous dynamic for other watchmakers.
Evolution of the Top 20 Swiss watch brands since 2017, according to Morgan Stanley
Another brand with impressive performance is Hermès (+73%). According to your study, in 2021 it experienced the strongest growth of any brand. What makes it stand out?
Again, it was its sport-chic model. The H08 has created an effect. It is Hermès' reinvention of sport-chic. Many luxury houses have ventured into watchmaking, but few have succeeded. Even for Hermès, for a long time, watches were secondary. But in recent years, a major effort has been made to bring watchmaking up to the same level of excellence as the other branches. That's what is remarkable: Hermès was not satisfied with a "name". Otherwise all luxury brands would be successful in the watch industry.
The H08 model from Hermès
Many customers seem to have the resale price in mind at the time of purchase. And this is true in all segments: it was possible to buy the Moonswatch new for 250 francs and sell it online for 5,000 francs, on the same day. Over and above this kind of speculation, long-term value seems more important than ever.
Yes, the primary and secondary markets are coming together and the trends are converging. When there is not enough supply on the primary market, the secondary market takes over. That's why it has become an essential issue for watch brands. They are trying to take control of the secondary market, or at least to better manage the value of their products through "certified pre-owned" programmes.
Morgan Stanley's comprehensive watch ranking
After years of consolidation, some brands are leaving their groups. Ulysse Nardin and Girard-Perregaux, for example, are exiting from Kering. Do you see this as the start of a larger-scale phenomenon?
It's difficult to say, because we see everything and its opposite. The Kering Group is very rigorous in its brand portfolio and has no hesitation in divesting from those that offer the least potential. They frequently drop brands, as we have already seen with Puma and Stella McCartney. At the same time, you see Kering's great rival, LVMH, investing in watches. And, even though watch brands are not a significant part of the group's overall activity, several of Bernard Arnault's children have roles in the group's watch brands.
In reality, the challenge lies elsewhere: for a luxury giant, investing in niche brands is of no interest today. Their strength lies in their ability to accelerate the growth of already established players, for example by taking a brand with a turnover of 500 million and bringing it to one billion. But what brand of any size is in a position to be taken over today? I can't think of any.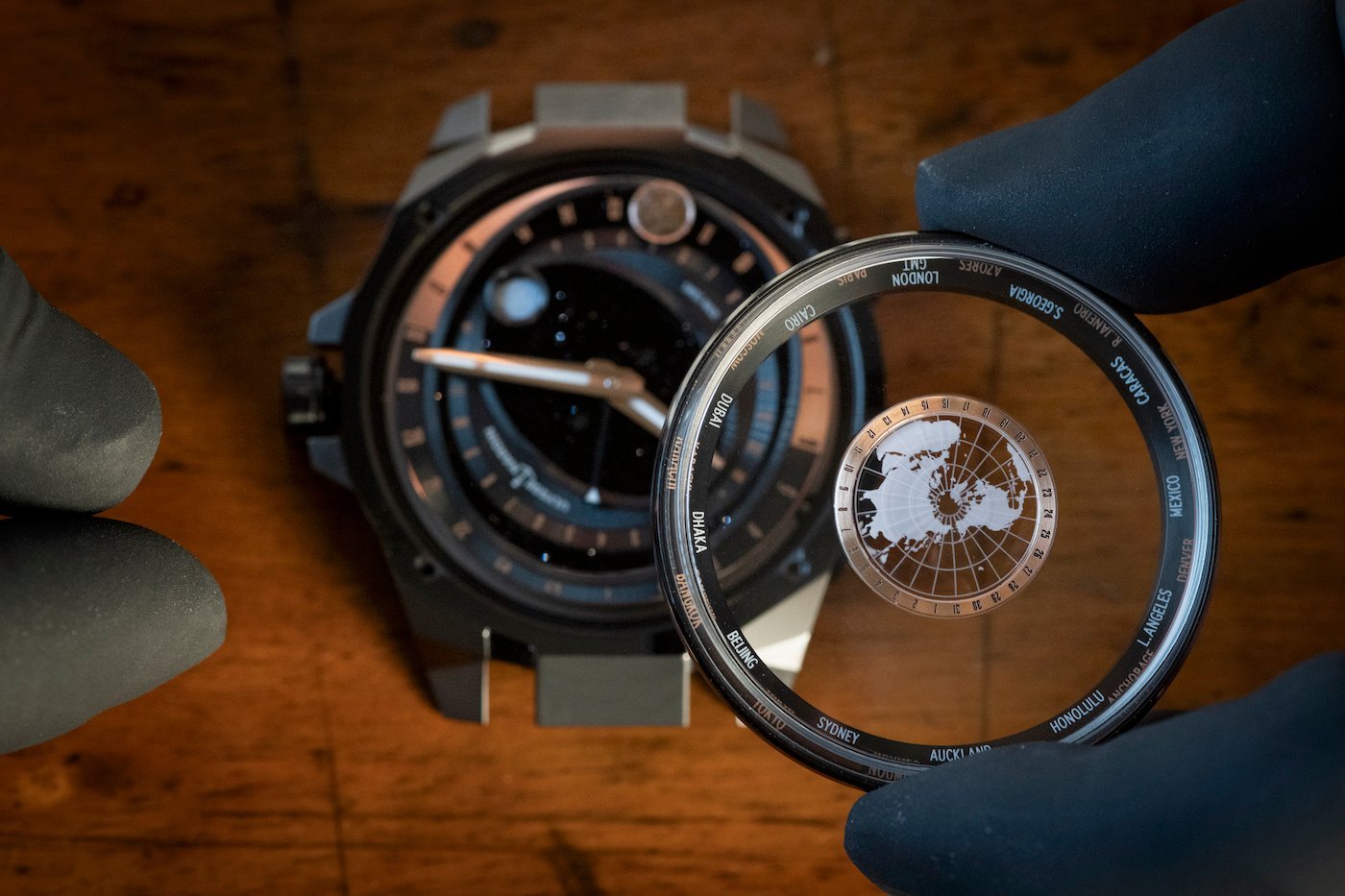 Perhaps the best example of a growing "autonomous" brand is Breitling, which you also highlight in the study.
This is an interesting case, as Georges Kern has a free hand to act as long as the results follow. Private equity funds are all about results. And Partners Group's new involvement shows that they have been handsomely rewarded. This agility is one of the keys to success today. It largely explains the success of independent brands. In a group, it becomes increasingly complex to manage brands operating under very different realities. Nevertheless, we are seeing some innovative and interesting examples, such as the recent collaboration at Swatch Group between Omega and Swatch around the "Moonswatch".
The Breitling Top Time Deus model
Don't groups inevitably end up concentrating on just a few of their brands?
Each group has its speciality, that's for sure. In the case of Swatch Group, their work in the mid-range is remarkable. The luxury segment, with its strong industrial roots, is more complex to operate. But it is admirable that they are succeeding in maintaining industrial brands, because they are alone in this niche in Switzerland, in a context that favours luxury and the high end, i.e. more restricted volumes. The entry-level segment faces major structural challenges and technological disruption. Swatch's philosophy is to keep jobs and skills in place, which is to be welcomed. A financial group would certainly not act like this.
Some big names in watchmaking are keeping a low profile despite their strong legitimacy: for example, Jaeger-LeCoultre has dropped from 11th to 14th place in your ranking in three years. How do you explain this?
A brand must be "embodied", and this is increasingly obvious if you look at those that are performing best. Today, despite the extraordinary watchmaking skills that continue to feed the rest of the Richemont group, the brand has fallen off the radar a little because of a lack of leadership and personality. Customers need a strong and emotional connection with a brand. Perhaps the decision to separate the management, now based in Geneva, from the historic manufacture in Le Sentier has made things more difficult, as it is never easy to manage a brand in a two-headed way. It still has enormous potential, though, from its expertise in snow-setting to more technical storytelling: remember the Master 1000 Hours of the 2000s.
The Overseas Tourbillon Skeleton model by Vacheron Constantin
This is your fifth report. Do you review your calculation methods regularly? And what feedback do you receive from the industry?
We don't hesitate to revise our figures. The most important thing at the end of the day, especially for groups, is the consolidated results. What is not always understood is that we don't compile a "Top 50" of the watch industry. We evaluate market share translated into distribution value. There is no point in comparing the turnover of two brands with very different distribution strategies.
In terms of the participation or reaction of industry players, we see very different strategies from one group to another. LVMH, for example, is very transparent. But if I added up all the figures the CEOs told me in reaction to the report, the Swiss watch industry would be double the size! (laughs) Overall, the Morgan Stanley report has become a benchmark. Most of the time, any reactions we get are from people who want us to be as accurate as possible, precisely because we are a reference.