There are two questions you systematically get asked during BaselWorld, "What would you like to drink?" and "Have you seen anything interesting?" The answer to the first question really depends on the time of day, coffee, water, wine, usually in that order, but not always. And the second is more difficult to answer until every last watch has been seen, touched, admired and tried on.


It is never an easy question to answer, even more so at a time when staying afloat has become the priority over the introduction of new collections. Common sense would say that there wouldn't be much to sing about at this year's international watch fair, but it certainly wasn't the case.

Surprising as it may seem, innovation was everywhere. Many brands proved that being economical on the financial side didn't mean that they had to be frugal with their ideas. Creativity was to be found in many diverse areas such as design, straps, marketing, pricing, size, colours and more, particularly in the women's watch arena.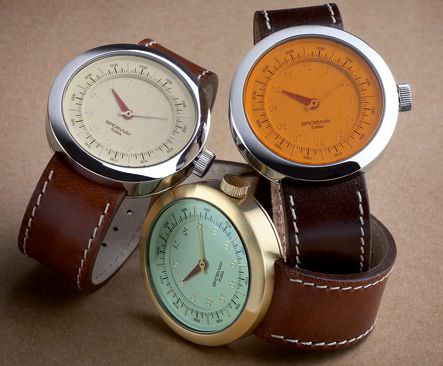 OBLO by Brosway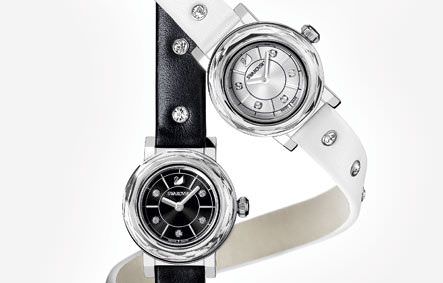 OCTEA MINI by Swarovski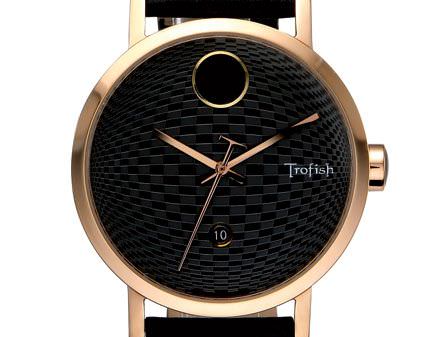 OCTEA MINI by Swarovski


Fab products, fab prices
For many a year now we have all been interested in high-end watches, mechanical movements, limited editions, diamond bezels, cases and dials, but right now, that's not what's selling the best. What is really moving out of the stores are watches that are priced under CHF 1,000 (Euro 660). At Europa Star we have always covered the entire watch industry, from mass market watches to the bespoke pieces, however one thing that we have noticed is that this segment of the market is not only booming, but the quality of the watches is excelling too. Take Guess for example, its watches are fun, trendy, well made and at great prices; it is not surprising that their sales are up 25 per cent on last year. Another company that has some fabulous watches at great prices (between Euro 100 and 250) is the Italian Brosway. The company's introduction for this BaselWorld was the OblÒ, or porthole as it is called in English, that comes in a range of pastel colours and a vibrant orange for both men and women. Swarovski, famous for its crystal jewellery and objects, inaugurated its first collection of watches, or should I say collections, as there were eight of them in all, ranging between Euro 400 and 700. The Korean watch brands Romanson and Trofish also had some great models at great prices. "We are developing competitive prices for all our new products," shared Romanson's Chief Design Director, Ehim Kyoungjae. Now is a great time for retailers to open their doors to entry-level brands and get new customers into their stores.

Coaxing new customers
It wasn't only surprising to see how many great entry-level timepieces there were, but also to learn how many of the more expensive brands were starting to offer timepieces at lower prices than before. For the last few years it seemed like every company was moving up market. The lower-end brands moved to the mid-range, the mid-range went to the high-end and watches just got more and more expensive. This was fine until the sell through slowed down. To coax consumers into the shops, many brands are now introducing new models at more competitive prices, even big brands like the glamorous de Grisogono, Raymond Weil and TAG Heuer.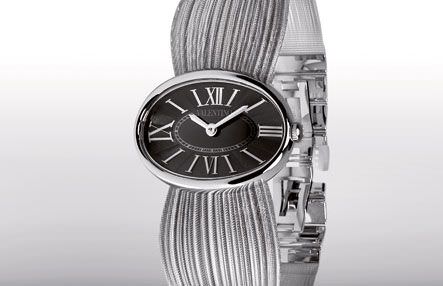 Seduction plisse by Valentino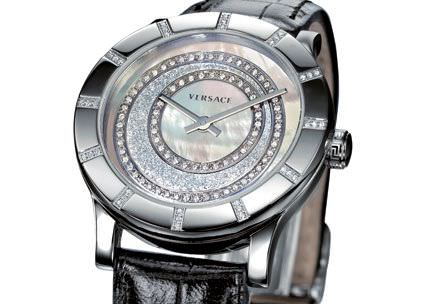 LADY ACRON by Versace


Fashion vs couture
Choosing the right pricing and positioning is an important decision for any brand and luckily, for the consumer, there is plenty of diversity, especially in the world of the fashion watch. Almost every fashion house now has its own watch collection. Armani, Burberry, CÉline, Chanel, Dior, Fendi, GF FerrÉ, Gucci, Kenzo, Salvatore Ferragamo, Thierry Mugler, Valentino, Versace to name just a few. Although their clothes are haute couture, their watches don't systematically follow suit. In fact, as most of you know, there are two very distinct categories for such timepieces: fashion and couture. Fashion watches are usually reasonably priced (under Euro 1,000) and aim at seducing younger customers into the stores in the hope that they will progress to buying other, more expensive items from the brand's clothing collections later on. Couture watches, on the other hand, are not just a product extension, but rather veritable watch brands in their own right, often using mechanical movements and precious metals and stones. Chanel was one of the first to define itself as a couture watch company, raising many an eyebrow in the watch industry at the time of its launch, but now its success has led to other brands following suit and raising the quality of their watches to match their clothing lines.
One such brand is Versace, which has been producing watches for 20 years. Versace watches were doing very well until 1997 when the company's founder Gianni Versace was murdered in front of his Miami house. The company was forced to concentrate on its core business and the watch side of things started to suffer. "The watches were living but not developing," remembers Paolo Marai, the President and CEO of Vertime, Versace's watches and fine jewellery unit. In 2004 Vertime joined forces with the Timex Group and the timepieces entered the luxury arena with prices that range between 2,000 and 15,000 Euros with a few limited editions that pass the one hundred thousand Euro mark. With over a thousand points of sale and growth that has been four-fold since 2004, the upgrade was certainly a shrewd move. It will be interesting to see who decides to follow. Photographed here is Versace's Lady Acron with mother-of-pearl, diamonds on the bezel and dial and an alligator strap with deployment buckle that will surely appeal to both the Versace aficionado and watch lover alike.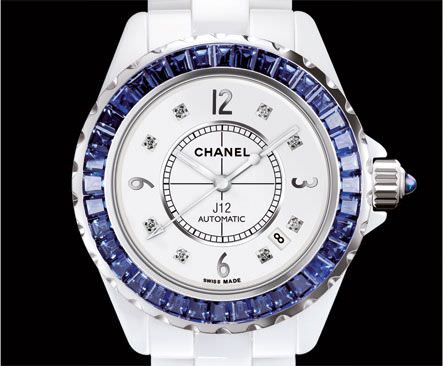 J12 by Chanel


Chanel-like mania
True product success is when a brand name becomes a noun. Think of Xerox, Scotch, Kleenex, Walkman. Well, Chanel is not far away when it comes to ceramic watches. Not only are ceramic watches everywhere, but twice during the BaselWorld fair I was presented with a "this is our Chanel-like watch" or "Chanel-esque timepiece". I'm not sure if it is a good sign or not, but hey, when people admit that they are inspired by you, that can't be bad, right? Chanel presented a selection of new models to its J12 collection with beautiful precious stone and ceramic settings. Pictured here is the J12 Automatic with white ceramic and baguette-cut sapphires.





Coloured Straps by Fendi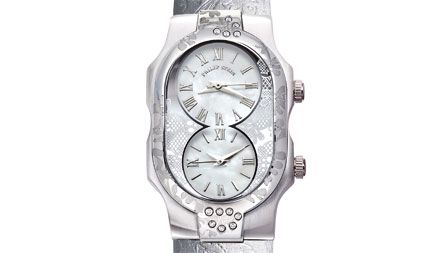 Signature collection by Philip Stein


Strapping innovation
A good strap can make the difference between an average watch and a great watch. Often overlooked and underestimated by the brands, but ask any retailer and s/he will tell you how important a strap or a bracelet can be to a sale. Straps have even been compared to a pair of women's legs, which could be construed as sexist, but you get the idea!
De Grisogono is one company that has been trend-setting in the strap department. The company was the first to come out with the galucha strap made from the skin of the stingray. Now the brand is launching a caviar strap made from the sturgeon fish, the mother of caviar eggs, an out-of-the-ordinary alternative to alligator skin.
Hublot has also created something quite unique for its Tutti Frutti Big Bang - a gummy alligator strap. The strap encases real alligator skin within a rubber strap, combining the elegance of an alligator strap with the convenience and comfort of rubber.
Everyone loves to change the colour of his or her watch strap, especially women. Watches with quick release strap mechanisms, allowing the owner to change her own strap, have always been popular. This year Fendi has created a box set with a selection of different coloured straps for its Sellaria model and Philip Stein's Signature collection offers a range of interchangeable straps including a limited edition hand painted crocodile strap, five collections of textured and embossed straps and an exotic Teju lizard band. At a time when consumers are cutting back on what they buy, these could be great solutions to having a different timepiece for every occasion.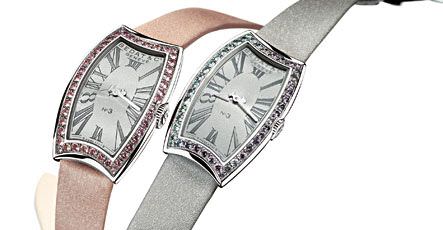 REF 384 by BÉdat & Co


Shades of grey
For those who are happy with one colour, there is always grey. Although, of all the colours, grey has got to be the most uninteresting. Grey is not only the colour of big, fat, dark, rainy clouds, but it was also the colour of my old school uniform, which means I have a very strong aversion to it! However, grey is definitely one of the 'it' colours for watches this year, and although I hate to admit it, they do actually look rather good. For men there were Century's Prime Time Egos Chronograph Day and Date, Gc's silver/grey GC-1 Limited Edition Skeleton and for the women, BÉdat & Co's new 384 with garnets that change colour with the light and temperature. The indexes have been softened from black to grey bringing an element of softness to this already elegant piece. Fendi's Selleria is also available in a light shade of grey, as is Hublot's Earl Grey Big Bang.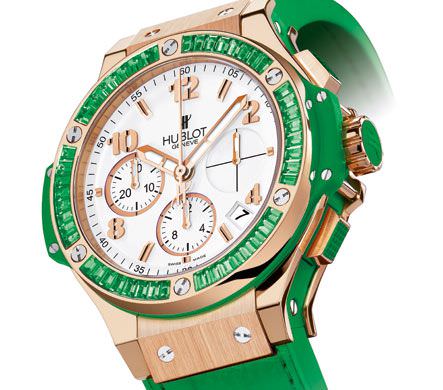 big bang apple by Hublot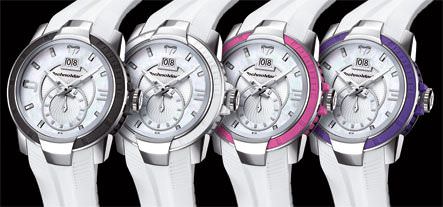 UF6 Colors by TechnoMarine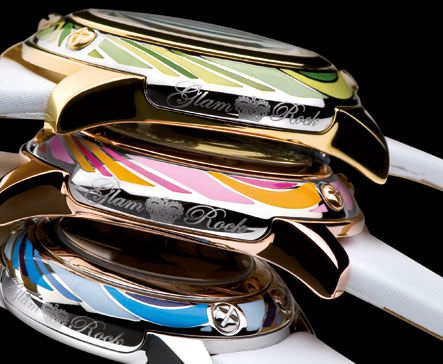 Trio smalto by Glam Rock


Popping colours
For those who love a splash of colour BaselWorld 2009 was the place to be. Hublot's Tutti Frutti collection comes in orange, purple and blue and its Big Bang Apple is in the brightest green. Technomarine's UF6 Colors come in white with a black, white, pink or lilac carbon fibre bezel. Nautilus presented a black collection with, what they call, a 'pop' of colour. Glam Rock had a beautiful range of colourful timepieces with enamel on the cases to add even more colour to its vibrant watch collection. These colourful lines will make dramatic window displays, the only problem being which colour will the client be able to choose.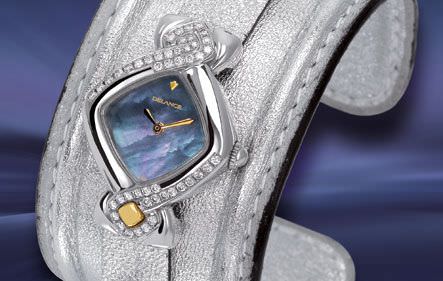 Centurion by Delance


Celebrating women
More difficult choices are to be made at Delance, a tiny company with a small team and a limited production, but with a concept that is so finely tuned to women that it is difficult not to be seduced. How many times do each of us look at our watch during a day? Apparently, we average 143 glances per day. Now what if that watch could remind us of our children, our husband, our dreams? At Delance each client has the opportunity to personalize her watch by adding details that mean something to her. It could be three sapphires for three children, a pink sapphire for an unfulfil-led dream, diamonds for the date of a wedding anniversary - the possibilities are limitless and so very personal. GisÈle Rufer, the company's founder explains her message, "Be a woman, be all that you can be, a mother, a lover, everything and anything you want to be". Now what if your watch could remind you of that 143 times a day?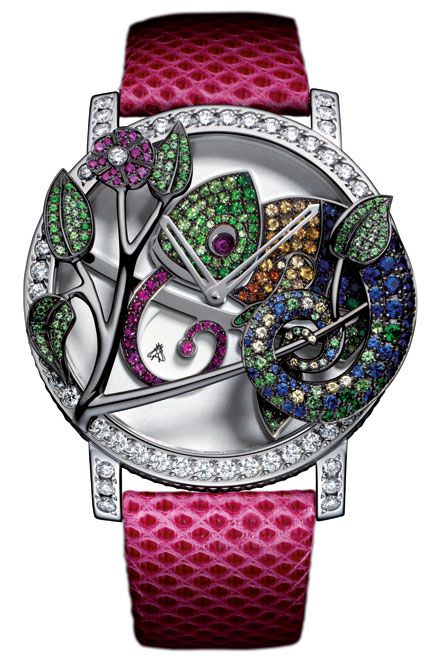 Lizard by Boucheron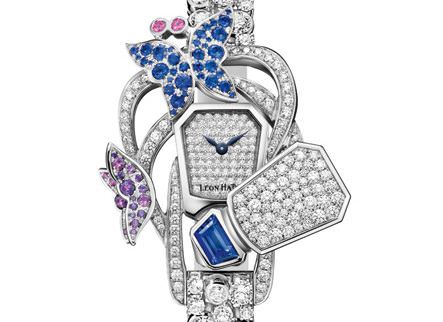 Butterfly trapeze by LÉon Hatot


The animal kingdom
Animal themes have been popular in jewellery making ever since artists were setting stones, so it is no surprise to see animal themes in jewellery watches too. Why are jewellery makers continuing these century old themes? Because they are beautiful and here are two examples to prove the point. First is Boucheron's Cameleon (See other timepieces depicting owls and frogs in D. Malcolm Lakin's article Boucheron returns to BaselWorld in Europa Star No. 2/2009) and LÉon Hatot's Butterfly Trapeze with diamonds and blue, pink and purple sapphires. (Illustrations overleaf).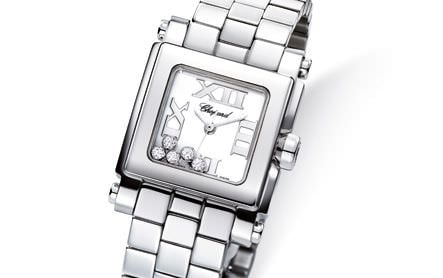 Happy sport mini square by Chopard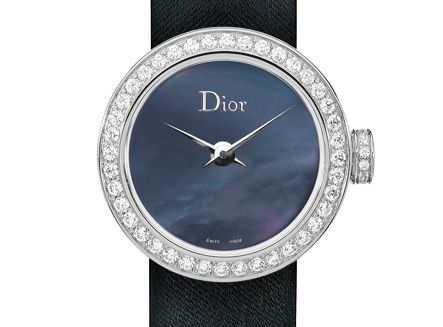 La mini d by Dior


As big as it gets
For the last few years, each Basel fair has seen introduction after introduction of bigger and bigger watches, but this year it seems that things have calmed down and small is becoming beautiful again. Chopard presented a new Happy Sport Mini Square with five of its signature mobile diamonds, Dior has a new 19mm La Mini D timepiece, Storm introduced a number of smaller watches with elegant thin bracelets and Salvatore Ferragamo exhibited its new small Gancino. Not that big isn't beautiful, but as the owner of small wrists, this is definitely good news!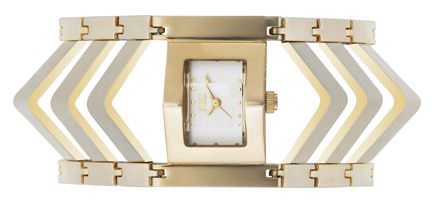 Carousel by Storm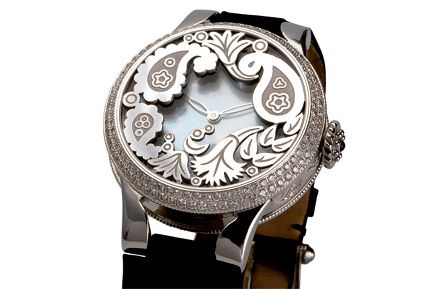 Pulso by Carrera y Carrera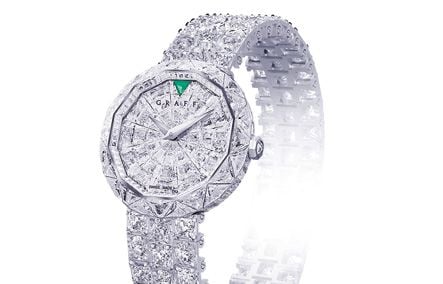 Graffsuperstar diamond by Graff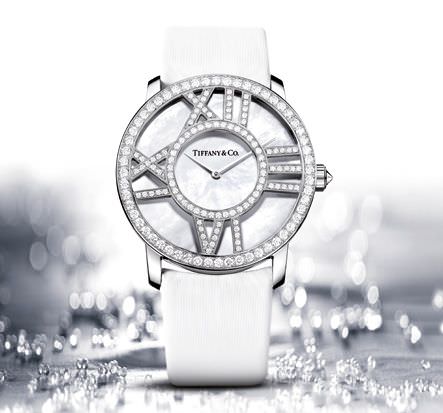 Atlas cocktail by Tiffany & Co


Jewellers turned watchmakers
After Harry Winston and Chopard, two new companies have joined the ranks this year: the British Graff and the American Tiffany & Co. Graff, the English jeweller, inaugurated a complete collection of watches for men and women on the outskirts of BaselWorld during the show. The bezel of each watch is cut like a precious stone creating a highly original look. Tiffany & Co. made its debut at BaselWorld following its alliance with the Swatch Group. The Swatch Group will design, manufacture and distribute Tiffany & Co.'s high-end watches. The timepieces revisit some of Tiffany's famous designs and the brand's Atlas collection incorporates design elements from the Atlas clock that towers over the 5th Avenue entrance to the company's store in New York. Carrera y Carrera, the Spanish jeweller from Madrid is not new to the watch scene, however the company has decided to stop production of its steel pieces to concentrate on jewellery watches. The first new introduction is the Pulso, which has a detachable cover that when superimposed over the dial creates a very unique timepiece.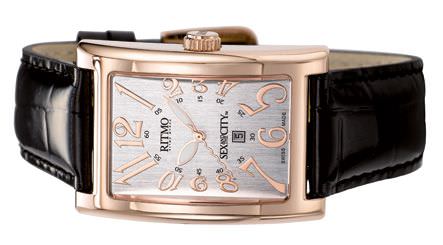 Sex and the city by Ritmo Mundo


Twitter and Facebook
With marketing budgets being slashed left right and centre, many brands are turning to the Internet to find free ways to market their brands. At Perrelet I first heard about the social networking website Twitter which Perrelet is using to help market its brand to the next generation. I then heard about Twitter again at Tx. Having only just recently discovered Facebook, I was feeling rather behind the times with my ignorance of Twitter. So back at the office I signed on to www.twitter.com to find out what it was all about. In a nutshell, when you sign on, you type in what you are doing in less than 140 characters and then anyone else who is on line can comment. You can follow subjects, follow people, follow watches. I wrote a nice comment about Perrelet's new Turbine watch for my first entry!

Facebook, a social networking website that reconnects old and new friends, also has a number of watch brands that people can become 'friends' with. It is difficult to know if the profiles are created by fans or the brands themselves but either way it is a good way to connect people and watches. Check out the likes of Concord, Corum, IWC, Longines, Swatch and Zenith on www.facebook.com.
(Read Facebook and watch brands in this issue).

Partnerships to kill for
Partnerships are hot in the watch industry, whether with other luxury companies such as car or boat manufacturers, or with films, sports, music, famous people, the list is endless. However, to my knowledge, no one had thought about teaming up with a television show until Ritmo Mundo joined forces with Sex and the City, and if that isn't cool enough, they also managed to do a deal with the hit show Entourage too. The two shows reach millions of viewers per episode. Now that's some interesting exposure! The watches retail for US$650 (Euro 490), for the Sex and the City version, and US$750 (Euro 565) for the men's Entourage version. The watches have discrete logos of the shows, which are tastefully done so as not to dissuade the client who likes the watch, but who doesn't have any particular affinity to the show.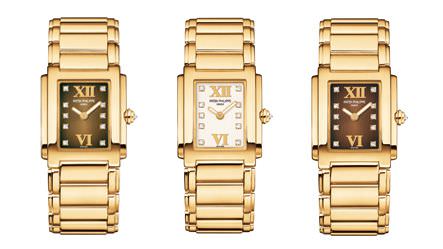 twenty-4 by Patek Philippe


The end of bling
One noticeable difference this year was the toning down of bling. Patek Philippe presented its first un-set Twenty 4 in yellow gold for the collection's 10th anniversary and it wasn't alone, even IceLink, the king of sparkle, brought out a non-diamond piece! All five of its time zones were powered by a mechanical movement so it really didn't need any diamonds; although of course it will be available with a variety of settings, but it was maybe a sign.
In the current economic crisis, showing one's wealth may become a sign of insensitivity and self-importance changing the path of women's watchmaking that was becoming i––––––ncreasingly ostentatious. It will be interesting to see what the future holds for women's timepieces as a new chapter unfolds.
BaselWorld proved that the ladies' watch segment isn't sleeping; it is innovating and searching for solutions to come out of this difficult period. It should become better and stronger than before and that can only be good for women and watches the world over.


Source: Europa Star June-July 2009 Magazine Issue