My very first watch had a mechanical movement, not because I come from a family of watchmakers, alas no, I just happened to be learning how to read the time before the quartz movement had taken over the world. It was a Timex with a white dial, black Arabic numerals and a red leather strap. I loved that watch and would wind it up diligently every morning before going to school. It is probably in a shoebox in my parents' attic somewhere!
My second encounter with a mechanical watch didn't come around until many years later. I remember being shown a beautiful ladies' mechanical watch with a sapphire case back. I was just mesmerized by all the tiny moving parts and the thought that everything worked mechanically.
Some would argue that women don't care about the movement in their watch. We have all heard the stories of female Rolex customers taking their mechanical watches back to the shop for a change of battery! There are nevertheless many features that can attract women to mechanical watches, from craftsmanship to nostalgia, from emotion to practicality, even investment to status – the sky is the limit.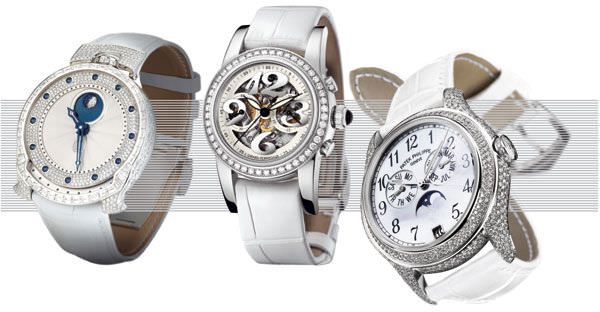 DB L JEWELLERY by De Bethune, LADY CHRONO by Girard-Perregaux, ANNUAL CALENDAR by Patek Philippe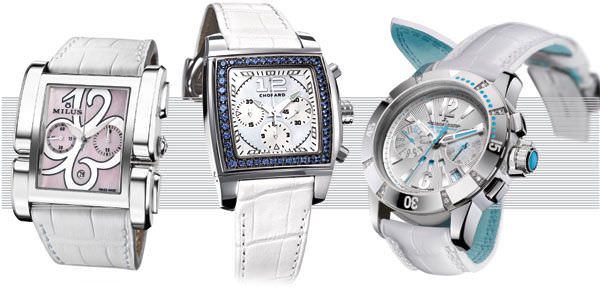 APIANA CHRONOGRAPH by Milus, TWO O TEN by Chopard, MASTER COMPRESSOR DIVING LADY by Jaeger-LeCoultre


Craftsmanship
It is a common fact that women are generally more interested in the aesthetic side of a watch than the movement. However, more and more companies are paying as much attention to the finishing and decoration of their movements as they are to the design of cases and dials. Crafts such as hand engraving, circular graining (Côtes de Genève), spiral finishing, and hand chamfering are just a few examples of some of the exquisite finishings that can be found in a mechanical movement. The level of finishing is an important factor in understanding the value of a watch and it is something that can really help sell a timepiece to a woman. Where men may be more intrigued by the functions and complexity of a mechanical watch, women can appreciate the care that has been devoted to the fabrication of each and every component and the time and perseverance needed in its creation. It is the retailer's job to share this artistry with his/her female customers. "The romance of the hand assembly of a mechanical watch is often passed on to a woman by her husband or boyfriend." explains Martin Guare from Asprey in London. "When selling to women it is important to romance the product, including the inside. We have to create the desire and challenge ideas. This is especially true for women. Men come into the shop knowing the model and reference number they want, where women want to be helped, advised and to shop around; they approach it in a different way."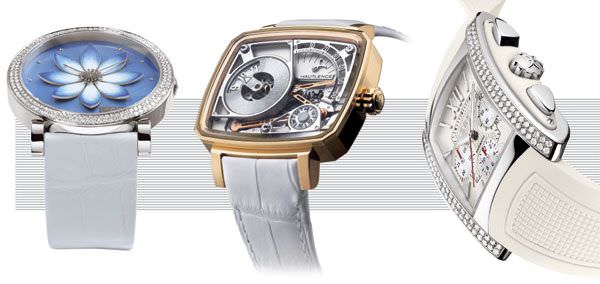 LUCKEE LOTUS by Delaneau, HL07 by Hautlence, LADY BRASILIA CHRONOGRAPH by Ebel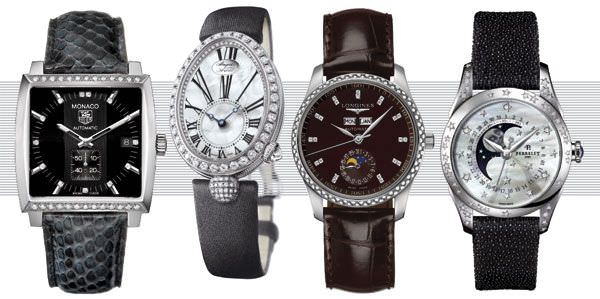 MONACO NOIR DIAMANTS by TAG Heuer, REINE DE NAPLES by Breguet, THE LONGINES MASTER COLLECTION by Longines, GRANDE PHASE DE LUNE CENTRALE by Perrelet


Going back in time
We have all become so reliant on computerized equipment in our lives that we seem to have forgotten what life was like before. What did we do before the Internet, e-mail, and mobile phones? Well, we all had a library card and we wrote letters and had painfully long waits for potential boyfriends/girlfriends to call! Few of us would want to give up our creature comforts to go back in time, but the mechanical watch is one thing that is sneaking back into our lives, making us see and appreciate time in a totally different way and women are just as susceptible to this nostalgia as men.

A treasure to be passed on
The record prices obtained for timepieces at auction have not yet ceased to surprise us. This boom, like any other, will not last forever, but what it does prove is that a well made mechanical watch can last for decades, if not centuries. Women who are tempted to invest in an expensive complication may be comforted by the fact that their timepiece can be passed on to their grand children and great grandchildren, creating a legacy of their own and a way to touch the future, as it were.

Horsepower
The watch industry is often compared to the car industry due to the combination of machine and design. But do you have to fully understand the workings of a car engine to appreciate driving a car? Ask me what the torque is on my car, and I couldn't tell you, ask me how many horse power in my motorcycle, I haven't the slightest idea, but does it spoil my enjoyment of bombing up and down the Swiss mountains, no, absolutely not. Cristina Thevenaz from Delaneau explains the difference between quartz and mechanical watches "When you choose an automatic car instead of a manual one, it is either a question of convenience, or because you don't feel secure driving with gears. Most female consumers, in my opinion, approach it this way. And then you also have women who love to 'feel' the power of a car (like me), but this is a more sensual approach." Women don't have to be gear heads to appreciate a mechanical watch movement, like they don't have to be car mechanics to enjoy driving. It is more a feeling, a sensation, an emotion.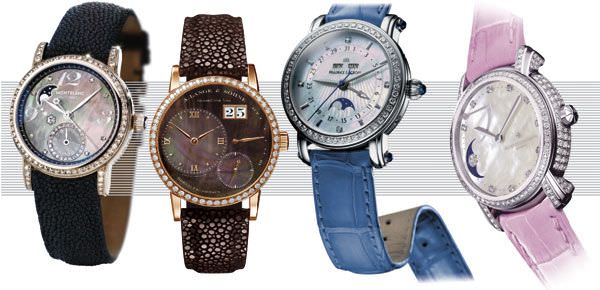 STAR LADY MOONPHASE by Montblanc, CABARET 'SOIRée' by A. Lange & Söhne, PHASE DE LUNE DAME by Maurice Lacroix, MALTE by Vacheron Constantin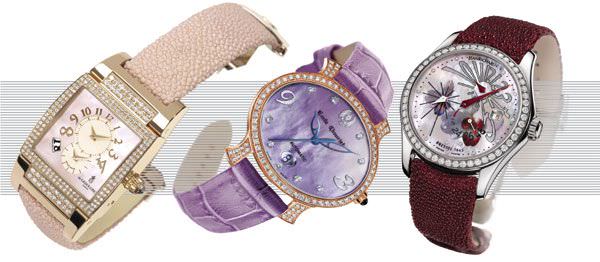 INSTRUMENTO NO. UNO by de Grisogono, ROYAL PEARL by Emile Chouriet, BRESSEL FLYING ORCHIDS by JeanRichard


Open dials
One recent trend that can be seen across the board is the opening up of dials to reveal the movement beneath. The motion of the wheels and the cogs of a movement are captivating. If seen through a loupe, the movement opens up a whole new world. The opening of dials started with the tourbillon craze, but soon watch companies started to open up views on other parts of their movements. This soon took hold with women's watches, as companies such as Zenith opened heart and star cut-outs into their dials to reveal dramatic views of the mechanics below – something that doesn't have the same effect with a quartz watch.

Functions
Different technical functions are gaining in popularity, such as date indications, phases of the moon, power reserves, dual times, world time and chronographs. Jasmina Steele, Patek Philippe's International Communication and Public Relations Director explains, "For Patek Philippe there is a growing trend of women interested in mechanical watches, in particular mechanical watches with additional features such as multiple time zone watches or the self winding annual calendar," she continues. Although, "What remains capital for ladies mechanical watches is the aesthetic, comfort and elegance of wear, indeed ladies will not choose to invest in a watch only for its technical features, first of all its aesthetic must be elegant and feminine."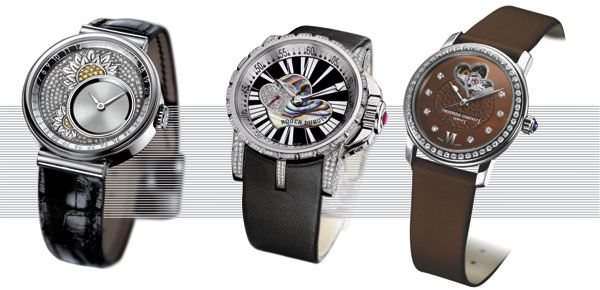 TOURNESOL by blu, EXCALIBUR by Roger Dubuis, FC-310 LADIES DOUBLE HEART BEAT by Frédérique Constant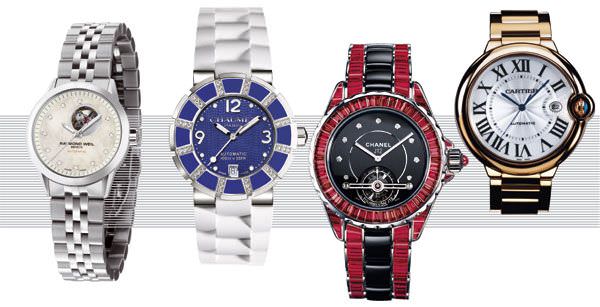 FREELANCER by Raymond Weil, CLASS ONE by Chaumet, J12 TOURBILLON by Chanel, BALON BLEU by Cartier


Career girls
Women's purchasing power is constantly increasing as more and more women have successful careers. "Independent and intelligent, in a world of decision makers, women understand that to be taken seriously in a man's world, they need, among other things, a complicated watch just for them." says Antione Preziuso. "We created our 'Strictly For Her' tourbillon to turn men's heads. For too long, women have been borrowing their men's watches, we are looking to reverse this trend." Successful businesswomen look for a watch that will reflect their taste and their lifestyle. A complicated watch can be as much a sign of success for a woman as it can for a man.
In addition, women are now buying their own watches. Women are looking for their own watches and buying them for themselves. "The demand for 'technical' timepieces specifically designed for women is growing," explains Christian Selmoni, Director of Creation and Development at Vacheron Constantin, "this is particularly true in certain Asian countries, like Taiwan, for example, where working women love mechanical watches and buy them for their technical features as well as their aesthetic side."

Drawbacks
When asked about the movements in their ladies collections, some company presidents become a little uncomfortable. They admit to using quartz and then quickly justify themselves by explaining that women don't want to bother with winding and setting their watches.
And they are right. A mechanical watch needs care and attention. You cannot put a perpetual calendar in a drawer and leave it for a week without suffering the consequences of having to follow some very complicated instructions for resetting the watch. For someone like me, who can't even put a simple piece of Ikea furniture together without shouting obscenities at the instruction sheet, I wouldn't even dare try resetting a perpetual calendar!
In addition to the re-setting question, mechanical watches can be, dare I say it, less reliable. For today's busy women, running around juggling work with home and children, the last thing we need is our watch to run slow, or fast, for that matter. Although, for some, an automatic watch is far more practical than a quartz model as it doesn't ever need its batteries changed. It depends on what is the less troublesome, going to a watchmaker for a change of battery, or resetting the time every now and again.

Tick-tock
Whatever the inconveniences are of owning a mechanical watch, there is more to a purchase than practicality. Like many luxury products, one of the deciding factors in a new purchase is emotion. It is the way a product makes a woman feel that can be of the utmost importance, even if there are a hundred and one other products that would make more practical and economic sense. Emotion can appear in a number of different ways. If you have ever had the chance to see a naked movement sitting on a watchmaker's bench, you will know that it is like a little heart beating away, ready to be transplanted into the watch to bring it to life. The tick-tock of a mechanical watch mirrors our own heart beat and is magical. In an automatic movement, our own body's movement keeps the watch alive, while a manual movement needs us to physically wind its crown to keep it ticking. There is something intriguing about it – this special interaction between woman and machine. "There is an incredible story at the watch's heart; how long, meticulous and refined the watchmakers' work is to give birth to a mechanical movement," explains Marc Michel Amadry, Vice President of Ebel. "Any woman can be sensitive to this story and then get interested to discover more about mechanical watches and maybe one day buy such a 'jewel' for herself."
With the incredible choice of mechanical watches for women now coming available on the market, it is up to the retailers to share this male passion with the ladies. Most women may not care whether their watch is quartz or mechanical, they may not even know the difference, but I would hasten to bet that it's because they haven't been let into the secret of mechanical watches yet. Time will tell.


Source: Europa Star August-September 2007 Magazine Issue