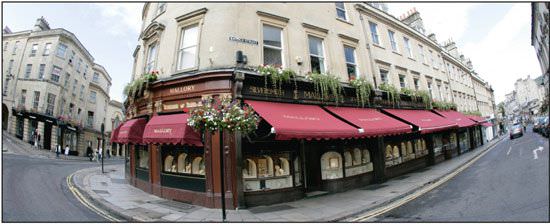 The Signet Group is well positioned to provide the most reliable estimate of the size of the UK watch and jewellery market. Last month it announced its final (and latest available) figure for the calendar year 2006, and the turnover figure was £3.2bn (including VAT at 17.5 percent where relevant). The retail scene is a very fragmented and competitive one, dominated in fact by independent and most often family-owned outlets. Signet estimates that there are between 7,000 and 8,000 such stores.
The company is able to obtain such an overview because it is quoted on the London Stock Exchange, maintains essential transparency in its operations, and is the world's largest speciality retailer in the watch and jewellery markets. In the UK (where they are traditionally sold together) it operates through 581 stores and commands an approximate 17 percent share of the total market. The stores trade under the names H. Samuel, Ernest Jones and Leslie Davis, and are mainly located in prime High Street positions. Across the retail scene the company's nearest competitors at the high end are the Goldsmiths Group (which also incorporates Mappin & Webb and Watches of Switzerland) and Beaverbrooks.
Signet perceives that, at the lower end of the market, supermarket chains such as Argos and Asda are steadily increasing their market share. Signet has reported that its global sales performance for the first quarter of 2008 was $822.3m (it has just commenced quoting its results in US dollars). Of this the UK share was $191.4m, representing 23.3 percent of that total. Terry Burman, Group Chief Executive, sees the UK market as stable, but the economic downturn in the US has clearly affected its results.
Another overview of the UK watch market in particular is provided monthly by the Retail Jeweller trade journal. Below are the 2007 best-seller brands, followed (in brackets) by statistical reports from about 200 retailers for the month of March 2008.
A new feature was introduced in the Retail Jeweller last month. It listed the best-selling watch products in the UK in March this year:

1. Men's classic strap watches
2. Women's bracelet watches
3. Men's sports watches
4. Women's sports watches
5. Men's stainless steel watches (no definition!)

In the USA, Signet has about 4.2 percent of the market for watches and jewellery, through 1,308 stores in 50 states; the main fascia names are Jared and Kay.
And now a few smaller news items. Last November saw one of the most amazing jewellery and watch presentations of the year in London. It was entirely the creation of Theo Fennell, who is always referred to as a 'society jeweller', although he dislikes that expression. His showcases, sculptures and paintings each featured one of his pieces. His turnover for the six months to 30 September had increased by 21 percent to £12.8m. This March came the news that following the appointment of a new Chief Executive, Pamela Harper, Theo himself is stepping down, freeing himself to create new pieces without managerial responsibilities. Theo has always been a great supporter of Franck Muller, and is renowned among sports heroes and pop stars (David Beckham, Elton John, etc.) for his annual limited edition Franck Muller models. Another good way of keeping himself in the news, I guess, especially as his company creation is quoted on the Stock Exchange.
A more serious guess from your correspondent is that an English watch brand called Bremont will one day also be publicly quoted. It was founded in recent years by the brothers Nick and Giles English (a gift of a dial name for their plans!). Nick is clear in the matter: 'We want to be the leading fine watch brand in the UK, and are already looking at the US market, with several East Coast retailers in discussion.' At the end of 2007 they attracted two major investors, Robert Bensoussan (who turned Jimmy Choo into a major international shoe brand in just six years) and John Ayton (who was the co-founder of Links of London). The foursome are now looking to double their retail distribution within two years and, most interestingly, determined that Bremont will, within a few years, be manufacturing its timepieces in the UK.
This is also the laudable ambition of Dent, a fine old London clock name which was relaunched last year by Twysden Moore and Frank Spurrell with its Government and Ministry models. Its Big Ben model has been a quick success, and its potential is underlined by the fact that it has just been taken into stock by the prominent Dallas retailer De Boulle. The latter is the largest independent retailer of Patek Philippe watches in the US.
Wempe opened their new store at the end of last year in New Bond Street, near their previous premises. It remains the family watchmaking and retailing company's only outlet in the UK, and Manager Lynn Schroeder was able to announce that they were now official stockists of Rolex. Incidentally, Justin Hogbin last month succeeded David Cutler as General Manager of the elegant London office of Rolex in St James's Square.
Another stockist who enjoys Rolex sales is E.P. Mallory in Bath, at its enticing corner site in this historic tourist-magnet of a Georgian city. But owner Robert Vander Woerd maintains that Patek Philippe remains his strongest performer. He is also doing well with IWC collections, the Chanel J12s, Chopard's L.U.C top-end pieces and the Happy Diamonds range. But he has been experiencing supply problems with the new Cartier Ballon Bleu and Panerai ranges.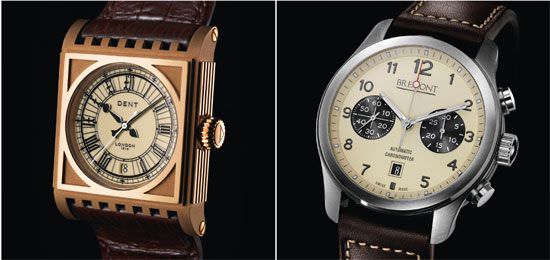 THE BIG BEN by Dent and CREAM CLASSIC by Bremont


Another stockist of the all-conquering Rolex is David Duggan in the historic Burlington Arcade in Mayfair. He continues to see constant sales for brands such as Jaeger-LeCoultre, Longines, A. Lange & SÖhne, Panerai, Patek Philippe and Vacheron Constantin. His repair shop is on the premises to back up such brands, but at present he is not stocking Audemars Piguet and Franck Muller because they are offering too long delays with serious repair problems.
At the north end of Burlington Arcade George Somlo has his new corner shop, and in the windows are large displays of the latest Omega Olympic collections (Omega is the Official Timekeeper); his shop is now the official repairer for the brand in the UK.
Not far away in New Bond Street lies the spacious premises of Marcus, which handles most top brands (though not Rolex). Floor executive Dean Harding reports very satisfactory sales for Audemars Piguet's Royal Oak models, but currently his biggest seller is the Hublot Big Bang collection. Marcus, owned by leading trade character Marcus Margulies, mainly stocks the brands that he distributes. Now that LVMH has acquired Hublot, further arrangements have yet to be decided. Franck Muller watches always sell well, and Harding has particular regard for the world timers which can be made to order by Vogard. Such a large and prominent store has to be assured of supplies, which is why they cannot do too much trade with Richard Mille or Urwerk. They no longer stock De Witt and Ikepod.
This month the British Horological Institute celebrates its 150th anniversary at its headquarters at Upton Hall in Nottinghamshire. The three-day celebrations feature speakers such as George Daniels, FranÇois-Paul Journe, the Irish watchmaker brothers John and Stephen McGonigle, Stephen Forsey and Peter Speake-Marin. The B.H.I. is of course the publisher of the Horological Journal, which has not missed one single month's publication, for any reason whatsoever, including war, since 1858.

BRANDS UNDER £200: 1. Citizen (1); 2. Rotary (3); 3. Tissot (2); 4. Sekonda (-); 5. Pulsar (4). Accurist was (5).

BRANDS OVER £500: 1. Raymond Weil (3); 2. Rolex (2); 3. Omega (-); 4. Breitling (4); 5. Michel Herbelin (-). Longines was (1), Seiko was (5).

LEADING FASHION BRANDS: 1. D&G (2); 2. Emporio Armani (-); 3. Gucci (-); 4. Swatch (3); 5. Guess (1). DKNY was (4), Seksy by Sekonda was (5).


Source: Europa Star June-July 2008 Magazine Issue