The Russian watch market is unlike most others and at first glance is somewhat complicated. The system usually entails a company importing watches and then acting as wholesaler, distributor and, in many cases, retailer.
The major centre in the watch business is Moscow, where there around 30 importers followed by Saint Petersburg with just two companies. There are an additional dozen or so wholesalers, some of which may also act as importers.
Sergey Panchenko, President and General Manager of Toner, one of the Russian companies involved in most aspects of the watch trade including Citytime, a retail network he founded in 1994, has its head office in Saint Petersburg with offices in Moscow. He enlightened me on the minutiae of the market.
"Based on a survey carried out by Comcon, a marketing agency licensed by British Market Research International, approximately 53% of the city population (cities with +100,000 people) wear watches and 7.8% purchase watches at least once during the year – that means around 4.7 million people," he explains. "But some of these consumers obviously purchase more than one watch since the official statistics put sales at 26 million watches.
"The Russian watch market, however, is complicated. There are several specific features determined by historical, economic and cultural characteristics which need to be considered when working here.
"Back in Soviet times, Russia had its own watch industry, which supplied quality mechanical watches with domestically produced movements. In those times, the Russian factories were capable of meeting the requirements of all Russian consumers. The imported watch sector was almost insignificant and consisted mostly of mechanical Citizen, Seiko and Orient watches. That is why the structure of consumer preferences according to the type of watches differs greatly from the rest of the world. More than 90% of watches produced in the world are analogue quartz watches and in our country the preference for mechanical watches still dominates.
"54% of watch consumers prefer mechanical watches. The popularity of mechanical watches, however, depends on age and gender. Mechanical watches are preferred by the over fifties and are more popular with men than with women. Women over 55 years old, however, tend to go for the inexpensive digital watches – which may well be due to problems with eyesight brought on by age. Men around the age of 30 years old also have an interest in sporty looking digital watches.
"Another trait of our market is that the typical consumer prefers classic watch models. Avant-garde or futuristic-type watches sell rarely and only in the large cities. This can be explained by the fact that in general, most people have only one watch for all occasions, consequently they choose what appears the most universal.
"Russians prefer Swiss mechanical watches because they are considered to be the standard as far as quality is concerned – which is why such brands as Tissot, Longines, Omega, Maurice Lacroix and Raymond Weil are so successful on our market. The Russians are also quite demanding and knowledgeable about movements, the quality of cases and bracelets. Even when they purchase an inexpensive watch they expect quality and accuracy."
Another important group in the Russian system is the Consul Group. The Group consists of five divisions: Bristol which distributes Raymond Weil, their best selling watches, Maurice Lacroix, Nina Ricci and Frédérique Constant. Bristol has 140 points of sale in 50 cities throughout Russia. Primetime, which handles Tissot, Longines, Omega and Rado; Consul which has 15 points of sale in Moscow, Saint Petersburg, Novgorod and Novosibirsk; Autokrat which handles pens from Cross, Parker and Waterman and finally VIP Time, their service centres.
Michael G. Kasparov, the General Director of Bristol underlined Russia's preference for classical timepieces when he confirmed that 70% of his group's slaes were of classical watches, 20% were fashion models and 10% sports watches.
The most important watch trade fair in Russia is the Moscow Clock & Watch Salon [see Europa Star N0.6 2003] The date of this year's Salon is October 3 – 7 and for any company wishing to do business there it is the ideal place to meet the country's distributors and offers a genuine window on how the Russian watch business works.

The retail trade
There are basically two possibilities for selling watches in Russia. Firstly there are the state department stores that have watch and clock departments offering a large selection of brands. These stores have been around for some thirty years and are popular with Russian consumers who trust the products purchased there. Their selection of watches however is limited to the inexpensive Russian watches or the low-priced imported watches from Japan, Korea and Hong Kong.
The second possibility is the private retailer or the companies with a network of shops in the major cities united by a common concept, brand name and company style. In addition to selling, these outlets also have what is considered to be a necessity by the Russian consumers - a service centre within the shop, or one that is attached to the chain. One of the country's most important retailer organizations in Russia is Mercury. Its main activity is the distribution of the leading Swiss brands, and the company's client list reads like a Who's Who – Blancpain, Breguet, Bulgari, Chanel, Chaumet, Chopard, de Grisogono, Ebel, Fabergé, Franck Muller, Graff, Gucci, Harry Winston, Mikimoto, Pasquale Bruni, Patek Philippe, Tiffany and Rolex.
They have six shops in Moscow, one of which occupies the entire street of Tretyakovsky Proezd.
To all intents and purposes, Moscow is considered to be the window for the Russian market and the city in which a brand needs to be.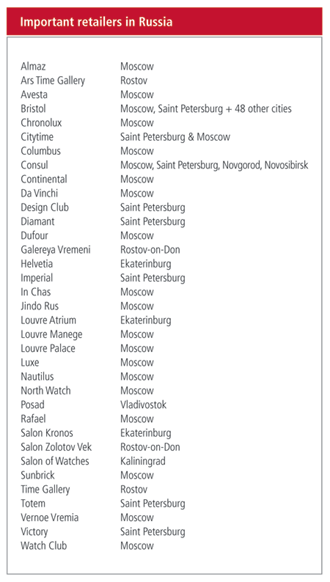 TO BE CONTINUED...
In the forthcoming days, the rest of this lenghty survey will be added to our europastar website.

Revolution in evolution (PART I)
The Russian economy (PART II)
The Russian watch industry (PART III)
The Russian watch market (PART IV)
Watch companies in Russia (PART V)