Throughout this report constant references are made to the eleven watch brands inside the investment portfolio of Compagnie Financière Richemont SA, for all the inevitable and admirable reasons. This holding company has five wholly owned subsidiaries in the UK: Alfred Dunhill Ltd, Cartier Ltd, Hackett Ltd (men's clothing), James Purdey & Sons Ltd (sporting guns and accessories), and Richemont Holdings (UK) Ltd. The accounts for the year ending 31st March 2004 show watch sales down 4% like-for-like on sales of euros 808 million (restated for inflation), but operating profits up 18% at euros 80 million (restated). These results do not however reflect the performances of Cartier and Van Cleef & Arpels, which are folded into the 'jewellery maisons' line of results. But be sure that Cartier's performance is most acceptable to Richemont's soon-to-retire CEO Johann Rupert. The Tank Française (launched in 1996) is its current best-seller. Cartier sold some 330,000 wristwatches in 2003 worldwide, but the UK share of this tasty total is not known to your correspondent.
Richemont does not break down its results into country-by-country lines. And its UK results therefore rest mistily upon retailers' reported responses to its great boards. On 16th September 2004, Johann Rupert, Executive Chairman, reported global sales up 15.1%, with Asia particularly strong. Sales in Europe were up 12%; buoyant figures which immediately follow on LVMH's own optimistic first-half results.
Early in September Prime Minister Tony Blair was photographed at a major political gathering … wearing an Olympics Swatch. They get everywhere, don't theyı The Swatch Group needs no general introduction. Its UK subsidiary (one of 15 in Europe) is based in Eastleigh, Hampshire, where 183 employees run the eleven brands currently available. Each of them is headed by a brand director or manager. The directors are on this country's Group Board of Management, while brand managers are on the Board of Brand Management. There are 1,916 outlets for Swatch Group brands. The UK operation has been headed by Malcolm Douglas since April 1998. He has these comments on the UK market:
"The UK market this year has been one of highs and lows. We have seen a mediocre spring, followed by an exceptionally good early summer. August has been a tough month for everyone – it always is in the UK – but we are anticipating a good run up to Christmas and all the indications are positive. The UK has continued to show double-digit growth for some four consecutive years and we are now one of the leading markets internationally. We are very pleased that our premium sector brands have settled in well and are increasing market share. Our luxury brands such as Omega and Longines continue to go from strength to strength, and brands such as the mid-market Tissot continue to do well and are consistently top sellers – due very much to their excellent pricing and their continued innovation which keeps the brand fresh and exciting.
"Our plans for the UK Group in 2005 are, as always, to consolidate growth, continually strive to improve customer service – which we value very highly – and continue to be market leaders in our respective segments."
Of the eleven brands handled here by Malcolm Douglas, only Swatch and Breguet have their own exclusive stores. The flagship Swatch store (splendidly refitted in November 2003 with the Jelly Fish design concept) is in Oxford Street, where the daily street footfall is possibly the highest in Europe. Swatch has eleven other points of sale. The first Breguet boutique, as befits a luxury brand, opened in Bond Street in August 2002. Breguet timepieces are now stocked in 13 locations in London and elsewhere (soon to be 15). They reached Scotland, in Goldsmiths' Glasgow outlet, in September 2004.
Until this year Glashütte Original, another of the Swatch Group prestige brands, was only available through the excellent Wempe branch (the UK's only one) in Bond Street. Models are this year being selectively rolled out across the country. The PanoRetroGraph is doing particularly well.
Omega is very strong in the UK, and was again Official Timekeeper at the prestigious annual Cowes Sailing Regatta. It was also very much involved with this year's London Fashion Week. In its 150th anniversary year in 2003 Tissot benefited here from the year's 64 new models.
The world's largest luxury goods group, LVMH Moët Hennessy Louis Vuitton, unveiled net profits for the first half-year to 30th June 2004 of £270 million – up by a tasty 49%. These figures were not, however, broken down, but it is known that the watch division did well. It sold loss-making Ebel to Movado in March 2004. LVMH's watch brands present in the UK are Chaumet, Dior, Fendi, Fred, Louis Vuitton, TAG Heuer and Zenith, under the direction of CEO Jean-Marc Lacave. He is bullish about his 360 accounts in his market and comments: "We enjoyed double-digit growth during the January–August 2004 period, and we are happy with that." Of course, 'double-digit' ranges from 11% to 99%, but 11% would be most acceptable. He closed the dedicated TAG Heuer shop just off Bond Street in June.
Bulgari and Hermès both have finely appointed stores in Sloane Street. Which is natural because, at the last count, there were over 20 separately owned stores up and down this très en vogue highway, which runs south from near the mighty Harrods to Sloane Square. Bulgari also has its own shop within Harrods, and must be doing something right. Bulgari announced its half-year results on 13th September 2004 – turnover up 11% at euros 33.7 million. Its half-year results do not however isolate watch contributions.
Hermès has recently moved its offices to the site of its flagship store, perfectly positioned on the corner of Bruton Street and Bond Street. The number of its points of sale in the UK is confidential for some strange reason, according to its London press office (compare the rest of this report!), but the new Dressage model is probably moving through them at an enviable rate.
The Gucci Group (99.39% owned by Pinault-Printemps-Redoute) is well represented across the UK, as it develops its brands. They are Bédat, Boucheron, Yves Saint Laurent, and Gucci. They are run as separate operations in most respects, Gucci being the most vigorous with 480 points of sale. The 'mini-G' is its market leader.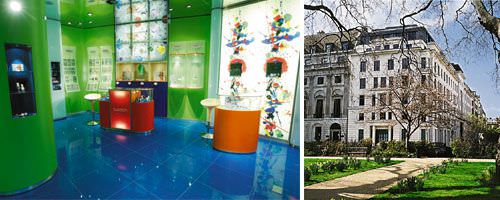 Swatch shop in Oxford Street
The façade of the Rolex building in London.


After-sales service and repairs
After-sales service and repairs are constantly being improved in the UK, as Swiss-owned and other distributors see the value of having facilities here, as an alternative to shipping watches back to their homes, with all the risks involved. This is why Breitling, for example, has just opened a purpose-built service and repair centre in Tunbridge Wells, Kent, why Cartier has the same in Bond Street, why Patek Philippe has seven Geneva-trained watchmakers in their UK headquarters in Buckinghamshire, why Rolex employ nearly 100 staff in Kent (and a few in London as well) to undertake these essential functions, and why the Swatch Group has 18 trained watchmakers at its service centre in Lancashire. They save customers having to hear the words they fear, on the grounds of delay and extra cost: "Well, this watch will have to go back to the Swiss factory…" Also, around the country there are probably over 100 self-employed watch repairers, and most will have British Horological Institute qualifications.
Matthew Cundy, who not so long ago ran Baume & Mercier in the UK, looks after the Hublot brand here and parts of the Americas. He also finds time to guide the fortunes of Kismet Mentoring, which offers watch wholesaling and retailing courses.
At street level, the shoe repair chain Timpsons offers basic watch repairs, battery replacements etc. through its hundreds of outlets.


Auction and Rolex
Rolex consistently appears at the top of the results lists from the top auctioneers. Nothing seems to harm the standing of this brand! In 2003, these saleroom results were obtained (prices include buyers' premiums): Bonhams (now incorporating Phillips in the UK), £2,346,956; Christie's, £2,616,629; Sotheby's, £3,724,000 – giving a grand total of £8,687,585. Sotheby's has recently moved its watch and jewellery saleroom from Olympia, slightly out of town, back to its New Bond Street premises. Very sensible. Between sales Rolex fanciers can always satisfy their needs by a call at The Vintage Watch Company. The Managing Director of this shop, off Piccadilly in Burlington Arcade, John Silver, states: "Our unique display of only vintage Rolex wristwatches in a modern retail setting makes us, we believe, the only such shop in the world. Currently over 400 Rolex models are on display." One small but important comment. In the UK, it is illegal to trade in counterfeit watches, but not to own one!
In a neighbouring arcade to the south of Piccadilly resides George Somlo's well-known small emporium, which is however brilliantly stocked with a very wide range of 'previously-owned' famous models. Down in the Strand Austin Kaye always has a wide range of less expensive examples of famous makes.
Unwelcome added publicity has also been occurring in the newspapers, with a recent spate of so-called 'Rolex robberies'. A horrible thought, but, as in the counterfeit world, this is a back-handed compliment.
And to think that Rolex was founded in London!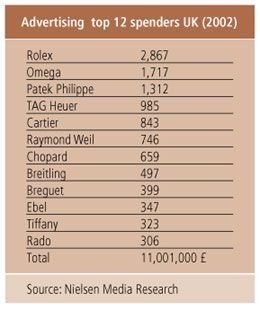 1. A bullish market, but challenges remain!
2. The market place
3. Retail Trade
4. Distribution
5. International luxury goods groups


NEXT...
In the forthcoming weeks, there will be a new Special Market Focus on China serialized online.


Click here to subscribe to Europa Star Magazine.