Signet Group plc shares on the London Stock Exchange have recently been recommended as a 'buy', following its September announcement of the half-year results to 31st July 2004. Pre-tax profits, at constant (or restated) exchange rates, were up 27% at £53.9 million; on worldwide sales, up 10%, at £671.7 million.
Signet (which has its headquarters in London) operates 1,725 retail jewellery stores in the US and UK, and is the world's largest in the business of selling watches and jewellery. The outlets include 1,126 stores in the US, where the Group trades mainly as Kay Jewelers and Jared: the Galleria of Jewelry. In the UK it has 599 stores, trading under the names H. Samuel, Ernest Jones, and Leslie Davis.
The UK business accounted for 30% of Group sales in the first half-year to 31st July 2004.
H. Samuel contributed 18% of sales from 401 stores, with Ernest Jones and Leslie Davis providing the remaining 12% (at the higher end of the market). Annual sales in the UK to 31st July 2004 were £501 million, which provided an operating profit of 15.3%.
Terry Burman, CEO of Signet, which has a market capitalization (at 26th August 2004) of £1,811 million, and is the UK's 103rd largest company, states: "While there has been some softening of the trading environment in August on both sides of the Atlantic, this is not necessarily indicative of trading prospects for the balance of the year. Our businesses continue to implement a range of initiatives and are well positioned to compete during the important Christmas season."
The UK's second largest retail jewellery chain is Goldsmiths Group. Its first shop was opened in 1778 in Newcastle-upon-Tyne (where it still trades on the same site today), and it now consists of 165 stores nationwide, with five more opening this year. It operates within the middle to top-end sector of the market – the one that steadily expands year after year – and is the UK's largest distributor of Cartier, Gucci, Omega, Rolex and TAG Heuer timepieces. This company has the distinction of being the first appointed UK distributor of Rolex, back in 1919.
In May 2004 the Iceland-based Baugur Group backed a £110 million buy-out of Goldsmiths Group from venture capitalists (who had taken the company private in 1999). Jurek Piasecki continues as Chairman and CEO, and senior management have taken shares in a new holding company. The turnover of Goldsmiths Group in 2003 was just over £165 million. The company is closely associated with Spring Colour, which handles 13 sales representatives in the field, under the experienced guidance of Stephen Reece-Raybould and Lucy Hill. They distribute Guess, Lacoste, Nautica, Nina Ricci, Tommy Hilfiger, and Versace. The latter brand delivered sales up 170% during the period February–August 2004.
The MW Group Ltd is an important ingredient in the UK watch retail scene, and claims to be the leading Patek Philippe and Rolex retailer. This venture-capital backed company consists of Mappin & Webb (established in 1774) and Watches of Switzerland. It is now in the process of selling its two pawn-broking businesses, T.M. Sutton (founded in 1800) and Robertsons.
Mappin & Webb owns 18 shops and concessions, of which six are in London (including the flagship store in Regent Street). It also has a small corporate and wholesale operation in Japan. The MW Group has just launched a new concept store called Watch 24, which retails top fashion brands, and further such stores are planned.
Watches of Switzerland is probably posit-ioned as the UK's leading watch retailer (though not in turnover terms). It operates from 16 stores and concessions, eleven
of which are in London (including the
important Bond Street-located stand-alone shops for Jaeger-LeCoultre, Patek Philippe and Rolex), and five in provincial cities. MW's turnover in the year to 27th March 2004 was 7% up at £75.2 million, which produced an operating profit of £1.6 million (against a previous annual loss of £5.9 million). As end-of-term school reports often put it, there is 'room for improvement'. New CEO Nick Evans reported on 13th September 2004 that "… the new year has started well with like-for-like sales up 4% in the 21-week period to end August 2004".
Retail chain Beaverbrooks opened two new stores in summer 2004, taking its total to 54. Managing Director Mark Adlestone states: "We have a strategy to open stores within up to 45 minutes' drive of 90% of the UK's population [60.929 million]. We would like
75 stores by 2010." Earlier this year Beaverbrooks came second in the Sunday Times 100 Best Companies to Work For 2004 competition. Mark Adlestone knows all 646 of his staff by name!
Fish Brothers (Managing Director Josh Fish has a first name he must love!) has eleven stores in Greater London and Essex. He recently bought a store from up-market Burrells in Canary Wharf, in London's regenerating Docklands area, and, interestingly, is planning to introduce second-hand wristwatches there.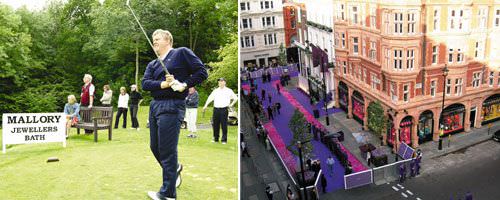 Colin Montgomerie at Mallory's golf day.
The re-opening of Asprey.

Independent retailers
It is estimated that there about 7,000 points of sale (or 'doors') in the United Kingdom and Northern Ireland, of which the vast majority are individually owned. Smaller country High Street outlets also stock jewellery and giftware of all sorts, to cater for christenings, birthdays, weddings, Christmas, and so on, and could never survive just on the sales of lower-end wristwatches, with their slender profit margins.
There are several glitzy stores in central London, which bring more than a touch of luxury to the business of spending serious money. One is Marcus, in Bond Street, owned by Marcus Margulies, Chairman of Time Products Luxury Ltd, [SIC] where some of the most expensive wristwatches anywhere in the UK are to be found, most beautifully displayed. Self-indulgence at its finest (reference its owner), and Marcus is London's only stockist of Harry Winston timepieces.
Alongside Marcus is Asprey. This famous old-established store, which holds several Royal Warrants, has been completely rebuilt inside, and was opened with a huge celebrity party on 18th May 2004. Everybody who is anybody was there; the long list of guests included the Duchess of York, Sir Elton John, Jade Jagger, Andrew Lloyd Webber, the Lord Mayor of London, Sir David Frost (and naturally your correspondent!). The fabulous new watch department stocks Arnold & Son, Asprey's own brand pieces, Breguet, Dubey & Schaldenbrand, Graham, IWC, Jaeger-LeCoultre, Parmigiani, Patek Philippe and Roger Dubuis.
William Asprey (of the original family) has started his own luxury goods shop in Mount Street, Mayfair, and there, among the hunting, shooting and fishing gear, can be found these watch brands: Arnold & Son (William himself personally owns 10% of the Swiss brand British Masters), Audemars Piguet, Graham, Jaeger-LeCoultre, Quinting, and newcomer Voltime (a Basel Fair discovery).
Another glitzy store is Theo Fennell, the name of the creator of his emporium in South Kensington, who is also Design Director. He sensibly leaves the running of this publicly quoted company to Barbara Snoad. The shop sells Franck Muller, TechnoMarine, Jacob & Co (which Theo discovered at the Basel Fair), and of course his own highly innovative brand.
The latter brands are in Theo Fennell's Harrods large space – and alongside them are selections of models by Alain Silberstein, Audemars Piguet, Baume & Mercier, Bédat (a new arrival), Chopard, Daniel Roth, Dubey & Schaldenbrand, Gerald Genta, Girard-Perregaux, Hublot, IWC, Jaeger-LeCoultre, Piaget, Ulysse Nardin, Vacheron Constantin, and Zenith. Theo Fennell also has space in Harvey Nichols in Manchester, but only stocking his own shop stock plus IWC, and a small presence in the Royal Exchange, in the City of London.
Preston & Duckworth, owned by the ebullient Neil Duckworth and his two brothers, was in the trade news recently with the purchase of The Watch Gallery, in London's South Kensington, just along the road from Theo Fennell. The business started out in 1869 in Bolton, Yorkshire, where one of its (now six) outlets still trades. Other branches are in Ipswich, Bury St Edmunds, Windsor and Guildford. Its bestsellers are Rolex and Panerai (subject to availability). Other good brands for the firm are Breitling, IWC and TAG Heuer (with which Neil has a special familiarity, having once worked for the company). Preston & Duckworth has also acquired the UK agency for H. Stern Jewellery, a Brazilian operation close to gemstone sources, which Neil Duckworth will be introducing to some of his shops and other outlets.
Moving out of London, let's visit Bath. It is a city which is famed for its curative public Roman baths, non-curative wine bars and pubs, its stone-clad architecture spread over seven hills, a fine theatre and Abbey church, and a daily influx of thousands of tourists. All of these factors, and many more, have brought great success to E.P. Mallory, on a most prominent site in Bridge Street, right in the centre of this glorious city. It opened for business in 1864, and is now run by a descendant of one of the co-founders. Robert Vander Woerd is very positive about the future, as he surveys his current expansion plans, new departments for both jewellery and watches, and the performance of his top-end brands, such as Cartier, Patek Philippe and Rolex. What is more, IWC and Panerai are about to arrive. Unusually for an independent retailer, E.P. Mallory sponsors local activities. This year it put on an open golf day, featuring Ryder Cup hero Colin Montgomerie.
Up north, in Edinburgh, Hamilton & Inches (founded in 1866) commands the top luxury goods spot, in the New Town's George Street. Jamie Fraser, CEO, is happy to claim that H & I holds the largest selection of luxury wristwatches outside London. His stock includes A. Lange & Söhne (a new arrival), Cartier, IWC, Jaeger-LeCoultre, Omega, Panerai, and Patek Philippe.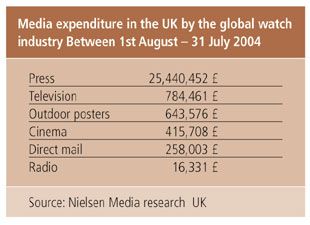 TO BE CONTINUED...
In the forthcoming days, the rest of this lenghty survey will be added to our europastar website.

1. A bullish market, but challenges remain!
2. The market place
3. Retail Trade
4. Distribution
5. International luxury goods groups


Click here to subscribe to Europa Star Magazine.