Before 1989, imports of watches into Romania came almost exclusively from the ex-Soviet Union (notably Pobeda and Poljot) and were limited to a few models of Doxa and Atlantic timepieces. Doxa watches were less accessible to the public at large and were distributed to the nomenklatura, while those produced by the Atlantic brand were sold in the nation's ports (Constanta, Galati, Braila and Tulcea).
The situation completely changed after the events of 1989. During the 1990s, the value of imports fluctuated widely; cycles of a year of high growth followed two years of decline. After the very difficult years of 1999 and 2001, the value of imports enjoyed great growth, reaching a remarkable maximum level in 2004.

Statistics
The number of countries supplying watches to Romania has gone from 24 in 1991 to 41 in 2001. By value, the first seven countries in the table exceed one million euros for total sales during the period under discussion. It should be noted as well that the position of Russia is due to the imports from that nation during 1992 to 1994. While the watches from the first five countries in the table as well as those from Japan have a constant presence in the Romanian market, those coming from Austria, Russia and Thailand represent only the years during the 1990s. On the other hand, watches from Italy – especially luxury and precious metal timepieces – and from Spain have recently made inroads into the Romanian marketplace.
During the period of 1991 to 1994, the classification of the first five countries whose watches were imported into Romania was dominated by Austria, Germany, Hong Kong, France, Thailand and even by Lebanon, Israel and the United States. Beginning in 1995, Switzerland clearly became the dominant player, providing between 20 – 40% of the total volume of Romanian imports. The last four years have seen Swiss watches gain even more ground, representing regularly between 50 – 65% of watches imported into Romania! Of the total value of imports between 1990 and 2004, watches coming from Switzerland accounted for no less than 45.62%! Chinese watches followed with 13.85%, Hong Kong with 7.77%, Germany with 6.54%, Austria at 2.74% and finally Japan with 2.63%. Imports from other countries totalled only around 20% combined.
Data provided by the National Institute of Statistics (which does not include the numbers of the five top countries in the table, gives an approximation of the total amount for the period under discussion) on the quantity of imports are given in tons, but nonetheless provide an idea of the unit value of imported watches. For example, watches imported from Switzerland came to about 20 tons, while those from China represented 510 tons, or in other words, half of the total quantity of timepieces imported in fourteen years!
The numbers in the table, while clearly less than those registered in nations such as Poland, Hungary, or the Czech Republic, nevertheless show constant growth, especially during the last five years, with the exception of 2001. In 2004, for example, the volume of imports grew 40.44%. In 2002, the level of imports increased 32.82%, but the most significant growth was recorded in 2000 in comparison to the preceding year – up 81.91%.
If a few countries such as Italy, France (throughout the period) and especially Ireland, Turkey, Hungary, Singapore and Israel (during the first part of the 1990s) occupy their position in the table because of watches made from precious metals, the majority of those coming from China and Hong Kong were manu-factured from other materials, most notably steel and plastic. It should be noted as well that China and Hong Kong are the primary providers of electronic and quartz watches.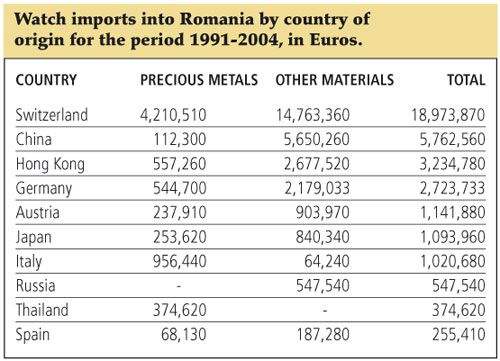 Distribution
Before 1989, Romanian stores were full of Soviet-produced watches, which were considered very solid and inexpensive. People also had some notion of Japanese products, because of Seiko and Citizen, and even of certain Swiss products, but these watches were not easily found in the Romanian market. Atlantic and Doxa represented those Swiss companies whose products had penetrated into this rather interesting market, and which enjoyed a good reputation.
The events of 1989 provided an opportunity for other activities since the Romanian market opened up to several large Swiss brands, although it remained closed to such exclusive brands as Patek Philippe, Rolex, Lange & Söhne, Glashutte, Jaquet Droz, Breguet and Daniel Jeanrichard as well as to new and ambitious companies such as Parmigiani, Gerald Genta, F.P Journe, Daniel Roth, Roger Dubuis and Franck Muller.
The large Romanian resellers made their appearance in the first part of the 1990s. The most important among them dealt in watch wholesaling, but it must be emphasized that these companies also had their own representative stores with good commercial locations (Helvetansa in the centre of Bucarest, in the same building that houses the University Central Library, and Galt, in the Commercial Gallery of the Marriott hotel). Other companies such as B & B Collection, Sevda Impex and Royal Caro, also sold imported watches under their own names that they purchased from wholesalers. The development of the retail network of B & B should be noted since this enterprise succeeded in its policy of attracting new brands that were formerly exclusive to its competition. Thus, since November 2004, B & B has been selling, through its own distribution network, the Doxa brand (for which Int'l Genimpex was the exclusive distributor for several years). To B & B's aggressive approach can be added the new sales policy of Swiss companies, specific to Eastern Europe, which aims to stimulate (in the interest of their own brands) competition among their competitors in the same market. This policy is justified in part by the reduction in sales during 2002 for most of the Swiss brands.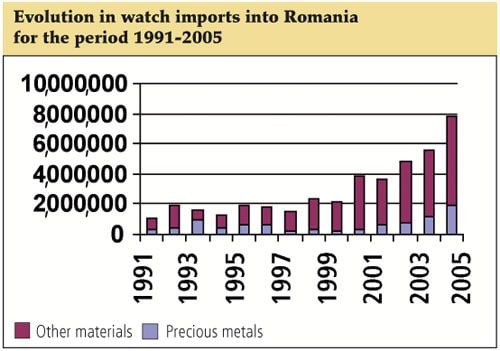 Helvetansa
Helvetansa is a company that is partly Romanian owned and partly Swiss owned. The major shareholder is Intermerkur Uhrenhandel AG Zürich, with 50.24% of the shares, while direct Romanian participation is 29.77%. In the beginning, Helvetansa sold only Candino, Doxa and Tissot brand name watches by developing a distribution network in several of the nation's cities. After the inauguration in 1996 of its own store, situated on the Boulevard N Balcescu, the company became the distributor of several traditional brands such as Longines, Rado, Hermes, IWC, Movado and Ebel. Beginning in 1997, it also carried Cartier timepieces. The prestigious brand Piaget arrived in 2000 and was followed in 2001 by Baume & Mercier watches. That same year, the company inaugurated its first luxury store, located in the University Central Library building, which also housed a store selling the German Kieninger products. After the events celebrating the anniversary of Longines, Helvetansa became the distributor of Vacheron Constantin timepieces.
Intermerkur Uhrenhandel AG Zurich organized a series of public events in Bucharest to celebrate the tenth anniversary of its subsidiary in Romania, Helvetansa SRL. In September and October 2004, over a ten-day period, a series of press conferences, three thematic exhibitions (Design and Modernism, Elegance and Tradition, as well as Innovation and Communications), cocktail parties, and so forth, were held. Among the invited guests were Swiss representatives of the Zurich enterprise and the Swatch Group, members of Romania's press, radio and television networks, press agency personnel, high level Swiss embassy representatives in Bucharest as well as business people. Most of the attention was paid to the brands Tissot And Omega, as well as to the haut de gamme brands of Vacheron Constantin, Cartier, Jaeger-LeCoultre, etc.
Over the last ten years, Helvetansa has sold nearly 35,000 watches, of which more than 70% were Tissot timepieces. In 2002, Helvetansa's turnover amounted to 1.5 million euros; in 2003, it was 2.3 million euros, and in 2004, it reached about 3 million euros. Of the products sold, 80% came from watches with prices over the 600 euro barrier.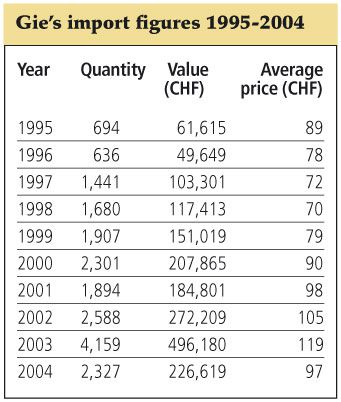 International Genimpex SA Bucuresti (Gie)
Founded in 1989, Gie is an enterprise with mixed capital of which the majority share is held in Romanian hands. The major shareholders have been involved in the fabrication of Romanian watches, engaging in negotiations with Enicar and other companies. The brand also distributes watches through two stores (Emania and Ton Magasin). Its repair service operations are in Bucarest, Timisoara, Braila, Galati and Constanta.
The imported brands that are distributed wholesale are Atlantic, Doxa, Edox/Claude Bernard, Olma and Nina Ricci. Gie is also the exclusive agent in Romania for the Bergeon brand, which supplies specific tools and component parts. Notably, the enterprise has a privileged relationship with Doxa, which has been active on the Romanian market for 100 years. The following table shows the changes in Gie's imports since 1995.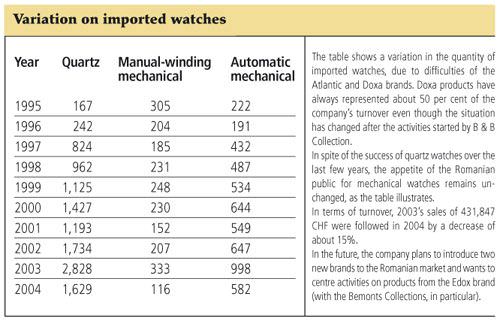 Galt
Already an importer of several renowned brands such as Longines, Boss, Revue Thommen and Sector, the Galt company prides itself on being the largest importer of luxury automatic watches in Romania, espec-ially since it was chosen by the famous brands Omega and Zenith, and in 2003 and 2004, by Girard-Perregaux and Ulysse Nardin to distribute their products.
The launch of the Ulysse Nardin brand in Romania underscores the penchant that Galt has for quality and luxury watchmaking, for timekeepers that are collection pieces as well as dream objects. The trend towards exceptional watches for exceptional people is supported by the enterprise's strategy regarding human contact, by the exhaustive offer of its products and by the ambiance in which refined and well-trained staff advise the company's customers. A 10% growth rate has been largely exceeded, with the company doub-ling its turnover during the last 24 months. It is still aiming higher, however, with the intention of becoming the representa-tive of the best luxury watch brands in Romania.

Cellini
Founded in 1999, Cellini first established itself in the luxury jewellery sector with such brands as Faberge, Furrer Jacot, etc. By selling watches from Omega, Longines, Tissot, Calvin Klein, Swatch and Breitling, as well as clocks from Kieninger, Cellini
has also affirmed its vocation for quality timekeeping.
Recently, Sodo Migliori Romania has become the importer for Blancpain timepieces, sold through Cellini. Its distribution network is made up of stores in Bucarest and Ploiesti.

Le Monde Des Montres
For more than seven years, the Le Monde Des Montres enterprise has offered a varied selection of products for its clientele. From the classic Swiss models of Longines, Tissot, Certina and Swatch to timepieces made in Korea and Russia, the company's products all adhere to strict quality standards. The Japanese collection includes watches from Seiko, Citizen, Casio and Orient and targets a younger clientele. Le Monde Des Montres also provides its own after-sales service.

Chronologic
Besides the companies in Bucharest, the centre and the western part of the country are particularly served by Chronologic stores, whose parent company was established in Timisoara. An importer of the German brands Junghans, Regent and Haller, Chronologic offers wristwatches, clocks for office use as well as public clocks .
In addition to companies that sell and service watches, there are several that only service them, such as Morning Star (Jovial and Rimador), Co & Co Comexim (Seiko, Casio, Orient, Atlantic, Tissot, Rowenta, and Pierre Lannier), as well as Ceas Imprest (Tissot, Seiko, Citizen).


TO BE CONTINUED...
In the forthcoming days, the rest of this lenghty survey will be added to our europastar website.

Market Focus Romania: Part 1
Market Focus Romania: Part 2
Market Focus Romania: Part 3
Market Focus Romania: Part 4


Source: August - September 2005 Issue

Click here to subscribe to Europa Star Magazine.